NEC ND-3500A
Pioneer's strongest competitor, the NEC 3500A, is a drive for which we have strong expectations. NEC's non-existent retail channel makes buying the drive a hassle - but you can easily find it at online retailers.
 NEC ND-3500A 16X DVD-/+RW Drive
Interface
PATA
CD Write Speed
48X, 40X, 32X, 24X ZCLV
16X, 8X, 4X CLV
CD Rewrite Speed
24X ZCLV
16X, 10X, 4X CLV
CD Read Speed
40X MAX CAV
DVD-R Write Speed
16X, 12X, 8X CLV
4X, 2X, 1X
DVD-RW Rewrite Speed
4X, 2X, 1X CLV
DVD+R Write Speed
16X, 12X, 8X ZCLV
4X, 2.4X
DVD+RW Rewrite Speed
4X, 2.4X CLV
DVD+DL Write Speed
2.4X CLV
DVD-RAM Read Speed
2X CLV
DVD Read Speed
16X MAX CAV
Supported Modes
DAO / DAO-RAW 16 & 96
TAO
SAO / RAW SAO, RAW SAO 16 & 96
Packet Write
Multi-Session
Supported Formats
DVD+R (DAO, incremental, seq)
DVD+RW (random)
DVD-R (DAO, incremental, seq)
DVD-RW (restricted overwrite)

CD-R, CD-RW, CD-ROM, CD-DA,
Mixed Mode, CD Extra
Photo CD, CD Text, Bootable CD, UDF
Access Time
CD: 130ms
DVD: 140ms
Buffer
2MB
As we mentioned earlier, NEC's 3500A looks very similar to the Pioneer DVR-108D, and they should - they have very similar components. Most notably, however, the NEC 3500A advertises much higher CD write speed (48X as opposed to 32X). We noted earlier that write quality trumps write speed, but write speed in this instance is quite significant.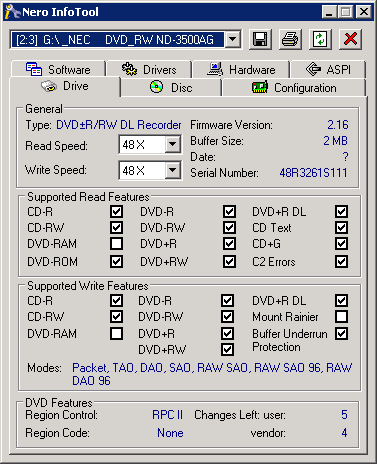 A snapshot of Nero's InfoTool shows the supported read and write features of the ND-3500A. We expected the 3500A to support the ability to read DVD-RAM media, but the unchecked box next to it told us something different.
A high resolution scan shows the 3500A's NEC chipset. As we mentioned before, the 108D uses the same chipset, the NEC D63635 DSP, and it is disappointing to learn that the 3500A as a drive does not readily support the feature. Both the 3500A and the 108D support 16X burning of DVD+R media as well as 48X CDR reading/writing capabilities.
A high resolution scan of the topside label:
Feel free to download the performance graphs for the ND-3500A
here
.