Power Consumption
To measure power consumption we looked at overall system power consumption and tried to keep as many variables static. There are some basic differences which we cannot get around, mainly that the 925X uses lower voltage DDR-II while the nForce4 uses regular DDR, but for the most part our results were quite controlled. We also included power consumption figures from 130nm Socket-939 Athlon 64 3200+ and 3000+ chips, which as you may know, do not exist. The reason we did this was to show the sharp contrast to the power consumption figures of the 90nm 3500+ we've included in the charts below.
We measured power consumption in two states: idle sitting at the Windows desktop and under load while running our Windows Media Encoder 9 test, which proved to be one of the most strenuous CPU tests we ran as it pretty much isolated the CPU subsystem.
At idle, the 130nm Athlon 64s all consume just about the same amount of power, with the 90nm Pentium 4s doing a little more. But what's truly impressive is the 90nm Athlon 64 3500+, drawing less power than any of the other chips at idle - by a significant margin.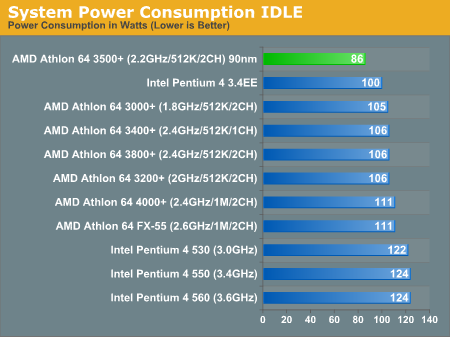 Under load the situation is no different; because of the fact that AMD didn't change anything architecturally (nothing major at least) with the 90nm shrink, the Athlon 64 got what the Pentium 4 should have received with the move down to 90nm - much lower power consumption. However, tack on 32-bit ALUs (as opposed to the 16-bit ALUs in the Northwood Pentium 4), a much longer and more power hungry pipeline as well as logic to support it, and you're looking at a much more power hungry chip. The 90nm Athlon 64 does not suffer this same fate and thus is almost a lower power chip compared to the competition here.