AMD Ryzen Microsoft Surface Edition
Microsoft's decision to use an AMD processor was a bit of a surprise, since despite AMD's resurgence in the desktop space, the company hasn't spent as much of its focus on the laptop market. There are a multitude of reasons for this, but the end result has been that we haven't seen too many Ryzen Mobile laptops. AMD's biggest win to date has arguably been Lenovo's ThinkPad lineup, but getting into a Microsoft Surface machine is a greater achievement still.
The 15-inch Surface Laptop 3 incorporates what AMD and Microsoft are calling their "AMD Ryzen Microsoft Surface Edition" processor. Officially, they're classifying this as a semi-custom chip, though to quote our own Dr. Ian Cutress "the silicon inside the Surface Laptop 3 isn't new: it is still the same Zen+ 12nm Ryzen silicon we see in other Ryzen notebooks today, however it has been binned specifically with 11 compute units at 15W, rather than what we see in the market today"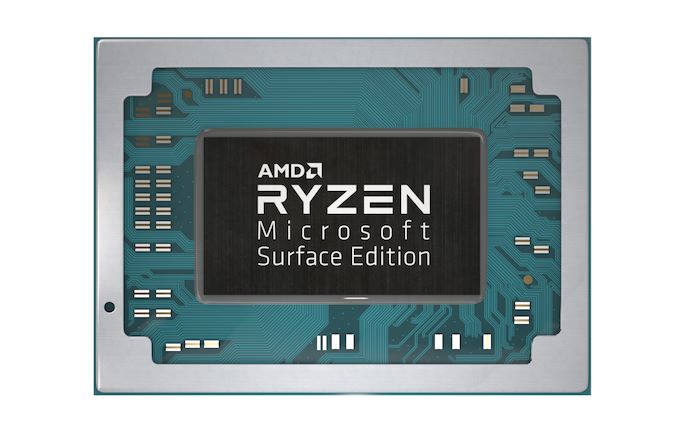 Still, what Microsoft is getting for their Surface Laptop 3 is not an off-the-shelf design. For their co-designed platform, there are two important aspects that give them a semi-custom spin on things. First off, Microsoft is getting a specialized bin of AMD's Picasso APU silicon, which enables one more CU within the integrated GPU than AMD's standard APU bins. The second change is that the two companies have worked together to greatly refine the firmware, drivers, and software stack for the device, in order to deliver a better experience. And these changes should not be underestimated; we've seen bad firmware sink many a laptop, both AMD-powered and Intel-powered. AMD has long needed, a strong, interested partner to help them polish their Ryzen Mobile platform, and with Microsoft they finally have what they need.
Diving a bit deeper, let's look at the AMD Ryzen Microsoft Surface Edition processors. These chips use AMD's Zen+ CPU cores along with their Radeon Vega GPU architecture, and Microsoft will be offering two of these chips. The fastest of these chips is the Ryzen 7 3780U, which runs four CPU cores clocked at 2.3-4.0 GHz, and paired with 11 Vega CUs. The other, lower tier chip is the similar Ryzen 5 3580U, which also has four CPU cores running at 2.1-3.7 GHz, and is coupled with a 9 CU Vega iGPU. Both of these chips offer one CU more than a normal Ryzen 5 or Ryzen 7 mobile part – so we should see slightly better graphics performance – while still operating at the same 15-Watt TDP.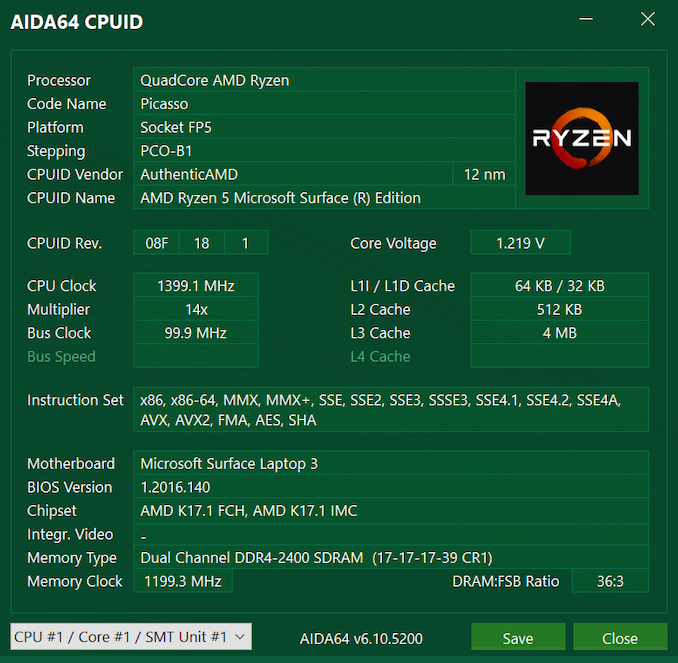 The choice of an AMD processor has also directly impacted the memory being used. Since AMD doesn't support LPDDR4X on Picasso, Microsoft is using DDR4-2400 dual-channel memory. The use of DDR4 is less than ideal for a thin and light device since it doesn't incorporate the power-saving techniques of LPDDR4X, but it can be compensated for with some solid deslgn work and a slightly larger battery. For comparison's sake, Intel's new Ice Lake chips do have LPDDR4X support, so we'd be likely to see better power consumption on the Intel-powered Surface Laptops. Hopefully AMD adds support for LPDDR4X in their next generation.
System Performance
For our review, Microsoft sent out one of their Ryzen 5 3580U-equipped machines. This means we're able to take a good look at the baseline performance of the Surface Latop 3 – the kind of performance the cheapest and highest-volume machines will deliver – but it also means we won't be able to see what the laptop can do at its peak. Starting things off, let's take a look at how the Surface Laptop 3 performs in our system benchmarks.
PCMark 10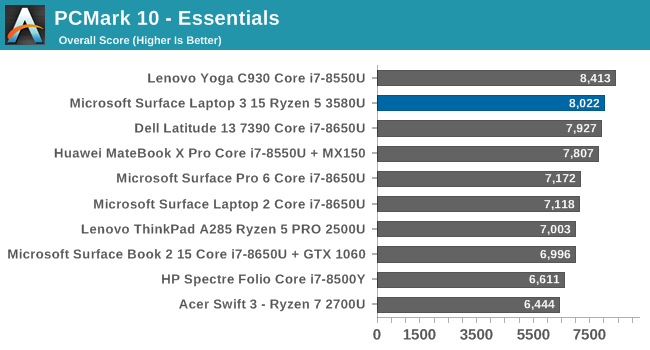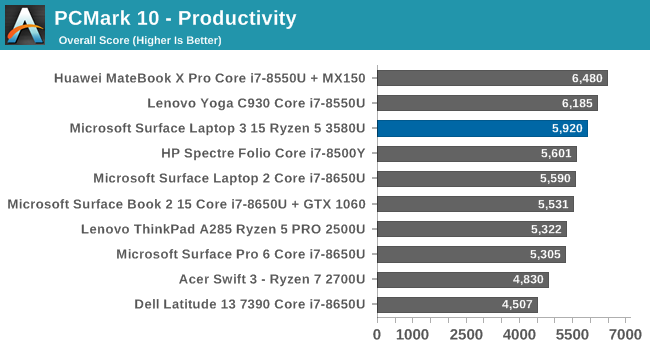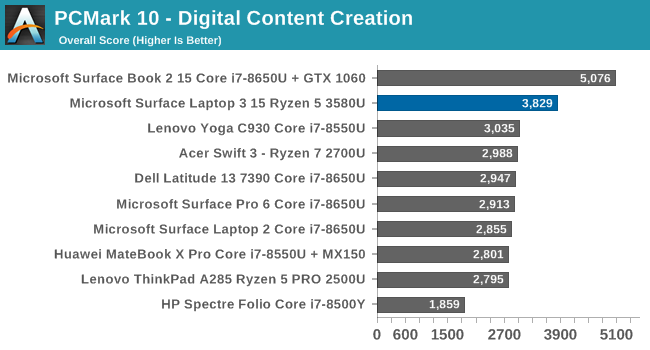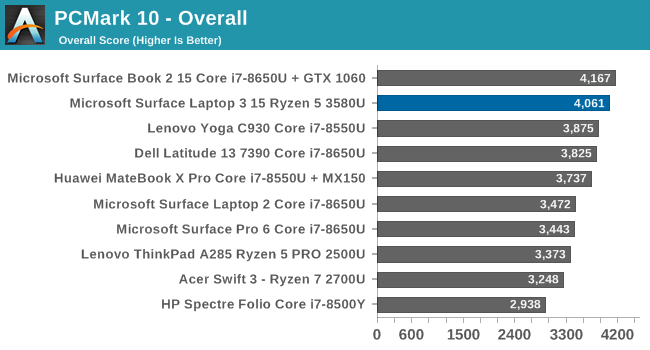 PCMark 10 tests all aspects of a system including the GPU, CPU, and storage, across several sets of subtests. The extra GPU grunt from the Vega 9 really helps in the Digital Content Creation test in particular, but the Zen+ core is competitive with the 8th generation Intel processors in the other tests as well.
Cinebench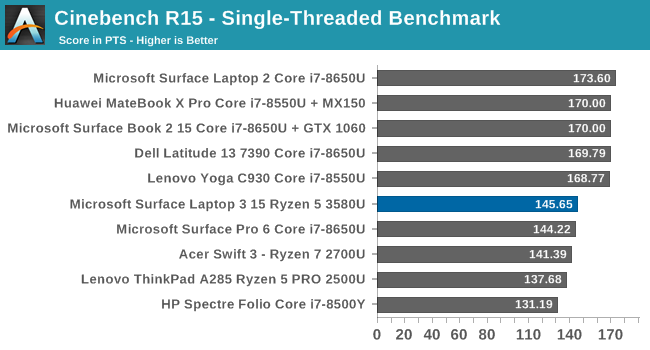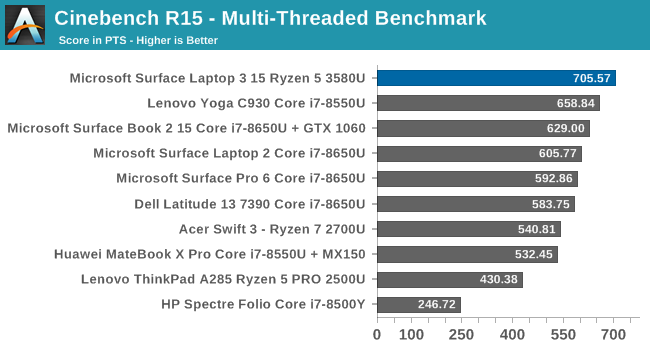 Cinebench offers both single-threaded and multi-threaded variations of its benchmark, and makes it very easy to see that the Zen+ core isn't quite as quick as the Skylake based processors in the other laptops, but in the multi-threaded variation the Ryzen is able to flex its muscles and climb to the top.
x264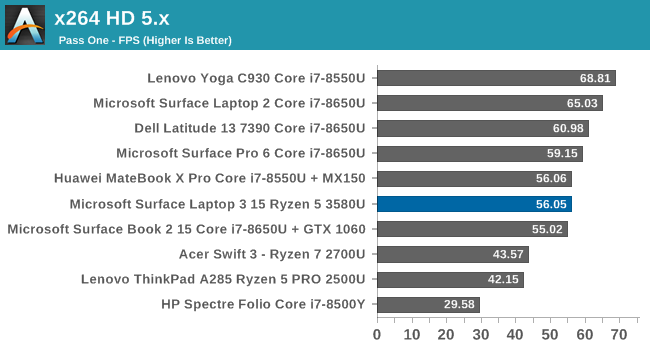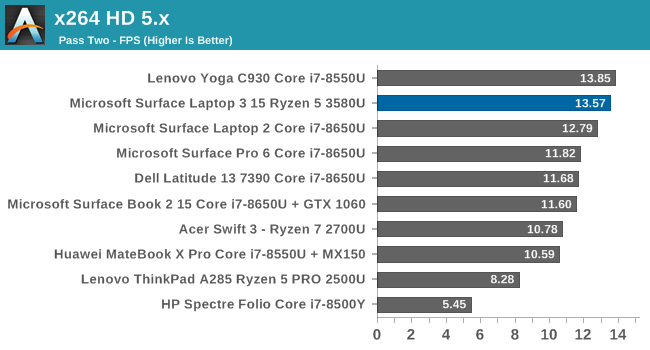 This video conversion test is very CPU intensive and long, meaning devices run into their thermal limits over the duration. The Ryzen 5 3580U once again holds its own here against the last generation Intel products.
Web Results
Browsing the web is easily one of the most popular activities on any PC, but web performance comes down to not only the system, but also the browser. For consistency all of our devices are tested with Microsoft Edge as the browser, which has actually regressed in performance over the last several updates. Microsoft is switching to a Chromium browser, which will become the new platform when it is available, along with some updated scripting tests.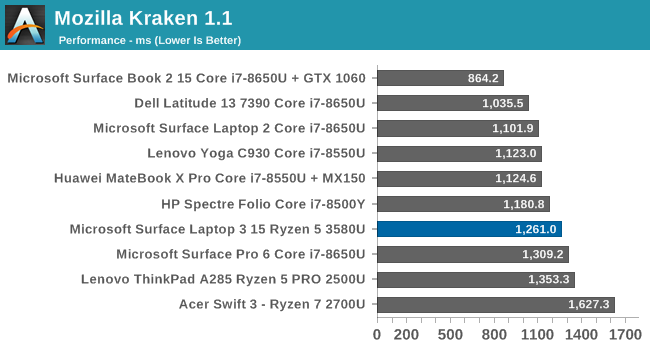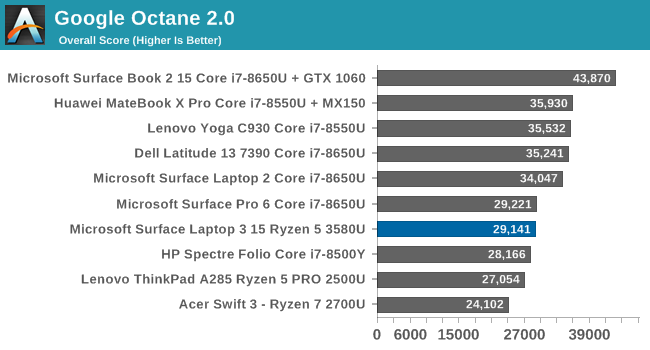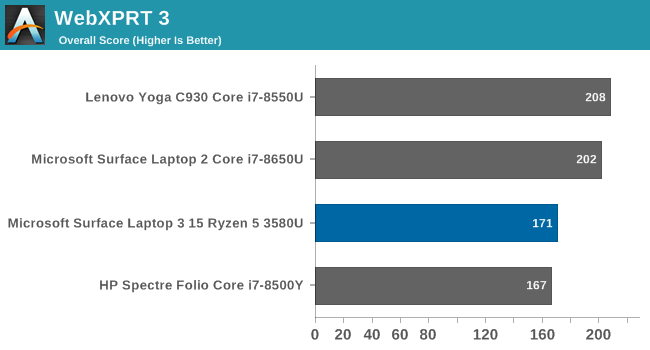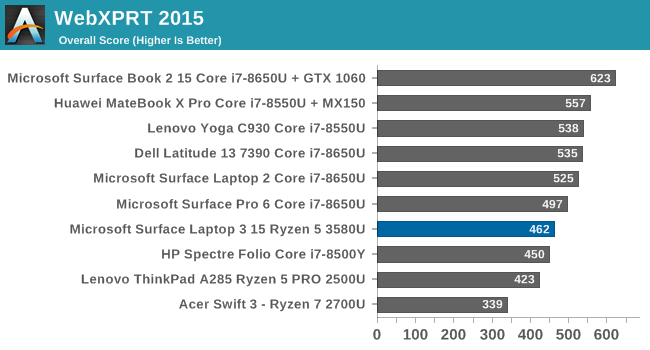 Intel's Speed Shift technology pays dividends on the web tests, since the workloads quickly ramp up and down, so the AMD Ryzen isn't quite as competitive in these tests, but the newer Zen+ is still a nice bump in performance over the original 2700U Raven Ridge APU.
Storage Performance
Over the last couple of generations, Microsoft has been utilizing soldered-in BGA SSDs to save space in their designs, but those SSDs were limited to just two PCIe lanes. With the latest round of devices, the SSD is once again removable via an M.2 slot, with Microsoft using a smaller than normal 2230 form factor. Although the SSD isn't easily replaceable, it is replaceable if necessary, which is a win for consumers on the repair side.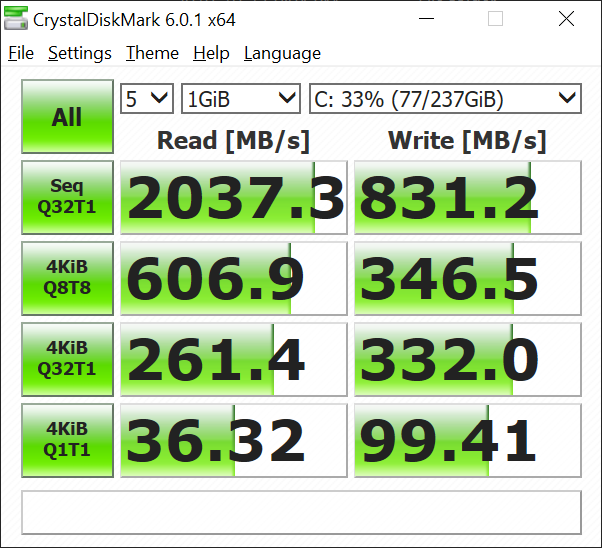 The 2230 drive in our review unit is an SK Hynix model with just 256 GB of space (other models come with a Toshiba BG4) so it doesn't offer spectacular SSD performance compared to the best 2280 drives on the market. But still gets the job done and does offer the PCIe x4 connectivity the soldered-down models lacked.