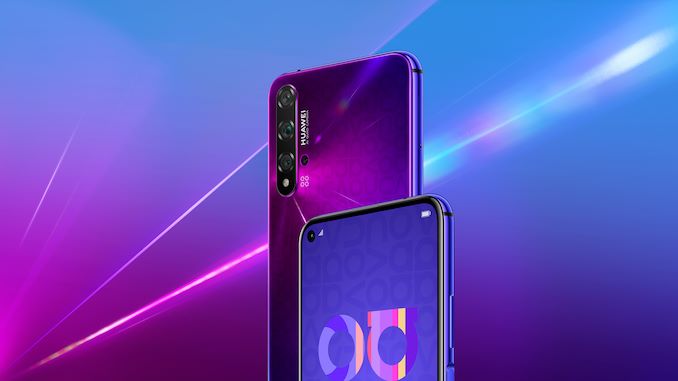 Today at a small event in Paris, Huawei announced its latest device for the more mass market: the Huawei Nova 5T for the EU. The Nova line from Huawei is part of its strategy to address the wider market with almost up-to-date components: it is priced well below the P series and Mate series flagships, but has the hardware inside from high-end devices launched earlier this year, all for a modest cost. This time around, the Nova gets a redesign, and despite US-China issues, this device has Google Media Services installed.
The Huawei Nova 5T: It's an Honor 20 in Disguise
At the EU launch, Huawei announced the new Nova 5T: a Kirin 980 based smartphone for £400 ($425 pre-tax) featuring an all-front display and a hole punch front-facing camera in the top left corner. It only took a couple of seconds to realize that I had seen this design before, on the Honor 20. A quick run-down of the spec sheet shows remarkable similarities.
The display is a 6.26-inch 2340x1080 LCD (IPS) screen that wraps around the edges of the phone to create more of a full-screen look. That hole punch front facing camera is 32MP f/2.0 unit with 0.8 micron pixels.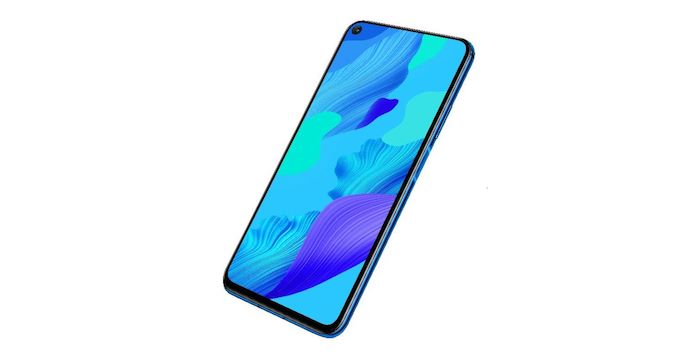 Where the Nova 5T is trying to set itself apart is in the offerings on the rear. The feel is meant to be textured with three quite vibrant color offerings: Crush Blue, Midsummer Purple, and Black. The Nova logo on the rear is also doing this odd tilt thing with the different letters, which is meant to say 'Nova' but because each letter should be read from a different angle, looks more like 'OACn' or something. Nonetheless, that rear pattern design is somewhat different.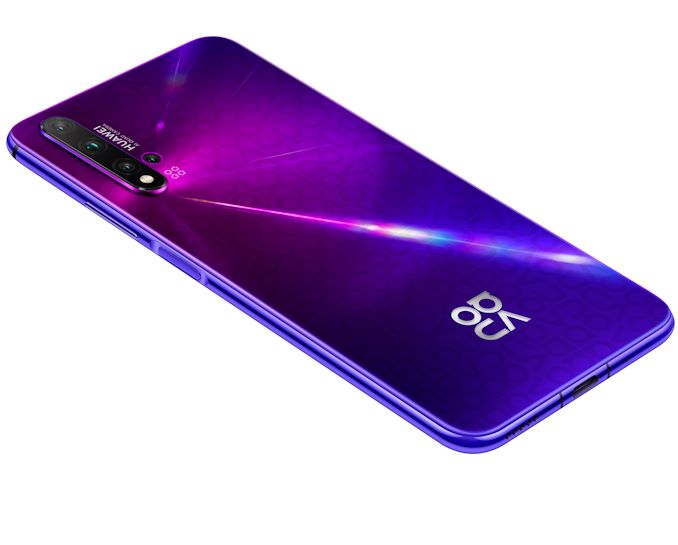 The rear four cameras are where Huawei wants to highlight the device. The main camera is a 48MP f/1.4 aperture sensor with 0.8 micron pixels, PDAF, Laser Auto-Focus, and OIS. The secondary camera is an 16MP f/2.2 ultrawide camera, with a 2MP f/2.4 depth sensor and a 2MP 27mm dedicated macro camera. Compared to the Honor 20, this phone has 2 GB more DRAM, but is otherwise identical in hardware specifications.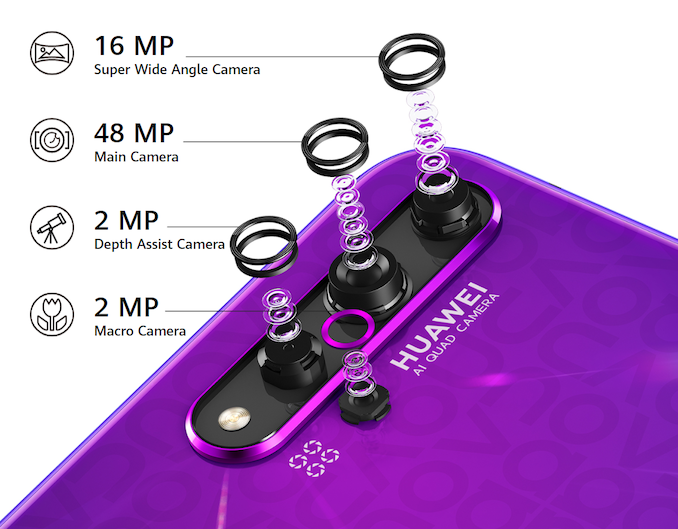 Other features on the phone include a side-mounted fingerprint sensor, the same as the Honor 20, dual band 802.11ac Wi-Fi, Type-C 25W fast charging, and active noise cancellation. There is no 3.5mm jack, but there are dual SIM slots. The phone only comes in one model, with 8GB of LPDDR4X memory and 128 GB of storage. On the software side, aside from using EMUI 9.1, Huawei has equipped the Nova 5T with GPU Turbo 3.0, the latest version in its optimized graphics technology expanding it out to more games.
Huawei Nova 5T
Honor 20
SoC
HiSilicon Kirin 980



2x Cortex-A76 @ 2.60 GHz




2x Cortex-A76 @ 1.92 GHz




4x Cortex-A55 @ 1.80 GHz





Mali G76MP10 @ 720MHz

DRAM
8 GB LPDDR4X
6 GB LPDDR4X
Storage
128 GB
Display
6.26" LCD
2340 x 1080 (19:5)
Size
Height
154.3 mm
Width
74.0 mm
Depth
7.8 mm
Weight
174 grams
Battery Capacity
3750 mAh
22.5 W Charging
Wireless Charging
-
Rear Cameras
Main
48MP IMX586
0.8µm pixels

f/1.8 lens
PDAF
Secondary
16MP f/2.2
13mm Ultrawide
Tertiary
2MP f/2.4
Depth Sensor
Extra
2MP f/2.4 27mm
macro module
Front Camera
32MP f/2.0
I/O
USB-C
no headphone jack
Wireless (local)
802.11ac Wave 2
Bluetooth 5.0 LE
Other Features
Side fingerprint sensor
(Power Button combo)
Dual-SIM
Dual NanoSIM
Colours
Crush Blue
Midsummer Purple
Black
Phantom Black
Phantom Blue
Launch Price
£400 / $425
599€ / $550
The Nova 5T will be available across the EU from November.
To address the main topic: why does this device have Google Media Services (GMS) enabled? Huawei is a company on the US Entity list, which restricts US corporations from licensing their services to Huawei – it's the main reason why the Mate 30 flagship launched last month doesn't have the Play Store, YouTube, Gmail, and beyond that, they can only be installed by a workaround not accessible to normal users. The point of being on the Entity list means that Google can't license these apps on new phones, so why do they appear on the Nova 5T?
It perhaps comes down to a few reasons. First, the design of the Nova 5T could have been completed before the cutoff point, and Huawei is only just getting around to releasing it. It's a high-end Kirin 980 smartphone, and the company did not want to usurp the market by offering a second device with near-similar hardware at a lower price point. It was technically launched in South East Asia at the end of August, but this was after the cut-off date. Also, we could consider that this phone is being launched on EMUI 9.1 which is based on Android 9, rather EMUI 10 based on Android 10. The other reason is that by-and-large this smartphone is a carbon copy of the Honor 20 launched in Q1, before Huawei was placed on the Entity list. Between the Honor 20 and the Huawei Nova 5T, the differences are mainly in the color options and DRAM. Aside from that, it's the same design: the same screen resolution and characteristics, the same hole-punch front facing camera, the same Kirin 980 SoC, the same version of EMUI, some rear camera adjustments, and the same features, but with a different styling on the rear.
What this means is that Huawei can potentially release new phones into the market with GMS enabled. Unfortunately, they'll likely be based on older hardware and older designs with older versions of the operating system – and potentially stagnate while other smartphone vendors are able to update their designs and hardware. Huawei has stated that it plans to sell its foldable Mate X smartphone in the Chinese market next month – it will be interesting to see if this comes to western markets and if they were able to license GMS on it in advance, given the device was announced before it all kicked off.
This article originally compared the Nova 5T to the Honor 20 Pro, and has been adjusted to compare it to the Honor 20.
Related Reading