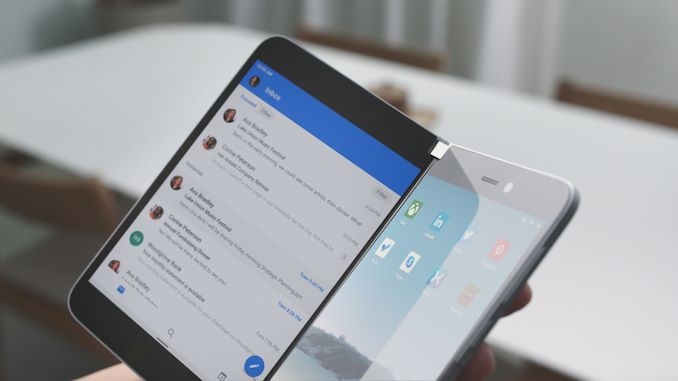 Today at Microsoft's Surface event in New York, alongside new laptops and various other Surface devices, we saw the company announce a new kind of device; the new "Surface Duo". The new device more or less loosely described as a phone, is a clamshell dual-screen phone with a full swivel hinge design.
The design of the phone at the moment look relatively simplistic, but we were certainly shown just prototype devices. The interesting design aspect was that the device lacked any kind of external features aside from the Windows logo – particularly missing from the device was any kind of rear camera.
On the "inside" – or rather more aptly, on the side with the screens, we did see the device have an earpiece speaker as well as a camera. It's possible Microsoft where is envisaging you using this single camera in all scenarios and would be relatively practical given you can use the opposing outwards facing screen as the viewfinder.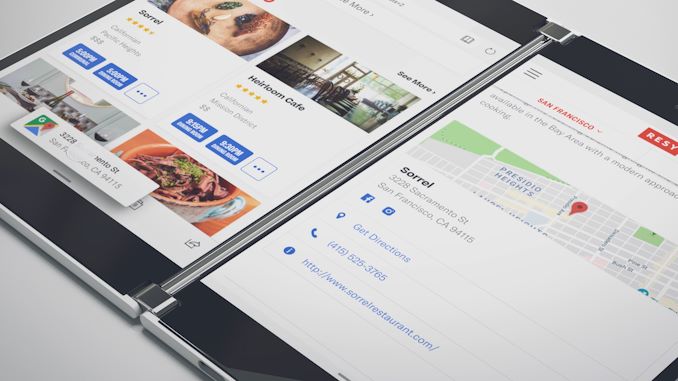 The screens themselves has two 5.6" screens which when unfolded amount to a diagonal of 8.3".
The device is running a customized version of Android as the OS.
Currently the prototype devices are said to be running Android 9 Pie with a Snapdragon 855 SoC – although these specifications are sure to change until the device's actual launch.
Much like the Surface Neo, this has been pretty much just a teaser pre-announcement of the Duo as the devices aren't scheduled to come out until the holiday season in 2020.