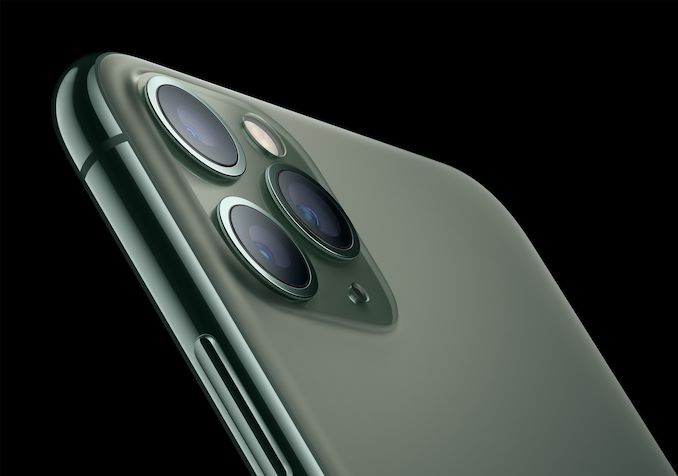 Apple's new iPhone Special Event just finished up at the Steve Jobs theatre in Cupertino – and as expected we saw the launch of a new generation of iPhones – the new iPhone 11 series. The new iPhone 11 is the successor to the iPhone XR of last year and is projected to again be Apple's most successful device for the year, upgrading the camera system with new photography experiences as well as introducing the new A13 chipset.
The new iPhone 11 Pro and 11 Pro Max are Apple's first iPhones with the "Pro" designation, and are the successors to last year's XS and XS Max. They also bring the new back glass design, but this time include three camera modules, and this year Apple also upgrades the display panel to make it much brighter and much more efficient.
Apple 2019 iPhone Specifications
iPhone 11 Pro
iPhone 11 Pro Max
iPhone 11
SoC
Apple A13 Bionic

2 × Lightning Performance Cores
4 × Thunder Efficiency Cores
GPU
Apple's Custom with 4 Cores
DRAM
Definitely some
Display
5.8-inch OLED
2436×1125
DCI-P3/True Tone
800 cd/m² brightness
2M:1 contrast ratio
3D Touch
6.5-inch OLED
2688×1242
DCI-P3/True Tone
800 cd/m² brightness
2M:1 contrast ratio
3D Touch
6.1-inch LCD
1792×828
DCI-P3/True Tone
625 cd/m² brightness
1400:1 contrast ratio
-
Size
Height
144.0 mm
158.0 mm
150.9 mm
Width
71.4 m
77.8 mm
75.7 mm
Depth
8.1 mm
8.1 mm
8.3 mm
Weight
188 grams
226 grams
194 grams
Battery Life
"+4H vs XS"
"+5H vs XS Max"
"+1H vs XR"
Wireless Charging
Qi
Rear Cameras
Main
12 MP 1.4µm Dual Pixel PD f/1.8, OIS
Wide Color Gamut
Quad LED True Tone Flash
Tele-
Photo
12 MP f/2.0 Telephoto, OIS
2x Optical Zoom
-
Wide
12MP 120° Ultra-wide Angle
Front Camera
12MP f/2.2 Wide Angle
Storage
64 GB
256 GB
512 GB
64 GB
256 GB
512 GB
64 GB
128 GB
256 GB
I/O
Apple Lightning
Wireless (local)
802.11ax Wi-Fi with MIMO + Bluetooth 5.0 + NFC

UWB U1 Chip for "Spatial Awareness"
Cellular
Gigabit-class LTE
4x4 MIMO and LAA
Gigabit LTE-A class
2x2 MIMO and LAA
Splash, Water, Dust Resistance
IP68
up to 2 meters, up to 30 minutes
Dual-SIM
nano-SIM + eSIM
nano-SIM + nano-SIM (China model)
Launch Price
64 GB:
$999 / £1049 / 1149€

256 GB:
$1149 / £1199 / 1319€

512 GB:
$1349 / £1399 / 1549€
64 GB:
$1099 / £1149 / 1249€

256 GB:
$1249 / £1299 / 1419€

512 GB:
$1449 / £1499 / 1649€
64 GB:
$699 / £729 / 799€

128 GB:
$749 / £779 / 849€

256 GB:
$849 / £879 / 969€
Whilst Apple spread around information about the new A13 SoC throughout the presentation between the iPhone 11 and iPhone 11 Pro parts – what's clear is that the new chip brings with it very large new improvements that significantly augment the experience of the whole line-up. The new chip is manufactured on what Apple calls a new "second-generation 7nm process"; we don't know exactly if this refers to the new EUV N7+ node, or the new improved iterative N7P node, that was rumoured to be Apple choice for this year.
In either case, the new chip is quite large and measures in at 8.5 billion transistors, which is an 23% increase over last year's 6.9B of the A12. Apple claims to have touched and improved almost every IP block of the chipset, improving performance, functionality, as well as power efficiency.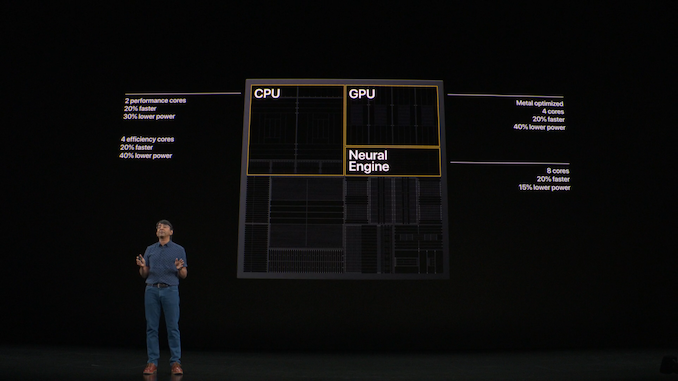 On the CPU side of things, we've seen some evidence that Apple might be introducing a new CPU microarchitecture that differs more from past generations. There's still two big performance new "Lightning" cores and the improvement claims here are 20% faster and 30% lower power. It's not clear if this is actually both improvements at the same time or either of them – last year it ended up actually being either one or the other based on our testing. The CPU seems to be clocked in at 2.65GHz which is a 6% increase over last year, however we still have to interpedently confirm this once we get our hands on the phone.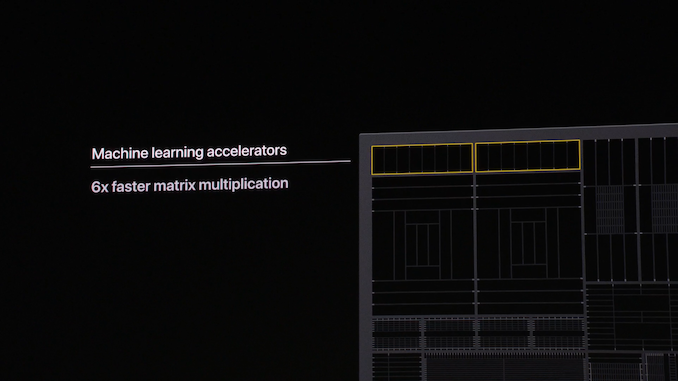 The biggest surprise and change to the CPU cores is the addition of so-called machine learning accelerators into the new CPUs. The technical designation for these new units are the AMX blocks, and seemingly they look like SIMD units added to the CPU, yet having a very DSP-like instruction set. The big mystery here is exactly how these units are integrated into the CPU and how it plays along with the ARM ISA. Apple has already integrated support for the units into the Accelerate.framework APIs and applications will be able to take advantage of the new performance capabilities – advertise at up to 1 TOPS in computational capacity. Apple made a remark that they're in a unique position in terms of their vertical integration, owning everything from the transistor level up to the OS software and dictating application architecture, being able to take advantage of this unlike any other vendor.
Alongside the performance cores, we find 4 "Thunder" efficiency cores. These are claimed to be either 20% faster or operating at 40% lower power.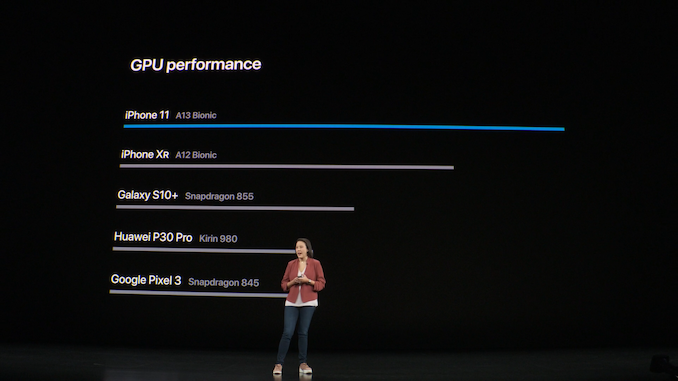 On the GPU side of things, we're still looking at a 4-core design, but of a new microarchitecture design. Following the presentation we realised Apple presented a bit conflicting data here – based on the bar chart we'd be seeing a 31% in performance, but that was over the iPhone XR which likely sported a lower clocked variant of the A12 GPU. The actual annotations in regards to the GPU in the A13 slides mentioned 20% performance improvements or 40% lower power. In either case, Apple will be leading the market in terms of GPU performance by quite a wide margin as the competition has yet to catch up to Apple's recent jumps.
In terms of connectivity, both iPhones see upgrades. The new 11 Pro series now see "Gigabit class LTE" of up to 1.6Gbps, and the 11 now also sees an upgrade to "Gigabit class" speeds. WiFi has been upgraded on all models and now features WiFi 6 (802.11ax) connectivity.
Notably absent from the keynote event presentation, but included in the specs, is a new U1 ultra-wide-band chip for "spatial awareness". The new U1 chip will be able to locate other U1 chip equipped devices, among things, Apple mentions this is used for prioritising AirDrop to the nearest devices. We don't know too much how else Apple plans to use this functionality.
The iPhone 11
Apple started off the iPhone presentation talking about the new iPhone 11. The new phone is a direct successor to the iPhone XR, coming in at a lower price point versus its predecessor.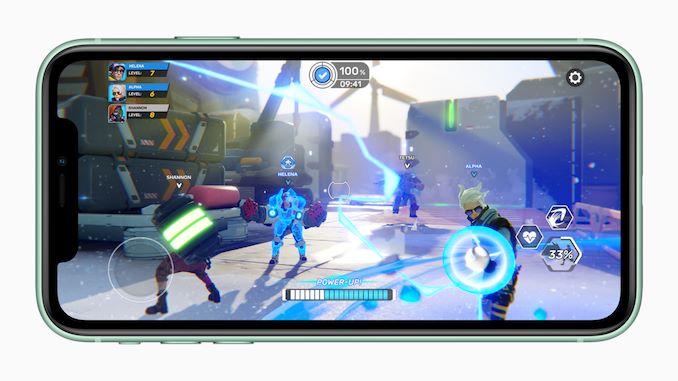 The new phone continues to use the same "Liquid Retina" LCD screen as found on the XR, coming in at 6.1" and a resolution of 1792 x 828. Personally, I wasn't quite convinced of the XR screen last year and I'm not too optimistic about the 11 sporting the same specs for the rest of 2019 and better half of 2020, but given that the XR has been Apple's best-selling iPhone to date, I guess I'm in the minority here.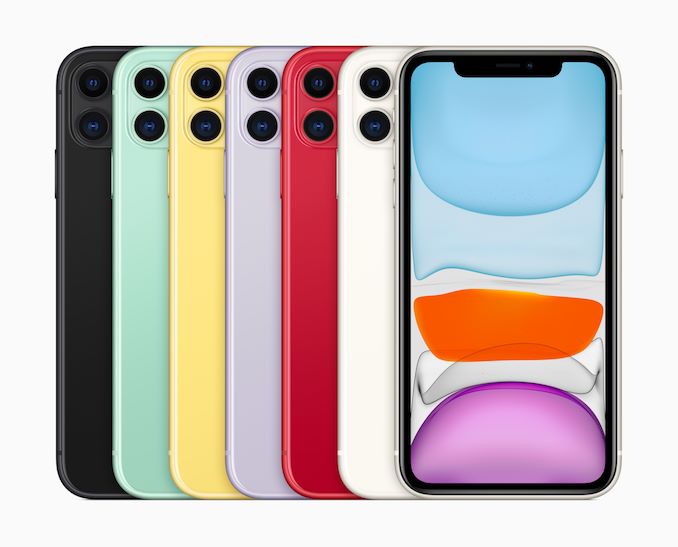 Design-wise, the phone is identical in dimensions and weight, being manufactured on an anodized aluminium frame. It's on the back of the phone where we differentiate the new iPhone 11 from the XR; most obviously thanks to the new dual-camera setup consisting of a regular wide-angle module as well as a new ultra-wide-angle camera which we'll get into more details in a bit.
We noticed that the IP rating has been increased from IP67 to IP68 to be in line with the rest of the series. Battery life is said to be "1 hour" longer than the iPhone XR, and improvement likely to be attributed to the new SoC.
The iPhone 11 Pro & iPhone 11 Pro Max
Replacing the iPhone XS and XS Max, are the new iPhone 11 Pro and 11 Pro Max. The two new phones here again are iterative updates over their predecessors, and now represent the third generation of this design language.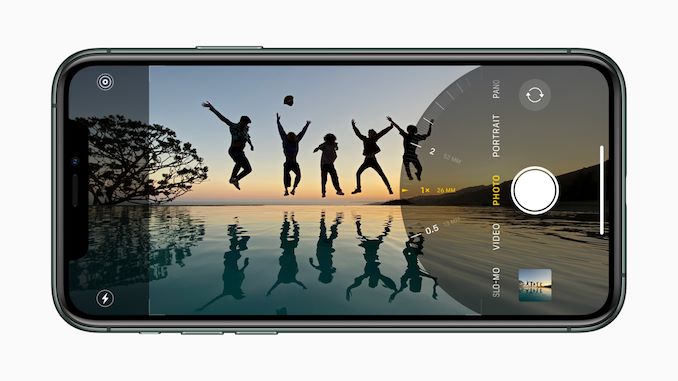 The new screens of the 11 Pro and 11 Pro Max are identical in terms of dimensions and resolutions – still 5.8" 2436 x 1125 respectively 6.5" and 2688 x 1242. The big change here is that Apple is now using new-generation OLED panels which are rumoured to employ a new emitter material generation, being the first other vendors alongside Samsung's Galaxy S10 and Note10 to use the new generation. Where this particularly changes the characteristics is in aspects such as brightness and contract – Apple now claims peak brightness of up to 800cd/m² in regular scenarios and peak brightness of up to 1200cd/m² in HDR content. Perceived contrast has also doubled from 1M:1 to 2M:1.
3D Touch seems to have been dropped this generation, as Apple no longer makes mention of it anywhere.
Speaking of battery, a new update to the 11 series is the fact that Apple has now finally ditched the old 5W charger in favour of a new USB-C (to Lightning) 18W power adapter included in the box, which will quite notably decrease one's charging time.
However, where the new displays might have an ever-bigger impact on the new iPhone 11 Pro series is battery life – Apple claims 4 and 5 hours more battery life compared to the XS and XS Max, partly thanks to the new 15% more efficient screen. We don't have any confirmation on the battery capacities of the new phones, but the 11 Pro series is ever-so thicker than the XS series, coming in at 8.1mm versus 7.7mm, and also weighing in 11g and 18g more than the predecessors at 188g for the 11 Pro and a whopping 226g for the 11 Pro Max, all pointing out towards the possibility of larger battery capacities.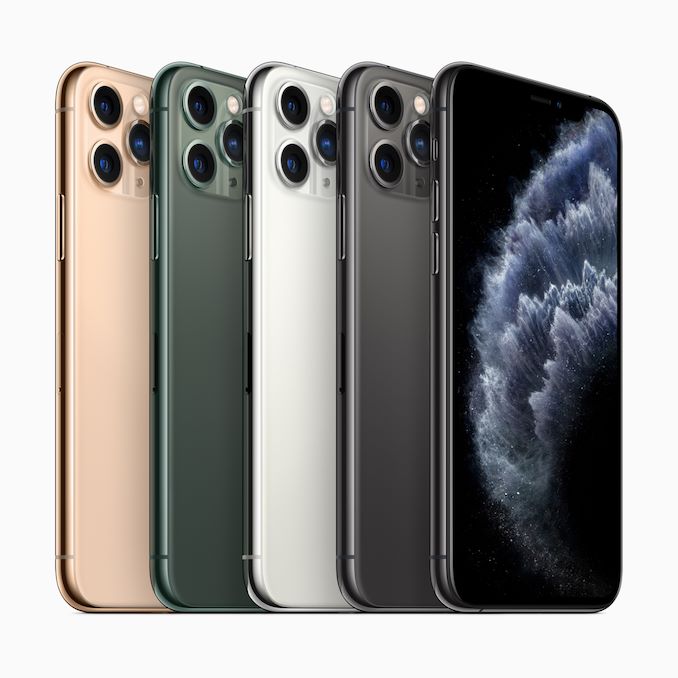 Besides the new camera setup, what's most standing out for the 11 Pro series is the new back glass design. Apple manufactured the new back from a single piece of glass, including the flowing rising edge of the camera rectangle. What I like most about the new design is that it's now an etched matte finish. I absolutely loved this design on phones such as the OnePlus 6T or the LG V40, and it's just so much better than the usual fingerprint magnet glossy glass we've grown accustomed to for several years now.
Big Camera Upgrades
The main feature and key aspect of the new iPhones is certainly the new camera setup. As mentioned, the iPhone 11 comes with a dual-camera setup which includes a regular wide-angle as well as the new ultra-wide angle module, while the 11 Pro models come with a triple-camera setup and additionally feature the known telephoto module.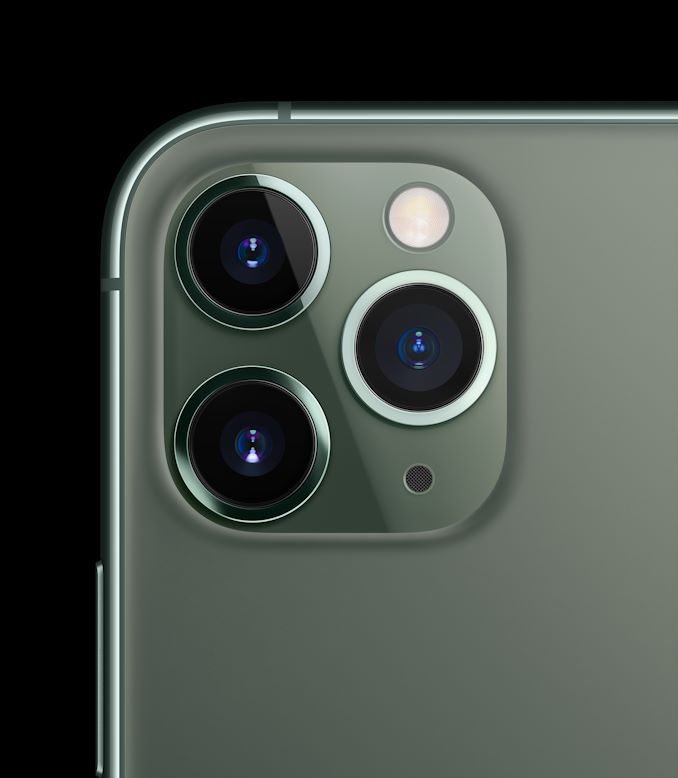 In terms of camera sensors, Apple didn't talk too much about improvements this year, and chances are we might still be looking at the same sensors. The company does disclose the main wide sensor has full-sensor dual-pixel phase detection, and the aperture also remains f/1.8, including an OIS lens. Actually, all three camera sensors are 12MP in resolution, if you were wondering. The telephoto lens has seen a change to a wider aperture of f/2.0 this generation, and also features OIS.
Naturally, the star of the new setup is the new ultra-wide-angle lens that comes in with a wide 120° viewing angle and f/2.0 aperture, able to capture a lot more of a scene. The setup isn't anything dramatically new for the industry, but it's been a trend that saw tectonic pickup among vendors in 2019, and has essentially become a must-have in terms of smartphone cameras. It's certainly something I love to have, and if the picture quality is as good as Apple proclaims it to be, then it'll make a lot of users happy.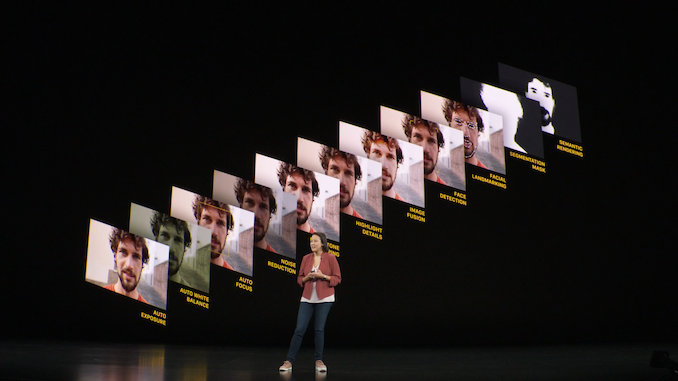 The new cameras work in tandem with the new SoC and ISP architecture – adding more stages to the camera post-processing pipeline and also making use of machine learning algorithms such as for feature recognition and segmentation.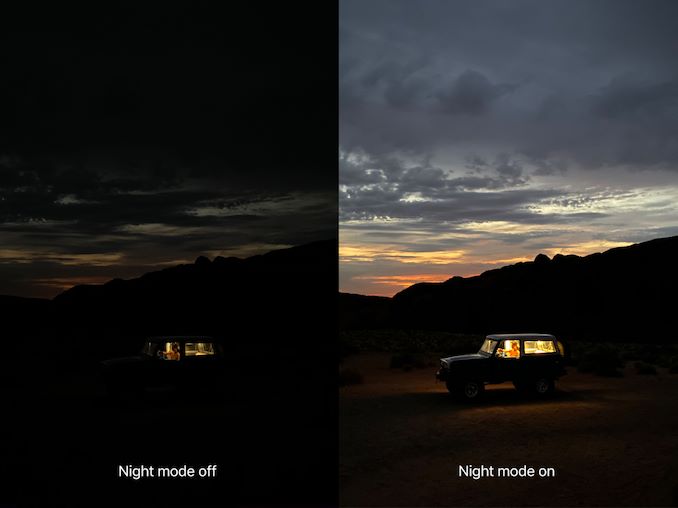 The one area a where Apple had to catch up and did deliver this time around was low-light photography. Apple jumps on the Night Mode train, featuring a new capture mode that takes several pictures together and ends up producing a new fused image that is able to make out a lot more details in low-light situations. While we can't really comment on the quality of Apple's implementation as of yet, Apple did mention that this mode is enabled automatically based on the environment lighting, something that other vendors haven't been able to implement with their night modes, and is something that seems quite like a no-brainer in terms of functionality.
Steady Pricing - iPhone 11 A Bit Cheaper
Pre-orders for the iPhone 11 series start on the 13th at 5am PDT, with availability one week later on the 20th. The regular iPhone 11 actually represents a slightly lower price tier than the iPhone XR last year, starting off at $699. The iPhone 11 Pro and 11 Pro Max have identical pricings to the last generation units, starting off at $999 and $1099. What's unfortunately shameful here is that Apple opted to continue to only offer 64GB of storage on the base models, which likely won't last too long with large 4K footage that Apple advertised a lot this launch. The iPhone 11 gets another bump to 128GB for $50, while all phones come with 256GB options for $150. The 11 Pro's come with 512GB variants for an extra $350.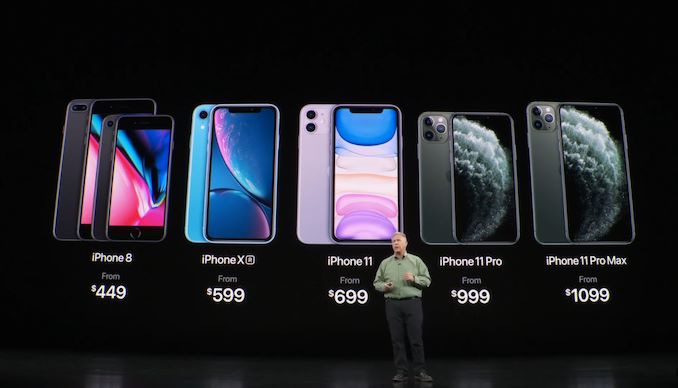 This year's iPhones were relatively incremental upgrades – the bigges focus lie in the new camera and naturally Apple's new performance with the A13 SoC. We're looking forward to get our hands on the new devices and as always deliver an in-depth review in the following weeks.