Intel announced their earnings for the second quarter of their 2019 fiscal year. Overall, revenue dropped 3% year-over-year to $16.5 billion, with gross margins still below the 60% that Intel likes to maintain, but at 59.8%, the are improved significantly over last quarter's 56.6%. Operating income for the quarter was down 12% to $4.6 billion, and net income down 17% to $4.2 billion. This resulted in earnings-per-share of $0.92, down 12% from a year ago.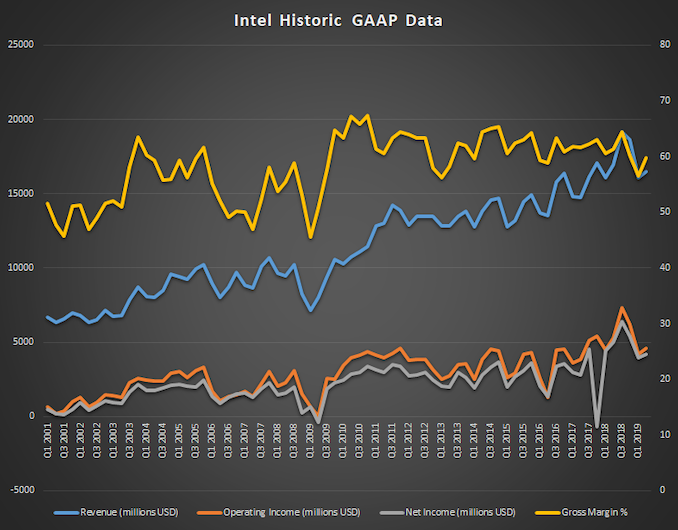 Intel Q2 2019 Financial Results (GAAP)
Q2'2019
Q1'2019
Q2'2018
Revenue
$16.5B
$16.1B
$17.0B
Operating Income
$4.6B
$4.2B
$5.3B
Net Income
$4.2B
$4.0B
$5.0B
Gross Margin
59.8%
56.6%
60.6%
Client Computing Group Revenue
$8.8B
+2%
+1%
Data Center Group Revenue
$5.0B
+2%
-10%
Internet of Things Revenue
$986M
+8%
+12%
Mobileye Revenue
$201M
-4%
+16%
Non-Volatile Memory Solutions Group
$940M
+3%
-13%
Programmable Solutions Group
$489M
+1%
-5%
Over the last couple of years, it's been the datacenter group that has been the sharp end of Intel's growth, and it's now the datacenter group that took the brunt of the slowdown. In fact, the PC-centric group at Intel managed to keep revenue more or less flat compared to last year, up 1% from Q2 2018, with $8.8 billion in revenue. Intel has seen high sales in their higher performance, and therefore higher margin, products, as well as customers purchasing ahead of possible tariffs. Intel also has finally started shipping 10 nm products in volume with expectations of holiday 2019 sales. The Client Computing Group had operating income of $3.7 billion this quarter, up from $3.2 billion a year ago, so despite Intel not executing on 10 nm as expected, they are still quite strong in the PC space even as competition has ramped up.
Intel's Datacenter group experienced a revenue drop of 10%, with $5.0 billion in revenue for Q2. The biggest single drop was enterprise and government revenue, which was down 31%, but cloud also declined, although only 1% compared to last year, and the communications service provider segment was up 3%, offsetting some of the drops. Operating income for the Datacenter group was down more significantly though. Operating income was $1.8 billion, down 34% from a year ago.
Intel's Internet of Things continues its rise, almost hitting the $1 billion/quarter threshold, and achieved a record quarterly revenue for Q2 with $986 million in revenue. This was up 12% from a year ago, with increased demand for higher performance processors driving the revenue gain. Operating income was up $51 million to $294 million as well. Mobileye revenue was up 16% to $201 million with an operating income of $53 million, up 20.4%.
Intel's NAND group had revenue of $940 million in the quarter, down 13% due to "challenging pricing" and Intel continues to lose money on their NAND group, with an operating loss of $284 million this quarter, compared to a $65 million loss last year.
Finally, Programable solutions had revenue of $489 million, down 5% from last year with no explanation given. This group saw its operating income slashed almost in half compared to last year, coming in at $52 million for the quarter compared to $101 million a year ago.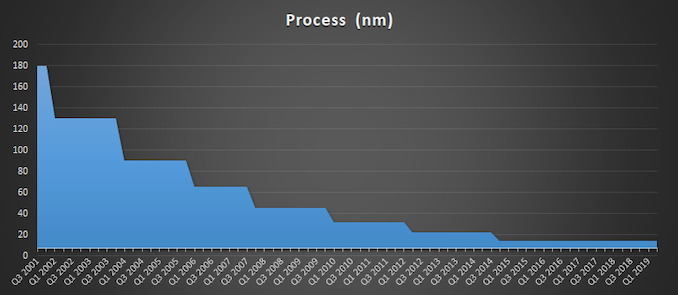 Collectively, Intel's PC group was up 1% and its Datacenter products were down 7%. Intel saw a 2% drop in notebook processor volumes, but average selling price was up 3%. Desktop processor volumes were down 11% compared to Q2 2018, but average selling price was up 5%. On the datacenter side, unit volumes were down 12% compared to Q2 2018, and average selling price was only up 2%.
Looking ahead to Q3, Intel is expecting revenues of around $18.0 billion, with earnings-per-share of about $1.16.
Source: Intel Investor Relations