Introduction
Kicking off what we've dubbed "Doom 3 Week" here at AnandTech, we're bringing you our in depth analysis of video card performance under Doom 3.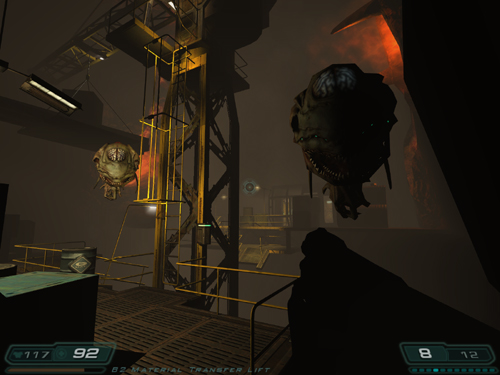 Staying up all night benchmarking one of the most anticipated titles of the past few years has been very educational for us. Quite a few impressions we had about what our Doom 3 experience would be like had to be thrown out the window, and it all comes down to the fact that this is an impressive game no matter how you slice it.
Our goal in this review is to cover all angles of graphics card impact on playing Doom 3. We will explore everything from the ultra high end down to the bargain basement cards. We've also included such favorites as the GeForce 4 Ti 4400, the Radeon 9700 Pro, and the Radeon 9600 XT. All the usual suspects put in an appearance as well to make this one of the most comprehensive graphics tests we've undertaken in a while.
But let's get down to it: we're here for the analysis, so lets take a look at the system we're testing on and iron out the details about what to expect from this review.
UPDATE:
We have recently been made aware of ATI's beta Catalyst 4.9 drivers targeted at Doom 3 performance enhancement. These drivers will not be available in a whql package until September, but until then, here is a sneak peek at percentage performance improvement over the 4.7 drivers:
 Catalyst 4.9 Performance Improvement
 
High 10x7
Ultra 10x7
High 16x12
Ultra 16x12
X800 XTPE
6.75%
8.29%
4.66%
5.21%
X800 Pro
6.87%
8.50%
2.99%
4.09%
 Catalyst 4.9 Performance Improvement w/ 4xAA Enabled
 
High 10x7
Ultra 10x7
High 16x12
Ultra 16x12
X800 XTPE
19.07%
19.80%
14.38%
15.30%
X800 Pro
5.38%
6.18%
1.83%
3.40%
We can see that the biggest performance improvements come on the higher end platform, higher quality setting, higher AA setting, and lower resolution. We were unable to install this driver on 9800 series cards, but we hear that performance improvement on older platforms is less significant than what we see on the x800 series.
UPDATE:
The issues we experienced with the eVGA GeForce 6800 Ultra Extreme have been fixed with an newer version of the card sent by eVGA.com that (among other things) dropped the core clock speed down to 450MHz. We put the card through a grueling series of tests which confirm its rock solid stability under Doom 3. The scores with the new stable revision will be slightly lower than the previous Ultra Extreme (because of the clock speed decerase), but it is still the fastest card we've tested with Doom 3.