Power, Temperature, and Noise
As always, we'll take a look at power, temperature, and noise of the GTX 1660, though after having seen the GTX 1660 Ti in a similar if not identical design, we aren't expecting anything out of the ordinary. As mentioned earlier, we've seen the XC Black board with the GTX 1660 Ti not too long ago.
Using the same TU116 GPU as the GTX 1660 Ti, the voltages are unsurprisingly the same.
NVIDIA GeForce Video Card Voltages
Model
Boost
Idle
GeForce GTX 1660
1.037V
0.656V
GeForce GTX 1660 Ti
1.037V
0.656V
GeForce RTX 2060
1.025v
0.725v
GeForce GTX 1060 6GB
1.043v
0.625v
As for clockspeeds, the same broad points from the GTX 1660 Ti review apply. Clocks at +10W TDP and at reference 120W TDP are only slightly altered, and the trend of NVIDIA's conservative boost estimates continues.
GeForce Video Card Average Clockspeeds
Game
GTX 1660
EVGA
GTX 1660 XC
GTX 1660 Ti
GTX 1060 6GB
Max Boost Clock

2160MHz

2160MHz

2160MHz

1898MHz

Boost Clock
1830MHz
1830MHz
1770MHz
1708MHz
Battlefield 1
1880MHz
1885MHz
1888MHz
1855MHz
Far Cry 5
1889MHz
1897MHz
1903MHz
1855MHz
Ashes: Escalation
1874MHz
1872MHz
1871MHz
1837MHz
Wolfenstein II
1832MHz
1861MHz
1825MHz
1835MHz
Final Fantasy XV
1865MHz
1869MHz
1855MHz
1850MHz
GTA V
1894MHz
1898MHz
1901MHz
1872MHz
Shadow of War
1879MHz
1882MHz
1860MHz
1861MHz
F1 2018
1880MHz
1886MHz
1877MHz
1865MHz
Total War: Warhammer II
1890MHz
1893MHz
1908MHz
1875MHz
Compared to the official average boost clock of the GTX 1660 Ti, the differences are also minor.
Power Consumption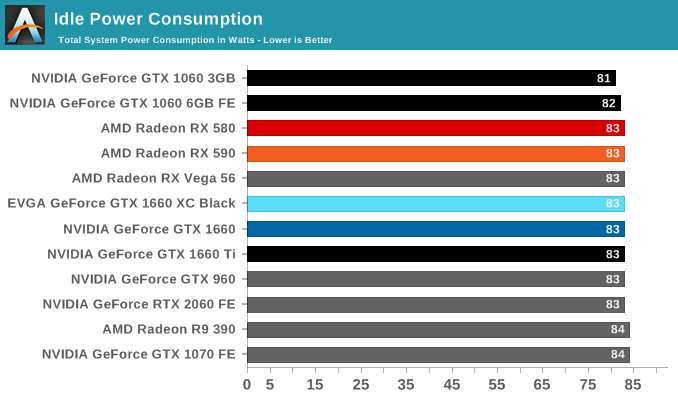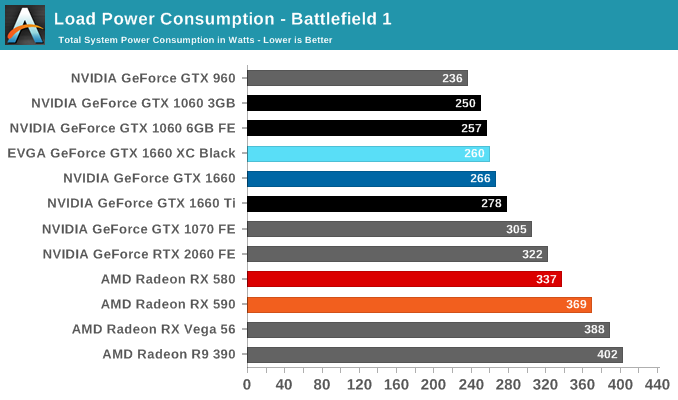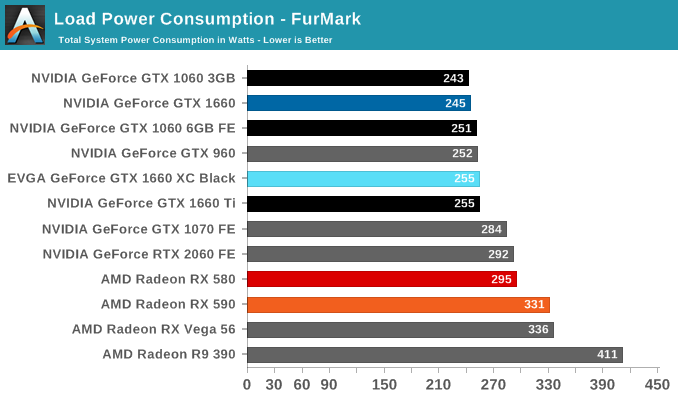 Meanwhile when it comes to idle power consumption, the GTX 1660 falls in line with everything else at 83W. With contemporary desktop cards, idle power has reached the point where nothing short of low-level testing can expose what these cards are drawing.
All told, NVIDIA has very good and very consistent power control here. and it remains one of their key advantages over AMD, and key strengths in keeping their OEM customers happy.
Temperature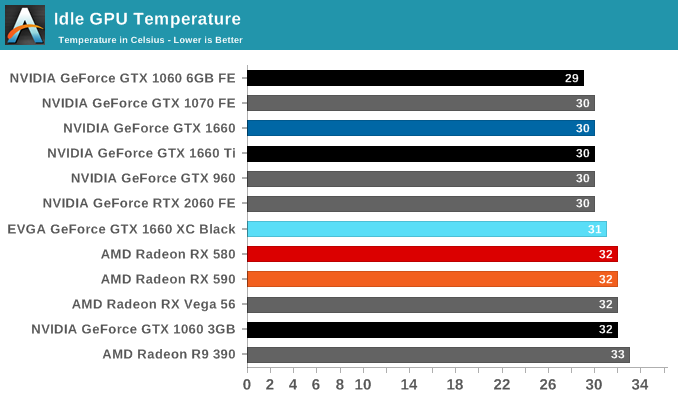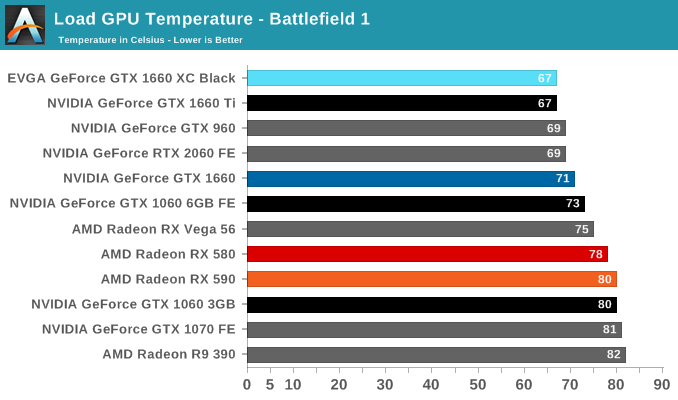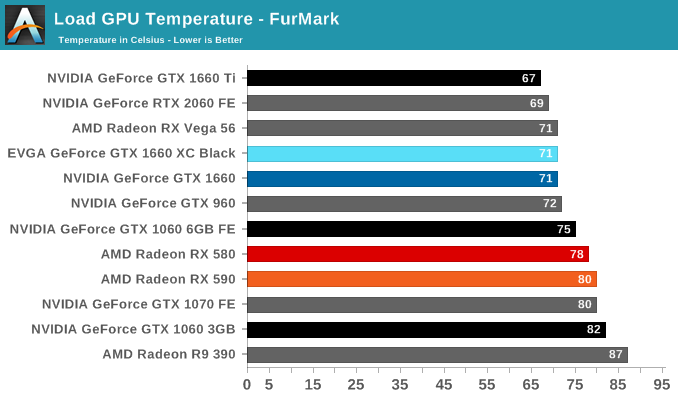 Noise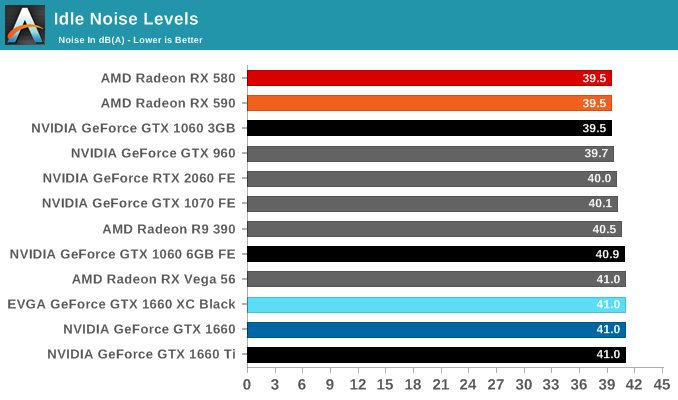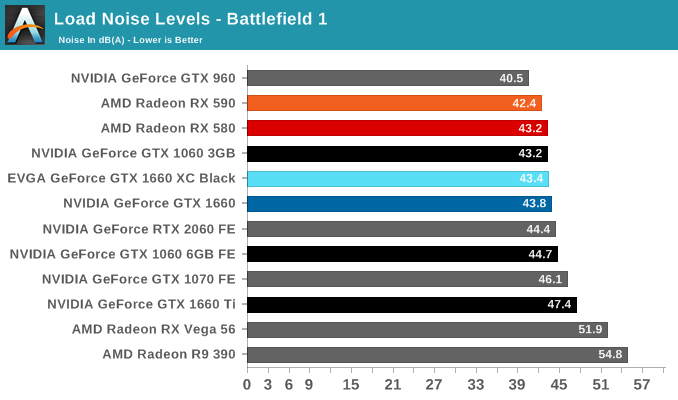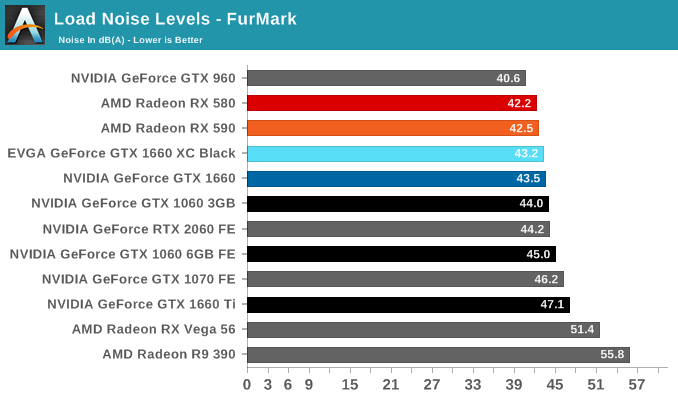 Turning again to EVGA's card, despite being a custom open air design, the GTX 1660 XC Black doesn't come with 0db idle capabilties and features a single smaller but higher-RPM fan. The default fan curve puts the minimum at 33%, which is indicative that EVGA has tuned the card for cooling over acoustics. But the curve is a little more forgiving at higher temperatures, and doesn't ramp up as much, reducing their noise levels significantly from the Ti XC Black.