General Usage Performance - Winstone 2004
First up, as usual, we have Business Winstone 2004 to measure the overall office productivity performance of Dothan. Since this is the type of usage most laptops will fall under (checking email, editing documents, surfing the web, etc.), this is quite possibly the most important benchmark to consider when looking at Dothan.
For those of you not familiar with the benchmark, Business Winstone 2004 tests the following applications in various usage scenarios:
Microsoft Access 2002
Microsoft Excel 2002
Microsoft FrontPage 2002
Microsoft Outlook 2002
Microsoft PowerPoint 2002
Microsoft Project 2002
Microsoft Word 2002
Norton AntiVirus Professional Edition 2003
WinZip 8.1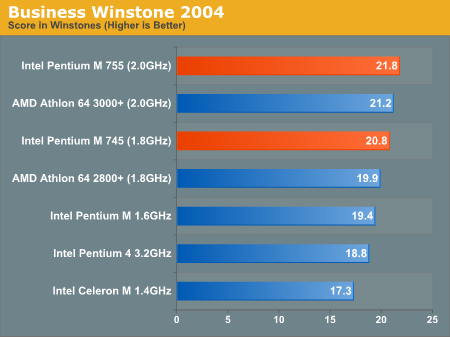 Business applications are one area where Banias originally dominated. If we look at our Pentium M 1.6GHz scores, we see that in business applications, Banias is actually slightly faster than a 3.2GHz Pentium 4. Looking at Dothan, we have performance that's competitive with an Athlon 64 3000+.
What's very important to note about the Dothan vs. Athlon 64 comparison is that at the same clock speeds, Dothan is able to equal and even slightly outperform AMD's offering - and this is without an on-die memory controller,
and
at lower power consumption.
It's clear that as a general usage mobile CPU, the Pentium M 755 can truly bring desktop class performance on the go.
Let's see how well it stands up when we throw some more content creation applications into the mix using Multimedia Content Creation Winstone 2004.
Multimedia Content Creation Winstone 2004 tests the following applications in various usage scenarios:
Adobe® Photoshop® 7.0.1
Adobe® Premiere® 6.50
Macromedia® Director MX 9.0
Macromedia® Dreamweaver MX 6.1
Microsoft® Windows MediaTM Encoder 9 Version 9.00.00.2980
NewTek's LightWave® 3D 7.5b
SteinbergTM WaveLabTM 4.0f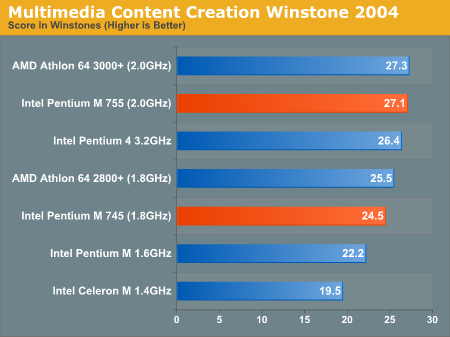 Here, the Pentium 4 does a lot better and the Athlon 64 manages to creep back up to the top of the charts, but the Pentium M still hangs in there, offering performance basically on par with the Athlon 64 3000+ and still faster than the Pentium 4 3.2GHz.