The Test
For this test, we used a Winbook W360: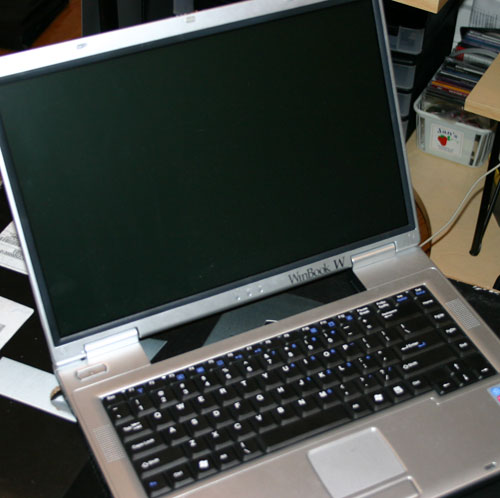 For all of our Pentium M (Banias and Dothan) and Celeron M tests, we used the Winbook W360 as our test platform.
However, for our Athlon 64 and Pentium 4 tests, we had to use desktop platforms configured to the specifications of the Winbook W360 in order to produce comparable numbers. Thus, we used a laptop hard drive (IBM Travelstar 5400RPM drive), a Radeon 9600 clocked to the speeds of the mobility 9600 in the W360 (351MHz core, 189MHz memory) and limited ourselves to single channel DDR333 memory run at the same timings as the memory in the W360 (2.5-3-2-7).
The only drivers installed on the Intel platform were the Intel Chipset drivers 5.00.1012. The mobility Radeon 9600 drivers from Winbook were installed on both the notebook and desktop platforms, the driver revision was: 7.98-040120a-013600C.
While you can obviously find faster desktop platforms than this, our goal was to do as close to an apples-to-apples comparison of the mobile CPUs as possible - and remember that if you have a mobile Athlon 64 or mobile Pentium 4 system, they are going to be configured like this and not like a dual channel DDR400 desktop system (presently, there are no dual channel DDR mobile chipsets).
We are saving battery life comparison tests until we have more Dothan notebooks in house, but rest assured that even at 2GHz, the Pentium M 755 offers about the same battery life as a 1.6GHz or 1.7GHz Banias based Pentium M.