MSI K8N Neo2 Platinum: Features and Layout
 MSI K8N Neo2 Platinum Motherboard Specifications
CPU Interface
Socket 939 Athlon 64
Chipset
nVidia nForce3 Ultra
Bus Speeds
200MHz to 300MHz (in 1MHz increments)
CPU Ratios
4x to 20x in 1x increments
PCI/AGP Speeds
Auto, 66MHz to 100MHz (in 1MHz increments)
HyperTransport
1x-5x (200MHz to 1GHz)
Core Voltage
CPU default to 1.85V in .05V increments
DRAM Voltage
Auto, 2.55V to 2.85V in .05V increments
AGP Voltage
Auto, 1.55V to 1.85V in.05V increments
Dynamic Overclocking
1%, 3%, 5%, 7%, 9%, 11%
Memory Slots
Four 184-pin DDR DIMM Slots
Dual-Channel Unbuffered Memory to 4GB
Expansion Slots
1 AGP 8X Slot
5 PCI Slots
Onboard SATA/RAID
4 SATA 150 drives by nf3-250 Ultra
Can be combined in RAID 0, 1, 0+1, JBOD
Onboard IDE/RAID
Two Standard VIA ATA133/100/66 (4 drives)
Can be combined with SATA drives for RAID 0, 1, 0+1, JBOD
Onboard USB 2.0/IEEE-1394
8 USB 2.0 ports supported by nF3-250
3 IEEE 1394A FireWire Ports
Onboard LAN
Gigabit Ethernet by nForce3-250 Ultra
Onboard Audio
Realtek ALC850
8-Channel with SPDIF
Tested BIOS
1.0B34
The MSI K8N Neo2 was the Reference Motherboard for the nVidia launch of the 939 chipset. We were very impressed with the performance of the Reference Board, and in fact, recommended the K8N Neo2 as the 939 motherboard of choice in our last
High-End Buyers Guide
. Several days ago, we finally received the K8N Neo2 retail board, so we were very anxious to verify what we had already found and perform additional testing on the K8N Neo2. We think that you will find the results in our comparative tests very interesting.
The K8N Neo2 combines all the features that you would expect on a top 939 motherboard, including the on-chip nVidia Gigabit LAN, nVidia on-chip Firewall, 4 SATA ports and 4 IDE ports that can be combined in nVRAID, 8 USB 2 ports, 8-channel audio, and 3 1394A firewire ports. MSI has implemented every nVidia nForce3-250 feature, so for more information on those features, you may want to review
nForce3-250 - Part 1: Taking Athlon 64 to the Next Level
and
nForce3-250 - Part 2: Taking Athlon 64 to the Next Level
.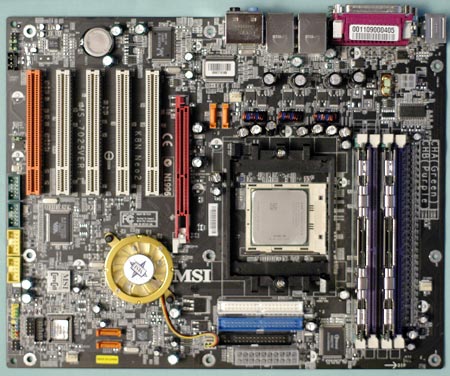 While the layout of the K8N Neo2 is a bit unusual, it works very well in most case designs. The 4 DIMM slots are on the top edge of the board, leaving the space around the CPU and AGP slot much clearer. The IDE and floppy connectors are all well clear of the CPU and PCI slots, and the 20-pin ATX and 4-pin 12V power connectors are on board edges that won't have to cross the top of the CPU fan. All of the IEEE, USB, audio, and front panel jumpers are below the slots at the bottom of the board - so even they are clear of the PCI slot area.
The voltage and overclocking options on the K8N Neo2 are generally very good, but we quickly reached the 300 CPU frequency limit of the board. MSI really needs to provide a wider available range of frequency settings, since this is one board that can use the additional settings. While 2.85V is a decent range for memory voltage, we would also prefer to see a range to 3.0V or even higher for those push memory to the limits. Half-multipliers also allow finer tweaking and would be a welcome addition to a future K8N BIOS.
With a board that does so many things so well you always wish for a little bit more, but that does not take away from the excellent performance of the K8N Neo2.