Power Consumption and TDP
The way AMD and Intel use the term Thermal Design Power (TDP) is different. Technically it is a measure of cooling ability needed for a given processor, which is how AMD use it, or the more common way is a measure of power consumption, how Intel does it. The question becomes whether it means sustained power, or turbo power - most people assume it's the latter, but Intel use it for the former (sustained) power. We describe this in detail in our article here:
https://www.anandtech.com/show/13544/why-intel-processors-draw-more-power-than-expected-tdp-turbo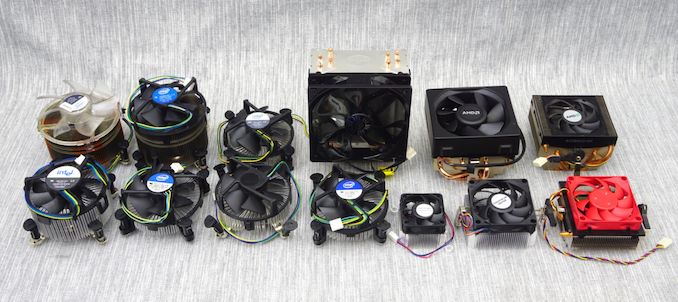 There is also the added factor of the luck of the draw - two processors that have the same name can potentially vary wildly in power consumption. Both AMD and Intel apply 'binning' rules, such that CPUs that hit a minimum grade are stamped as that processor model. This means that a processor can either only just pass the grade, or be a super perfect chip, but still be sold as the same. There is also the possibility that the company could downgrade a higher model and rebadge it to the lower model in order to adjust inventory. This is something to keep in mind when looking at power numbers.
Power Consumption
Power consumption was tested on the system while in a single MSI GTX 1080 GPU configuration with a wall meter connected to a power supply with ~75% efficiency > 50W, and 90%+ efficiency at 250W, suitable for both idle and multi-GPU loading. Our method of power reading actually bypasses the power management of the UEFI and the board to supply components with power under load, instead using the readings that the system is directly be told from the CPU for managing fan speeds, temperatures, current protection, etc. This way of reading the power has positives and negatives, but provides a sustainable CPU-only comparison value.
In our test, we use affinity masking to test from 0 to double the threads of the CPU while running the POV-Ray benchmark, and reporting the peak power from around ~20 seconds into the test when all threads are loaded. The 'Full Load' value takes the peak value out of all the affinity mark sub-tests. POV-Ray uses up to AVX2 instructions, which can draw more power than non-AVX code.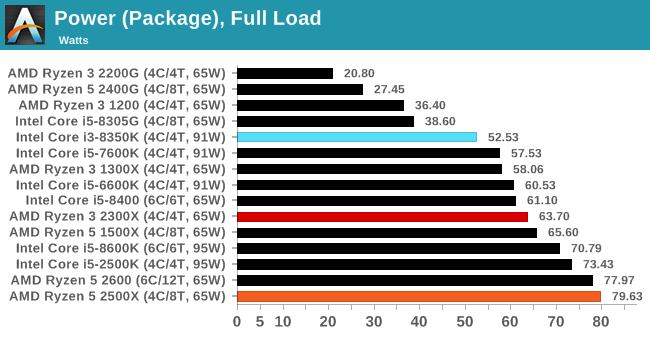 As expected, the 2500X consumes more power than the 2300X, but both are beaten by almost 10W by the Core i3-8350K, and the Core i5-8600K sits in between the two AMD chips. Perhaps suprisingly, our Ryzen 5 2500X sample consumes more power at load than our Ryzen 5 2600 chip, which is rated at the same TDP. It would appear that the 65W TDP of our Ryzen 5 2500X is set too low, or we just have a bad chip that is applying a lot of voltage. The winners in power here are the Ryzen APUs.