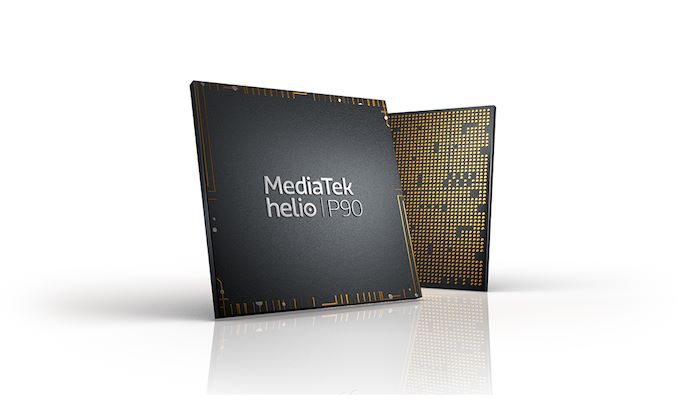 It's been a while since we've talked about MediaTek – the Helio P60 was the last release in the more visible "premium" range that the company now focuses on. The P70 released later this year seemingly was the same P60 chipset binned at a higher clock-speed. With new generation manufacturing processes around the corner, as well as Arm's new Cortex IP cores, I've been expecting a new release from MediaTek for a while now.
Today's announcement is about the new Helio P90: The new chipset is quite a surprise as it isn't exactly what I had expected. The P90 naming seemingly positions the chipset at the very high-end of the "P-series", yet its specifications aren't exactly matching this positioning.
Let's start on the specifications of the P90:
MediaTek Current P-Series
SoC
Helio P90
Helio P60/P70
CPU
2x Cortex A75 @ 2.2GHz
6x Cortex A55 @ 2.0GHz
4x Cortex A73 @ 2.0/2.1GHz
4x Cortex A53 @ 2.0GHz
GPU
PowerVR GM 9446 @ 970MHz
Mali G72MP3 @ 800/900MHz
APU / NPU / AI Proc. / Neural IP
2x +140GMACs
(Tensilica DSP)

+ In-house Inference Engine
1127GMACs total
2x 140GMACs
(Tensilica DSP)
Memory

2x 16bit LPDDR4X @ 1866MHz
1x 32bit LPDDR3 @ 933MHz

2x 16bit LPDDR4X @ 1800MHz
ISP/Camera
1x 48MP or 2x 24+16MP
1x 32MP or 2x 20+16MP
Encode/
Decode
2160p? H.264 & HEVC
2160p30 H.264 & HEVC
Integrated Modem
Category 12/13

DL = 600Mbps
3x20MHz CA, 256-QAM, 4x4 MIMO

UL = 150Mbps
2x20MHz CA,64-QAM
Category 7/13

DL = 300Mbps
3x20MHz CA, 64-QAM

UL = 150Mbps
2x20MHz CA,64-QAM
Mfc. Process
12FFC
12FFC
At the heart, the new P90 is now MediaTek's first Arm DynamIQ CPU configured SoC. The Arm Cortex A73 and A53 cores of the P60 and P70 have been replaced by the newer generation Cortex A75 and Cortex A55 cores. The A75 cores are clocked in at 2.2GHz, while the A55 cores come at a similar 2.0GHz clock as its predecessors.
What is very surprising here for MediaTek is the core-count for each core type: MediaTek has moved on from a 4+4 configuration to a 2+6 configuration, mimicking Qualcomm's Snapdragon 670 and 710 chips. In terms of multi-threaded performance this should represent a downgrade over the P60/70, even though the new A75 cores should represent a good boost over the A73 cores. MediaTek talks about including a "large L3" in the new chipset, however doesn't disclose its exact size, neither talks about the L2 configurations of the CPU cores.
On the GPU side, we see a big shift for MediaTek as for the first time in a long time we see the company putting aside Arm Mali GPU in favour of Imaginations new PowerVR GM 9446 GPU running at up to 970 MHz. This is Imagination's biggest 9XM configuration and comes with 2 USCs for a fillrate throughput of 8 pixels per clock as well as a total compute throughput of 128 FLOPS/clock. To put this into perspective, this is roughly over double the fillrate of the P60's Mali G72MP3 GPU and represents either a 77% increase in FMADD throughput, or an 18% increase in FLOPS/clock depending on if you also count FADD units.
On the machine inferencing side, MediaTek makes a big jump in terms of computational performance: Here we still see continued use of Tensilica's DSP in the P90, the unit that was able to also handle machine learning inferencing workloads on the P60 and P70. This unit continues to be used in the P90, but on top of this MediaTek now for the first time integrates a dedicated inference engine that was designed in-house. MediaTek doesn't break the figure down, but says the total performance of the units total 1127 GMACs. In the more conventional counting methods, a MAC is equivalent to two OPS, so in other words the P90 should be able to deliver about 2.2TOPs. It's to be noted that the new inferencing engine seems to be dedicated for FP16 operations as the INT8 performance of the SoC is quoted to having been increased by only 10-20% - meaning such operations are still relegated to the Tensilica IP.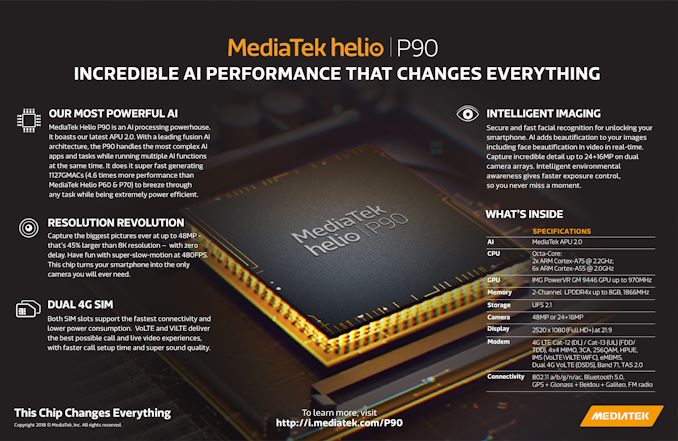 In terms of bandwidth, MediaTek still remains quite conservative in this regard as the P90 continues to still only feature a 32-bit wide memory controller in the form 2x 16b LPDDR4X channels running at up to 1866MHz, resulting in a theoretical bandwidth of 14.92GB/s.
Connectivity wise, we integrated has seen an upgrade from Category 7 to Category 12, doubling downstream peak download speeds to up to 600Mbps with the help of new 256QAM and 4x4 MIMO.
Lastly, imaging pipelines as well as the ISP are said to have seen big upgrades as the new chipset now offers multi-frame noise reduction, now supports larger sensors up to 48MP in single-camera mode or 24+16MP in dual operation along with acceleration for dual-sensor depth sensing and new software stacks making use of the new inferencing hardware, improving features such as edge detection.
So overall the MediaTek P90 looks to be a healthy upgrade in all regards- however it's still very much a conservative SoC. Here MediaTek still lags behind in terms of integrating the newest IPs such as Arm's new Cortex A76 CPU for example. The SoC is also manufactured on TSMC's 12FFC process node – which does represent a disadvantage to MediaTek's direct competition that the P90 positions itself against: the Snapdragon 670, 710 and even the newer 675. Because MediaTek markets the P90 this high up the P-series, I have to wonder if that we'll soon maybe see a return of an X-series SoC featuring the higher specifications for a 7nm chipset next year.
The Helio P90 is said to be available to partners and we'll be seeing first commercial devices announces towards the end of Q1 2019.