Pure Hard Disk Performance
To measure "pure" hard disk performance, we took a real world benchmark - in this case, the entire Winstone 2004 suite - and used Intel's IPEAK utility to capture a trace file of all of the IO operations that take place during a single run of Business Winstone 2004 and MCC Winstone 2004. We then use IPEAK to play back the trace, much like a timedemo, on each of the hard drives, which gives us a mean service time in milliseconds; in other words, the average time that each drive took to fulfill each IO operation.
In order to make the data more understandable, we report the scores as an average number of IO operations per second so that higher scores translate into better performance.
Keep in mind that these performance scores are best only for comparing pure hard disk performance, and in no way do they reflect the actual real world performance impact of these hard drives.
For descriptions of what the Business and Multimedia Content Creation Winstone 2004 tests consist of, reference those benchmark pages.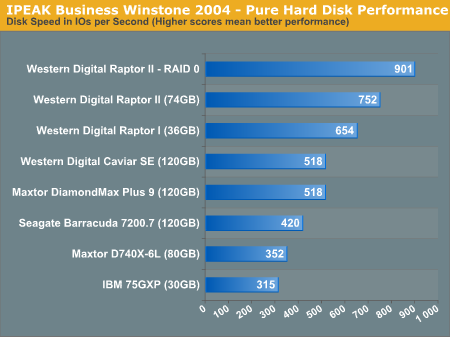 While a score of 901 IO operations per second seems impressive, what's important to note is that two Raptors in RAID-0 only offers 20% more performance than a single Raptor in this purely disk-bound test. We have already seen how aggressive caching, pre-fetching and other such real world elements of modern day computers reduce the impact of hard drive performance on overall system performance. With only a 20% improvement in pure disk performance, this doesn't bode too well for RAID-0 offering much of a real world performance boost.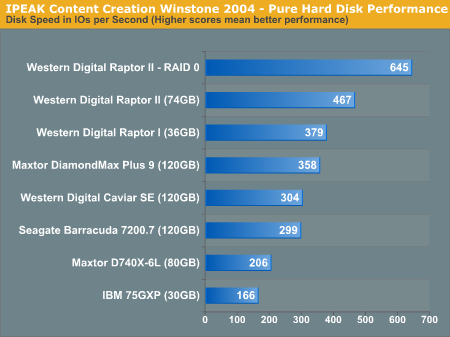 With data from audio editing as well as other more IO intensive tasks, our IPEAK recording of Content Creation Winstone 2004 shows much more potential for RAID-0, with the Raptor RAID-0 array outperforming a single drive by 38%.
Now, it's time to see how these numbers translate into real world performance.