Putting the Redundancy in RAID: RAID-1
The next type of RAID that we'll talk about is RAID-1, otherwise known as mirroring. We won't be benchmarking RAID-1 here because, for the most part, there's no performance increase or decrease. As the title of this page implies, RAID-1 is done for redundancy.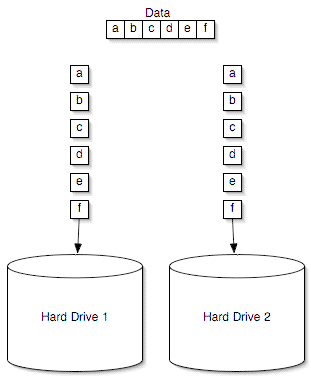 Writing to a two-drive RAID-1 array
Unlike RAID-0, there is no preprocessing done on the data before it is sent to the hard drives. Instead, with RAID-1, a duplicate of everything written to drive 0 is written to its mirror drive. The benefit of RAID-1 is that if one drive fails, you have a perfectly working backup that can take over until you have replaced the failed drive. You have effectively doubled a single hard drive's mean time between failure by using two in a RAID-1 array. You'll notice that this is the exact opposite of RAID-0, but the downside to RAID-1 is that you spend twice as much on hard drives without getting any additional capacity or performance, just reliability.