Doubling Theoretical Performance: RAID-0
For those of you who are already familiar with RAID and how it works, go ahead and skip to the benchmarks; these next two pages are designed to serve as brief introductions to the two most common forms of RAID on the desktop: RAID-0 and RAID-1.
Otherwise known as striping, RAID-0 is the only performance-enhancing form of RAID that we'll be talking about in this article. The premise behind striping is simple. Data being written to a drive is split into "stripes", generally 16 - 256KB in size, with each stripe being written to a different drive in the array. For example, say we were dealing with a 2-drive RAID-0 array with a stripe size of 128KB and we wanted to write 256KB of data; drive 0 would get the first 128KB of data written to it, and drive 1 would get the remaining 128KB.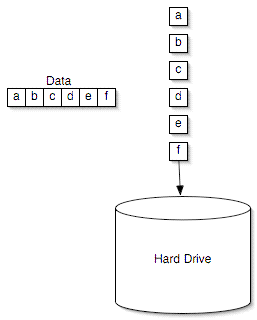 Writing to a single hard disk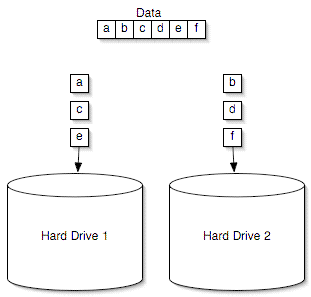 Writing to a two-disk RAID-0 array
Here, you can see that the write performance of RAID-0 can be almost double that of a single drive, since twice as much data gets written at the same time. The higher write performance is obtained at the expense of some controller overhead, since the RAID controller has to handle splitting up data into stripes before sending it to the drives themselves - but with modern day microprocessors being as fast as they are, the overhead is usually thought of as negligible.
Reading works the exact same way, but in reverse. Say that we want to read that same 256KB of data back; we pull one stripe from drive 0 and the other stripe from drive 1. The read is now completed in half the time, theoretically doubling performance.
We are careful to use the word "theoretical" because the performance advantages of RAID-0 disappear quickly if we're not dealing in ideal situations like the ones we just described. If too large of a stripe size is used, then the performance advantages of RAID-0 can be lost, while too small of a stripe size could result in excess overhead, reducing the performance improvement of the striped array.
We have seen in the past that for most desktop applications, the largest stripe size that a desktop RAID controller will offer is usually the best choice for performance. With Intel's ICH5/6, that translates into a 128KB stripe size, which for our comparison is what we decided to go with. The other stripe size options didn't offer any better performance for our desktop test suite.
The main downside to RAID-0, other than cost, is reliability. The size of a RAID-0 array is the sum of all of its members; so, two 100GB drives in a RAID-0 array will give you one array with a 200GB total capacity. Unfortunately, if you lose any one of the drives in the array, all of your data is lost and isn't recoverable.
Since two drives are working in tandem and are both necessary to hold your data, you effectively halve the mean time between failure by moving to a two-drive RAID-0 array.