Introduction and Construction
Even with the backing of enormous manufacturers like Hitachi and LG, the DVD-RAM format never quite got off the ground in the retail market. Only up until a few months ago, you needed a separate DVD-RAM burner to write data. LG was the first to step up to the task in creating a true, universal DVD writer using chipsets designed from the ground up. Today, we take a look at their second generation "Super Multi" drive and see if it can really take the heat against tried and true burners already available on the market.
The GSA-4120B comes with fairly good documentation in both paper and electronic form. We were pleased with the level of detail included in the manual. However, the software bundle was just average. Included was PowerDVD, PowerProducer Gold, Nero Express and InCD. These are good starter software packages, but a drive of this caliber should really bundle the full version of Nero. No media was included with the drive.
Below is a quick overview of specifications on the drive:
LG GSA-4120B DVD-/+R Drive
Interface
PATA
CD Write Speed
40X, 32X, 24X (Z-CLV)
16X, 12X, 8X, 4X (CLV)
CD Rewrite Speed
24X (Z-CLV)
16X, 12X, 8X, 4X (CLV)
CD Read Speed
40X Max (CAV)
DVD-R Write Speed
8X (Z-CLV)
4X, 2X (CLV)
DVD-RW Rewrite Speed
4X, 2X, 1X (CLV)
DVD+R Write Speed
12X, 8X (Z-CLV)
4X, 2X (CLV)
DVD+RW Rewrite Speed
4X, 2.4X (CLV)
DVD-RAM Write Speed
5X (CLV)
DVD Read Speed
16X Max (CAV)
Supported Modes
DAO / DAO-RAW 16 & 96
TAO
SAO / SAO 16 & 96
Packet Write
Multi-Session
Supported Formats
DVD+R (DAO, incremental, seq)
DVD+RW (random)
DVD-R (DAO, incremental, seq)
DVD-RW (restricted overwrite)

CD-R, CD-RW, CD-ROM, CD-DA,
Mixed Mode, CD Extra
Photo CD, CD Text, Bootable CD, UDF
Access Time
CD: 135ms
DVD: 155ms
Buffer
2MB
Most specifications on the GSA-4120B are similar to that of the Plextor 708A, our previous champion for DVD recording. The Plextor 712A was able to raise the bar on all of these specifications except DVD dual layer and DVD-RAM recording. However, the addition of these two burn types are significant advantages over any Plextor burner.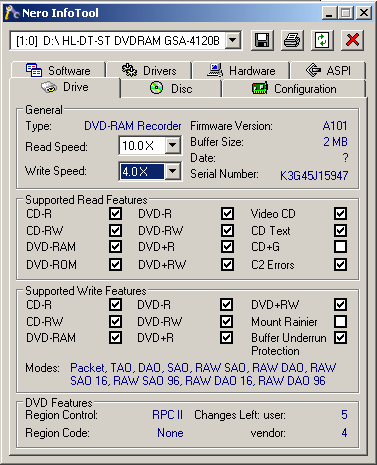 DVD Dual Layer (DVD DL) is something vendors and end users have been talking about for a considerable amount of time now. Unfortunately, media still has not hit the mainstream. We are hearing from select vendors that the occasional disc or two will sell for upwards of $5, but in the meantime, we have to sit and wait for Verbatim and Ritek to let their media slowly trickle down to end users.
Oddly enough, Nero and DVD Info Pro identify the GSA-4120B as only capable of 4X DVD-RAM burning (the box advertises 5X). Since we do not have 5X DVD-RAM media, nor was any included with the drive, we simply have to take LG's word for it until reliable 5X media becomes available.
Unfortunately, the drive does not use a chipset with which we are particularly familiar. The previous LG GSA-4081B used a custom chipset that was based loosely around NEC and Hitachi components. More than likely, the GSA-4120B is still based around a Hitachi chipset, since the drive cover clearly states "Designed by Hitachi-LG Data Storage Inc".
There are no official
booktype
setting capabilities for this drive. There are several unofficial firmwares that burn the discs with a DVD-ROM booktype, but we will only focus on retail firmware in this review.