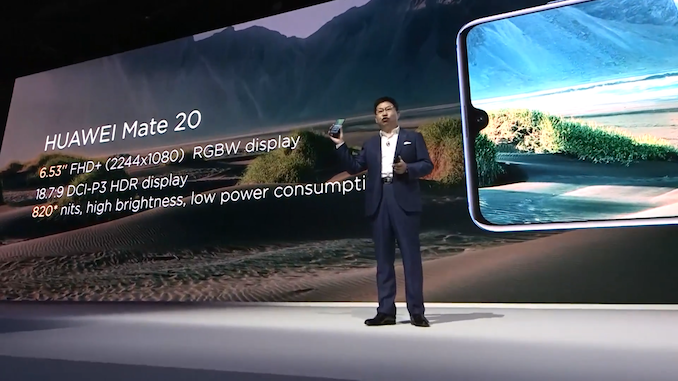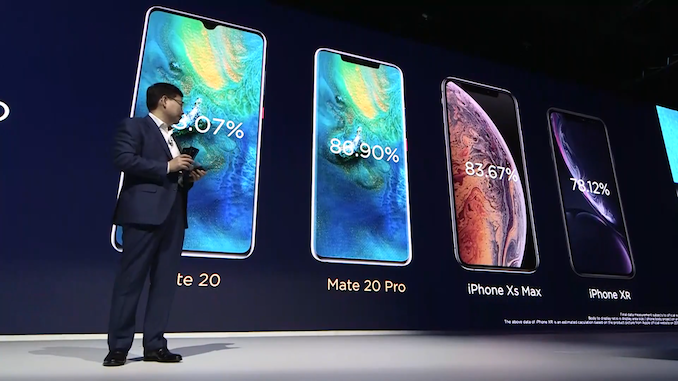 09:10AM EDT - Hello folks, we've has some technical issues as both on-site location and the stream has failed.
09:11AM EDT - We missed the first 10 minutes of the event, but picking up from here.
09:11AM EDT - We have the Mate 20 and Mate 20 Pro announced today.
09:12AM EDT - Picking up from where the event is going now, the Mate 20 Pro is introducing a new DPS sensor (in-screen fingerprint).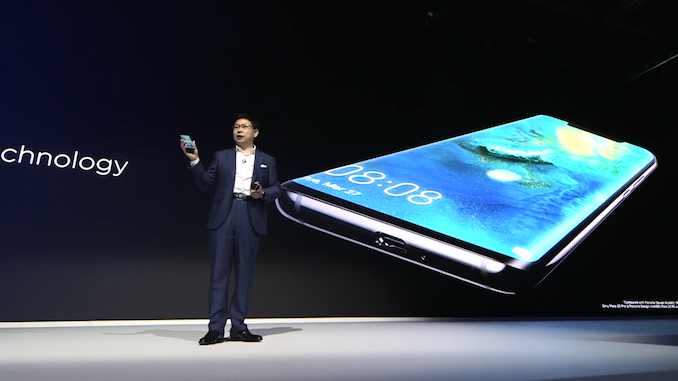 09:12AM EDT - Huawei is introducing a new SD card format: nanoSD, same format as the nanoSIM.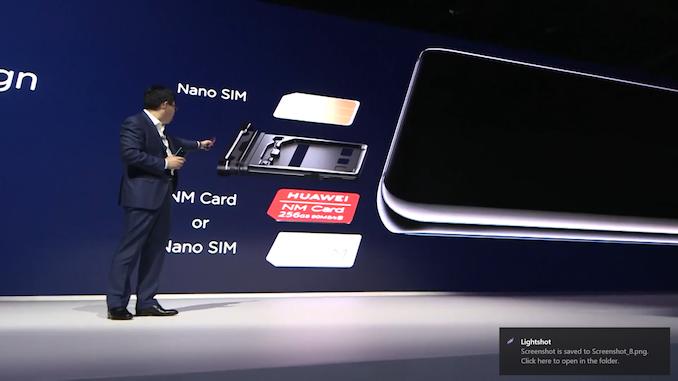 09:13AM EDT - The Mate 20 and Mate 20 Pro have no speaker grill - the sound comes out of the USB C jack hole.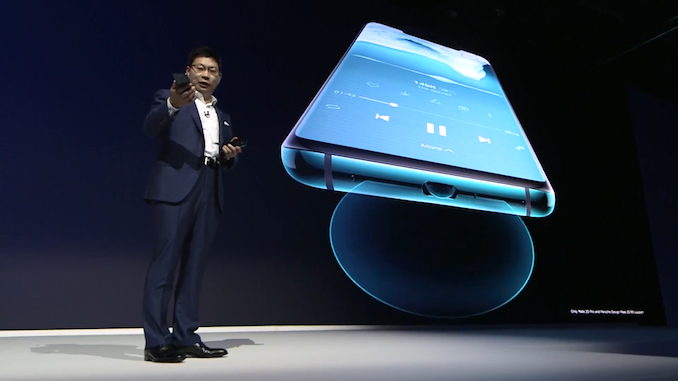 09:14AM EDT - The new Mate 20 Pro is IP68.
09:14AM EDT - The Mate 20, even though it has a glass back, has a special micro-bump surface to make it less slippery.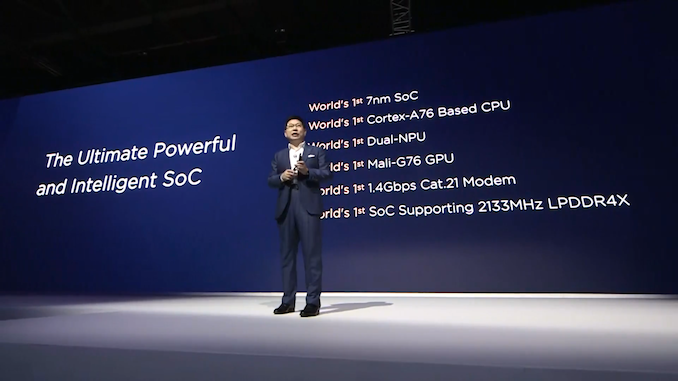 09:16AM EDT - The Mate 20's are powered by the new 7nm Kirin 980 - this is the first SoC with Arm's new A76, G76, and Huawei claims to have the fastest WiFi and modem.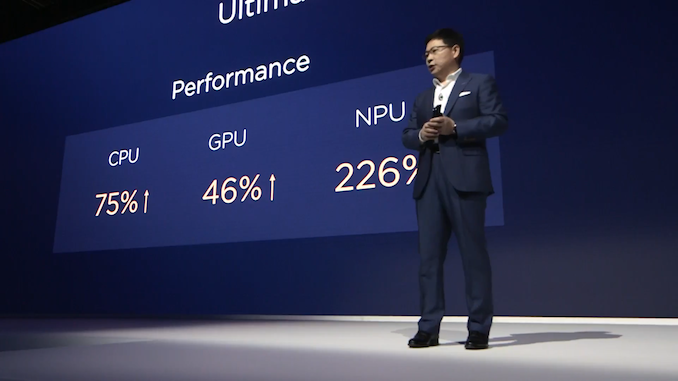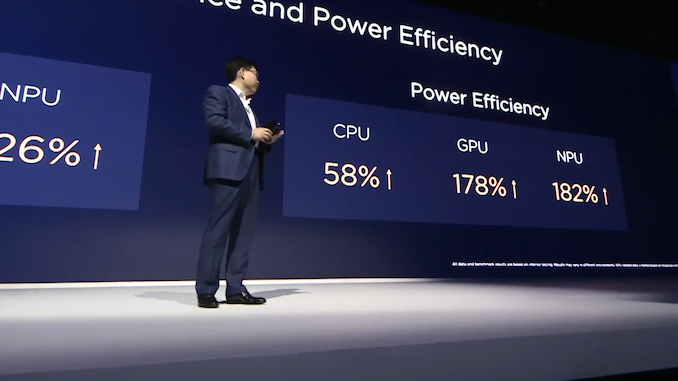 09:17AM EDT - Big performance as well as power efficiency improvements, on CPU, GPU as well as the new NPU.
09:18AM EDT - 1s faster launch times in applications than competing smartphones, across a variety of applications.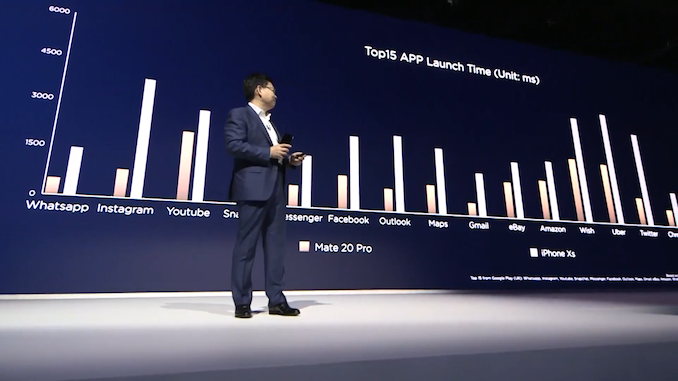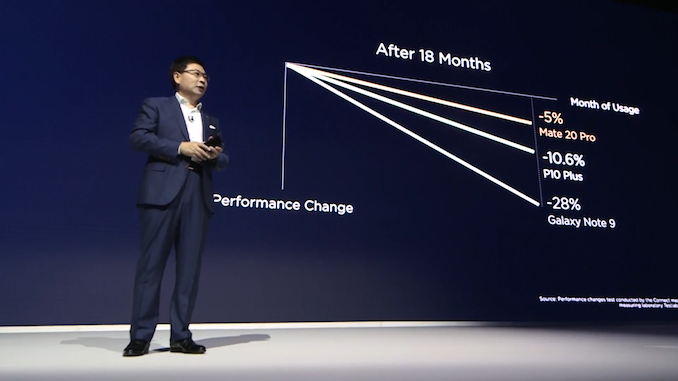 09:19AM EDT - Sustained performance of the smartphone over longer duration. No degradation as found in other smartphones, this is linked to the NAND storage of the phones.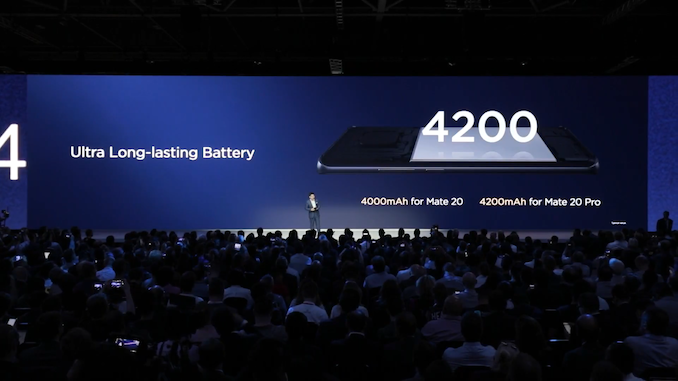 09:19AM EDT - The new Mate 20 has a new 4200 mAh battery.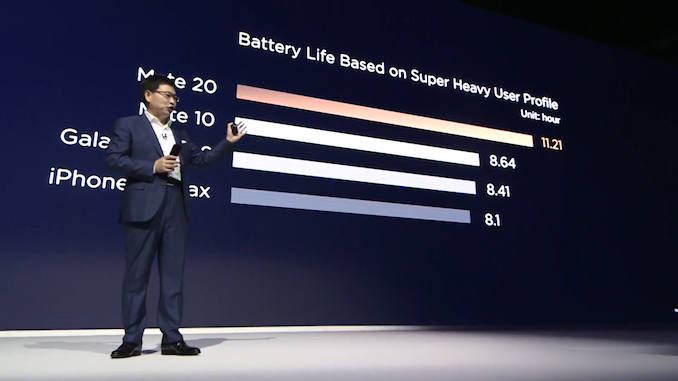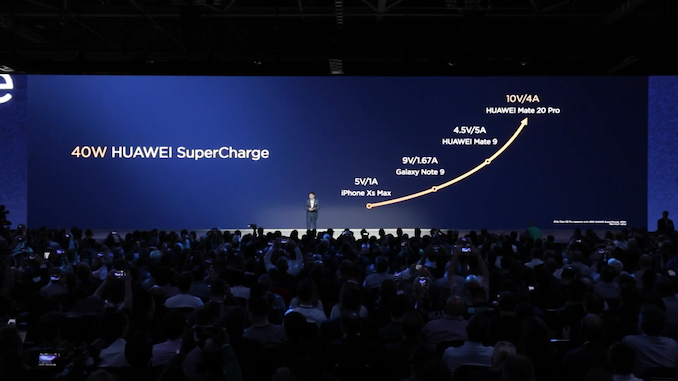 09:20AM EDT - New super charging, 40W peak charging power, in half an hour it charges up to 70%.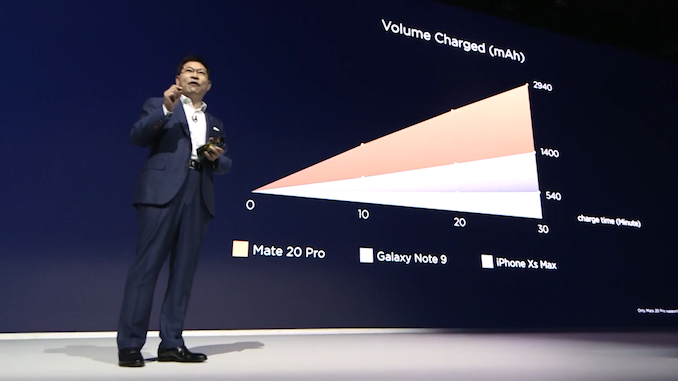 09:20AM EDT - TÜI has certified the charging method as the safest charging method.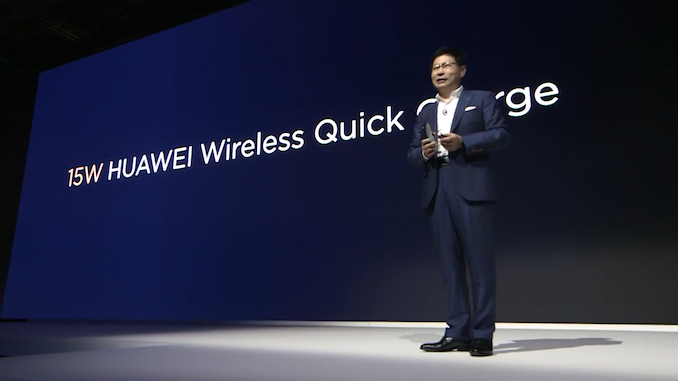 09:21AM EDT - 15W wireless charging is now supported by Huawei for the first time.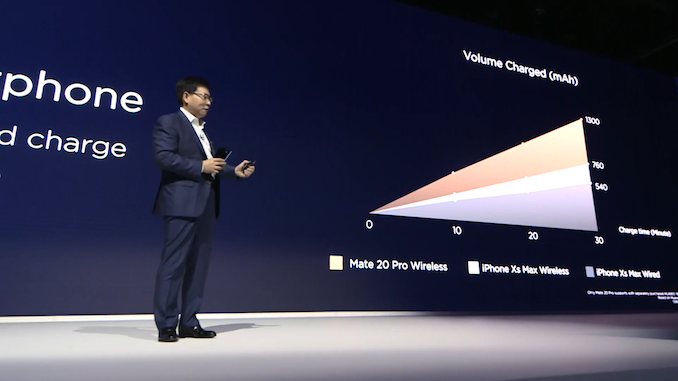 09:21AM EDT - 70% faster wireless charging than other phones.
09:22AM EDT - You can also reverse charge other devices with the Mate 20 Pro.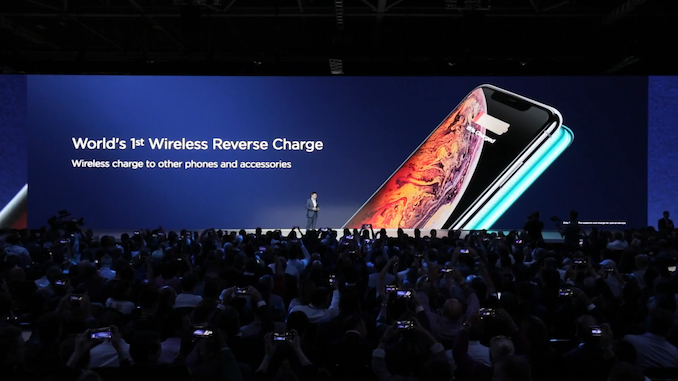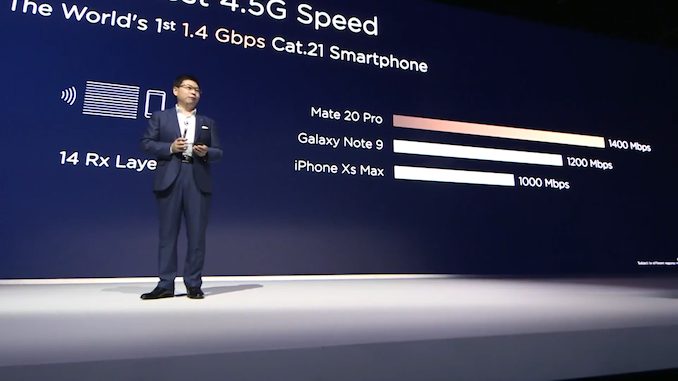 09:23AM EDT - New 1.4Gbps LTE modem, and promising much better antenna performance.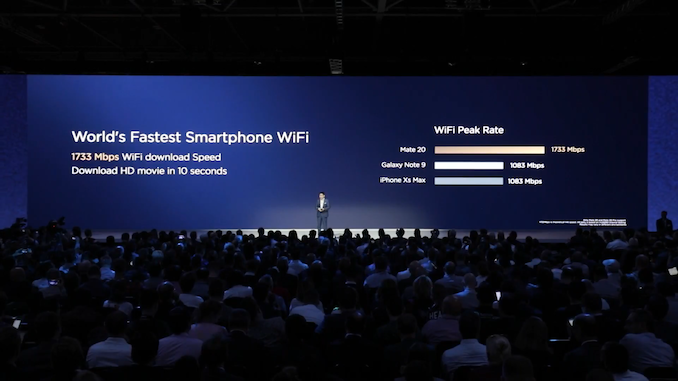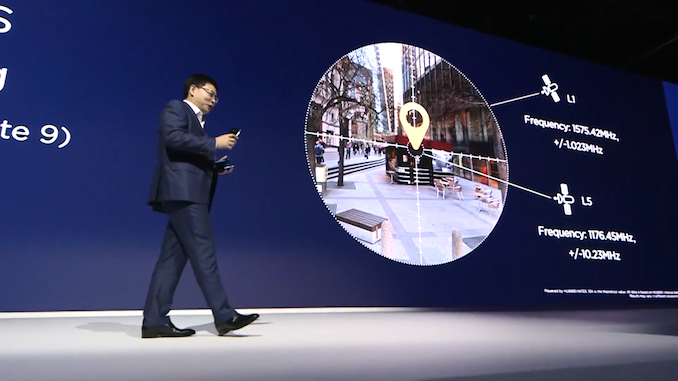 09:24AM EDT - Dual-frequency band GPS, L1 and L5. With 10x accuracy.
09:25AM EDT - Comparison video between the different GPS accuracy in a city environment with high buildings.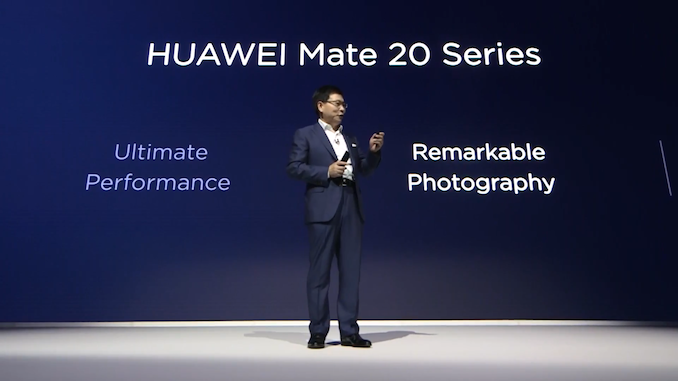 09:25AM EDT - "Matrix camera system"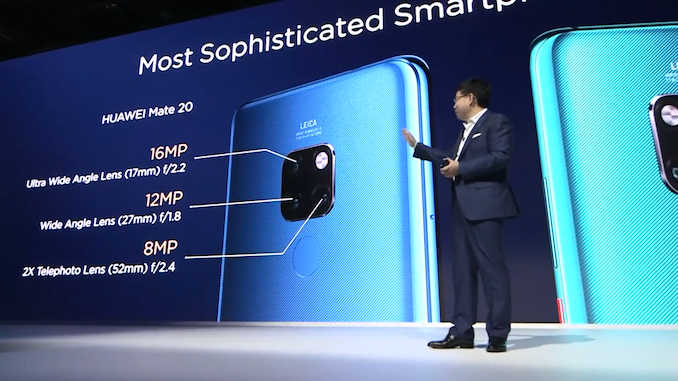 09:26AM EDT - 16MP main sensor, 12MP wide angle, 8MP zoom on the Mate 20.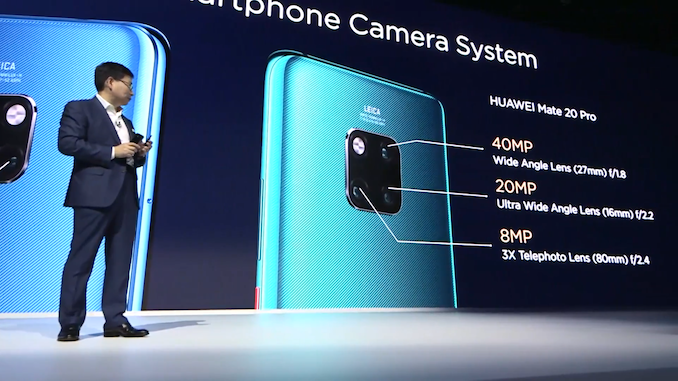 09:26AM EDT - 40MP main, same as on the P20 Pro, 20MP wide angle, and 8MP zoom on the Mate 20 Pro.
09:27AM EDT - 125% larger than other sensors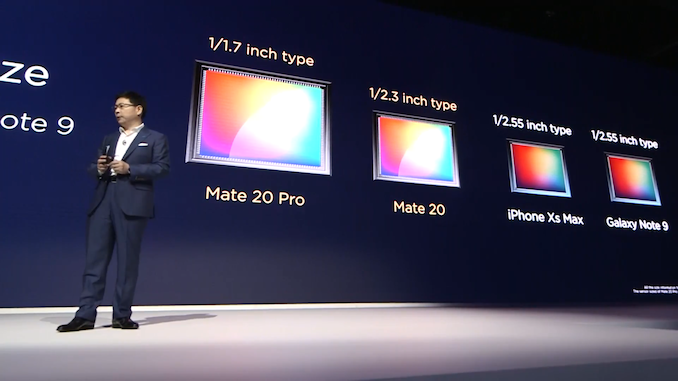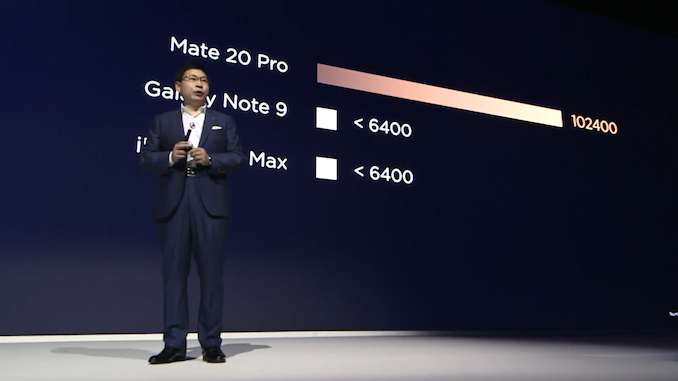 09:28AM EDT - As we've seen in past reviews, Huawei's extreme low-light sensitivity is unrivalled.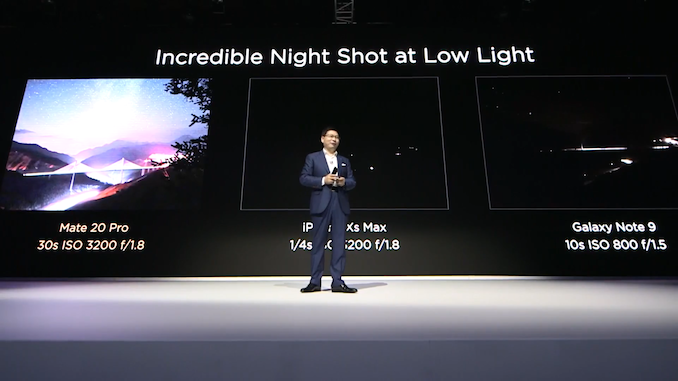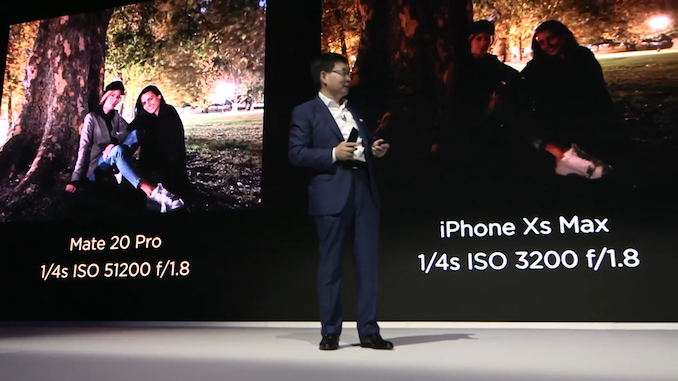 09:28AM EDT - Huawei doesn't use OIS on the main sensors, and instead relies on their "AIS" EIS implementation.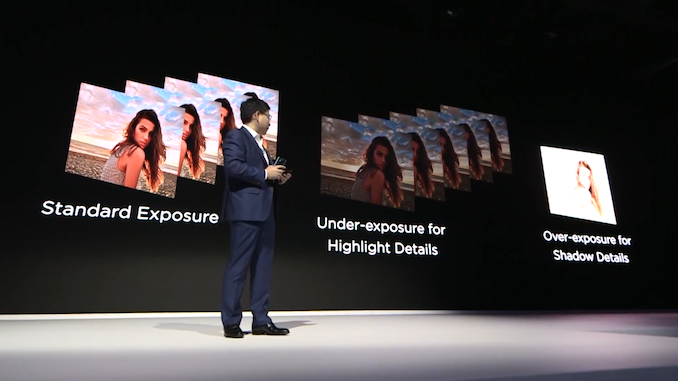 09:29AM EDT - 10-photo exposure for HDR capture.
09:30AM EDT - Swirl bokeh effects for portrait mode.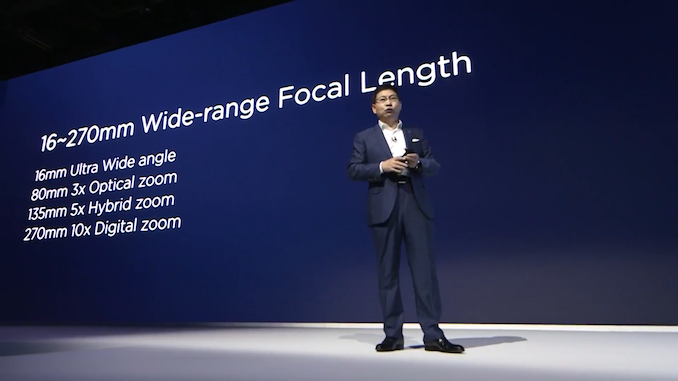 09:31AM EDT - 16mm equivalent focal length to up to 80mm optical zoom - or 135mm hybrid zoom mode.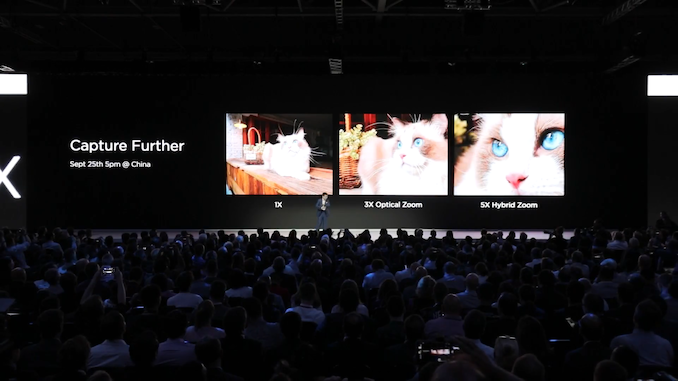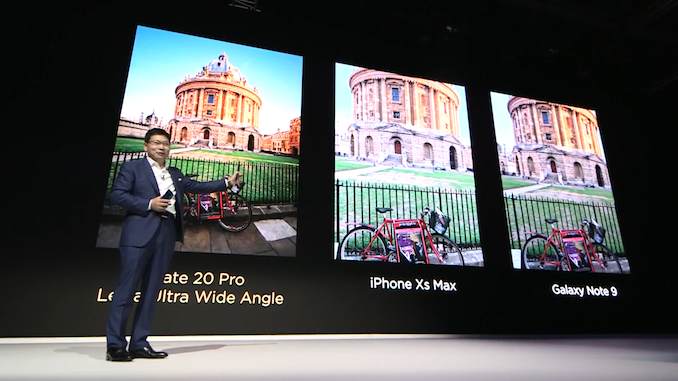 09:32AM EDT - Looking forward for wide angle modules to be more common in smartphones, I think it's much more useful than telephoto lenses!
09:33AM EDT - Different sample shots taken with the different cameras.
09:34AM EDT - Macro mode capture up to 2.5cm from the object.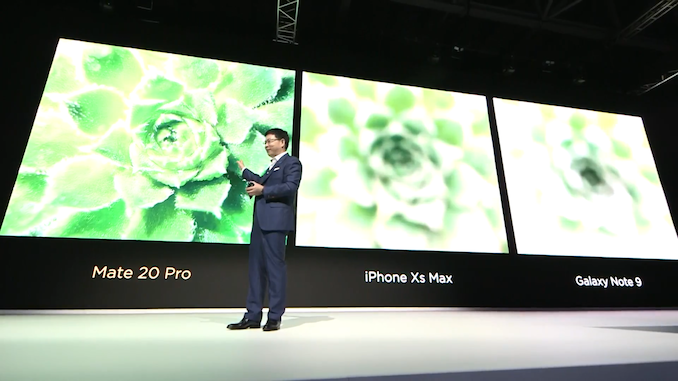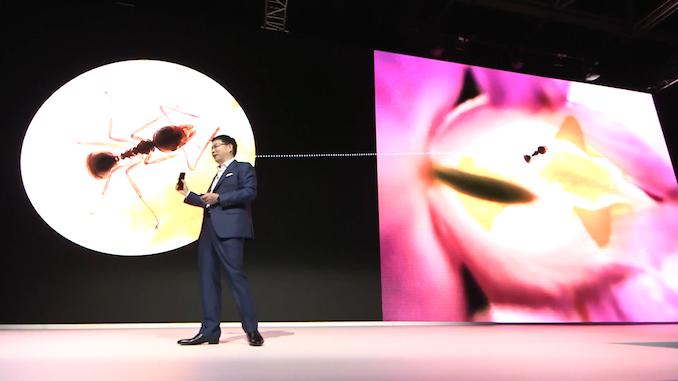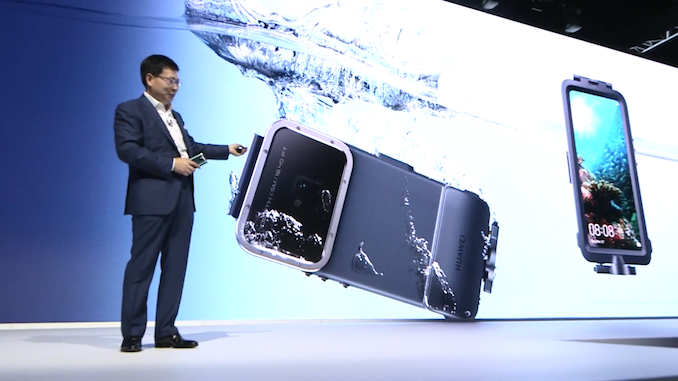 09:35AM EDT - Huawei offers an accessory case with up to 5m water proofing.
09:35AM EDT - Now talking about the new NPU of the new Kirin, and how it's used.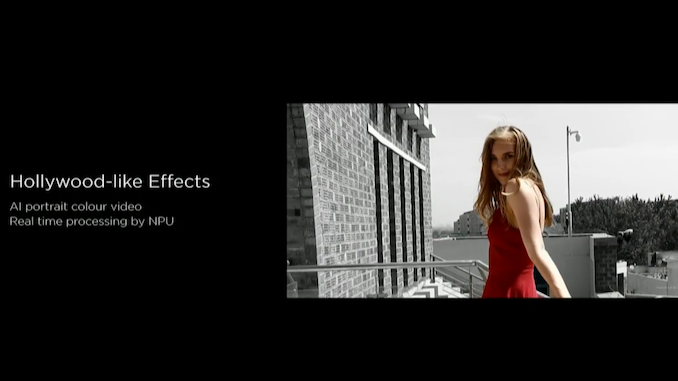 09:36AM EDT - Uses real-time processing to change the background colour and retaining a target colour.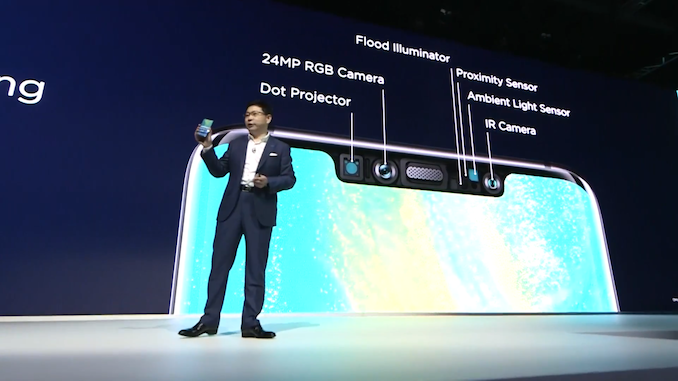 09:37AM EDT - Inside the notch of the Mate 20 Pro, we have a dot projector, flood illuminator, and IR camera.
09:38AM EDT - Huawei offers Face ID like face unlocking as well as payment security.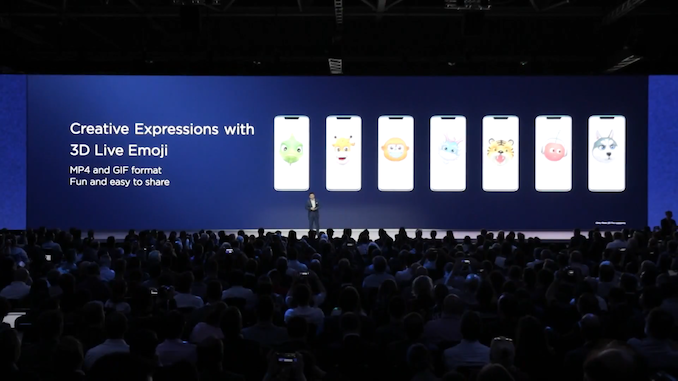 09:38AM EDT - Naturally, Huawei also supports live expression emojis "3D Live Emoji"
09:40AM EDT - 3D Live scanning of objects for generation of 3D models.
09:40AM EDT - Scanning each side of an object, scanning every surface.
09:41AM EDT - Once you have the object scanned, the phone builds a 3D model.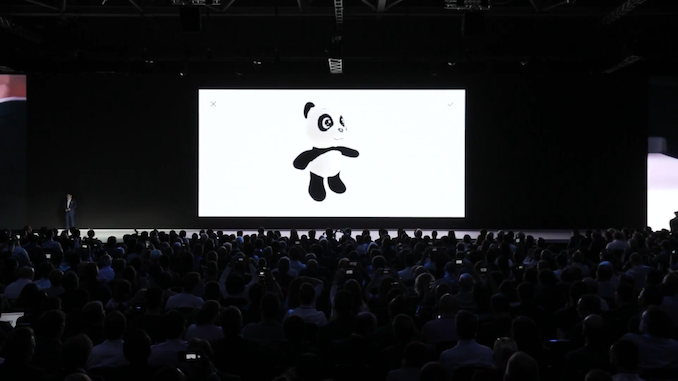 09:41AM EDT - This is actually really cool!
09:41AM EDT - You can even now animate the object, and do skeletal modelling.
09:42AM EDT - It gives the 3D model animation possibility.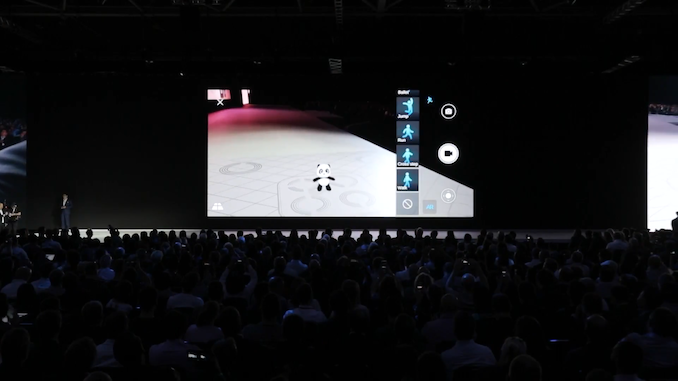 09:43AM EDT - It can use AR to give the scanned 3D object, the panda in this case, movements. And actually even controlling the character.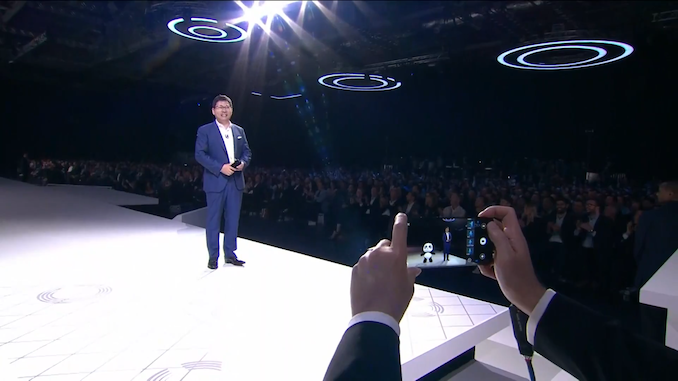 09:44AM EDT - You can also do video recording with the AR character.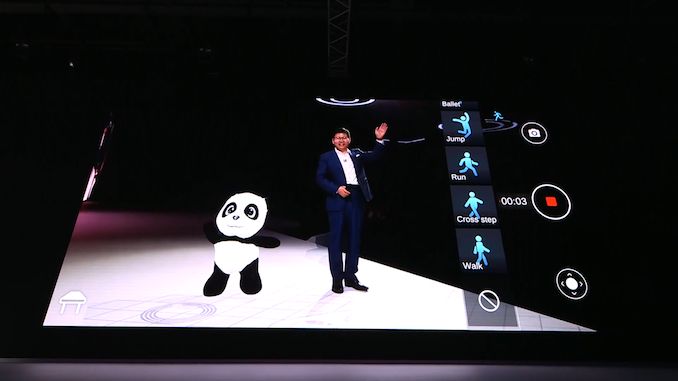 09:45AM EDT - Really cool demo with the 3D object scanning!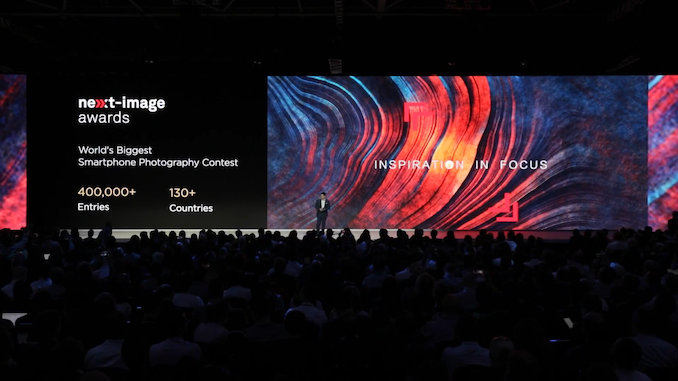 09:46AM EDT - Moving on, more sample shots done by Huawei smartphone users.
09:47AM EDT - EMUI 9, with Android P / Android 9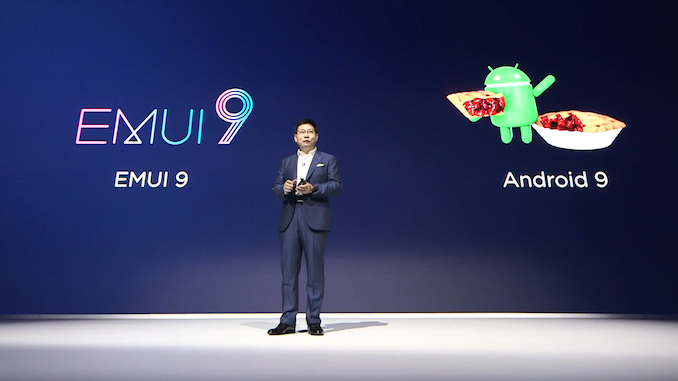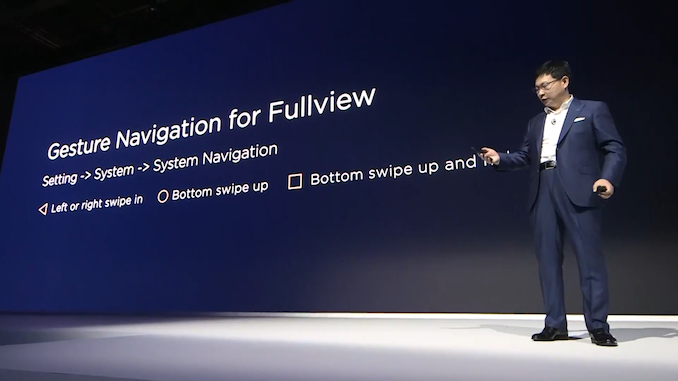 09:49AM EDT - Full gesture navigation in EMUI 9, swipe from left or right as back action. Swipe from bottom for home, and swipe from bottom and hold for multi-tasking.
09:50AM EDT - I really like that Huawei enables the back action on two sides of the screen, something other vendors fail to do in their gesture implementations.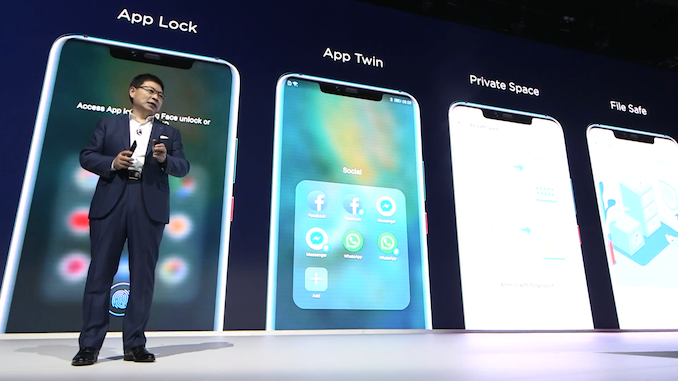 09:51AM EDT - Secure applications, duplicate applications in terms of application management.
09:52AM EDT - Instant translations and object detection in the camera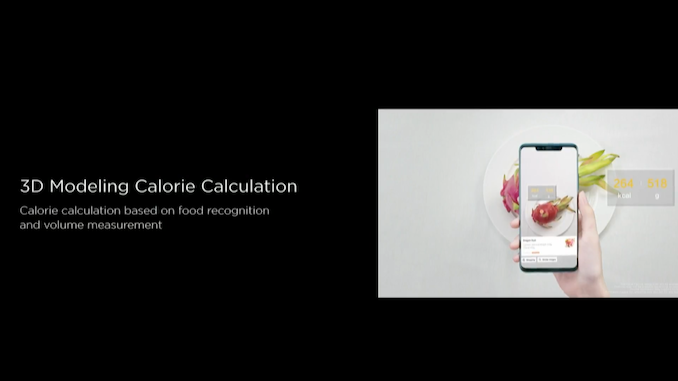 09:53AM EDT - The phone can also use the 3D scanning to calculate the calories in a meal.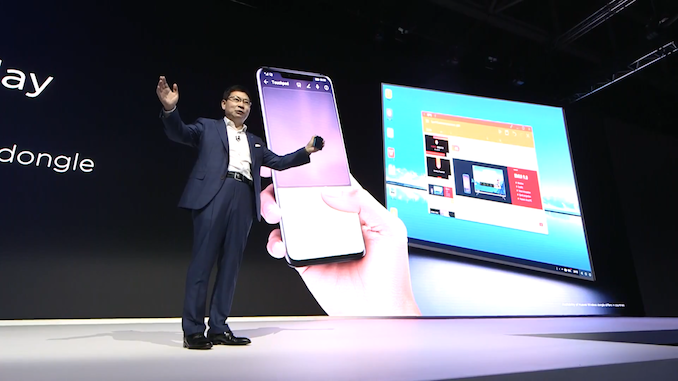 09:53AM EDT - PC mode, with the phone connected to a large screen with a cable. Now the Mate 20 now support Miracasting to a large screen.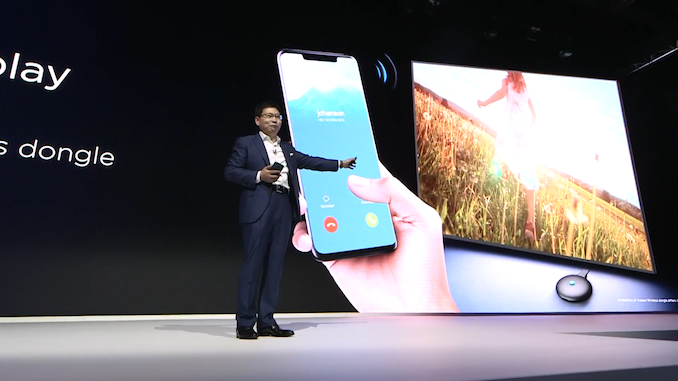 09:54AM EDT - If your TV doesn't support Miracast, there's a Huawei wireless dongle available.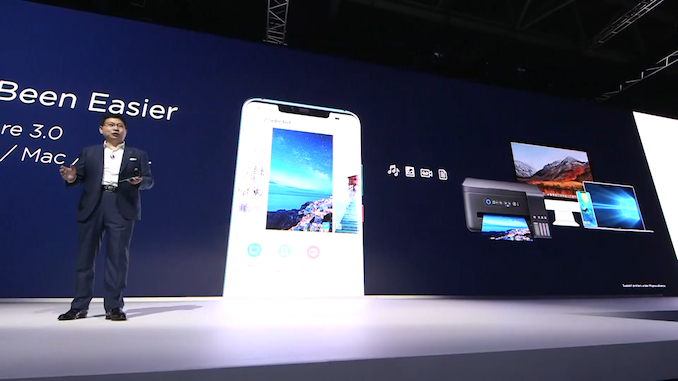 09:55AM EDT - Sharing between devices at up to 61MB/s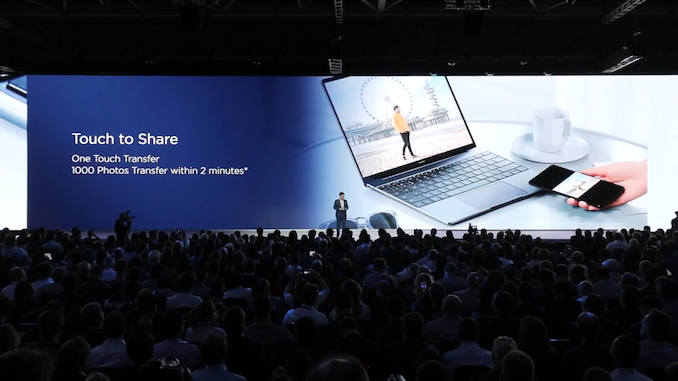 09:55AM EDT - 1000 images shared in 2 minutes.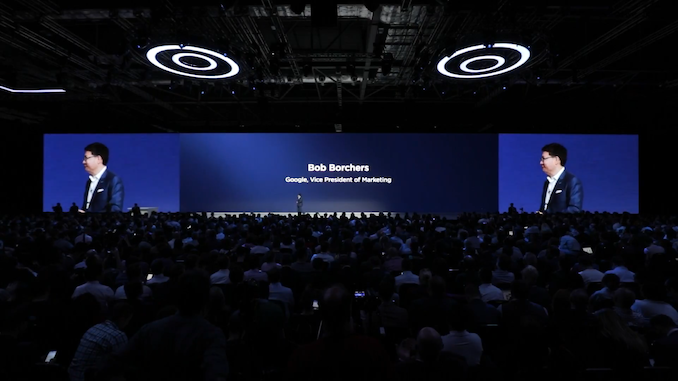 09:56AM EDT - Bob Borchers, VP of marketing of Google on stage.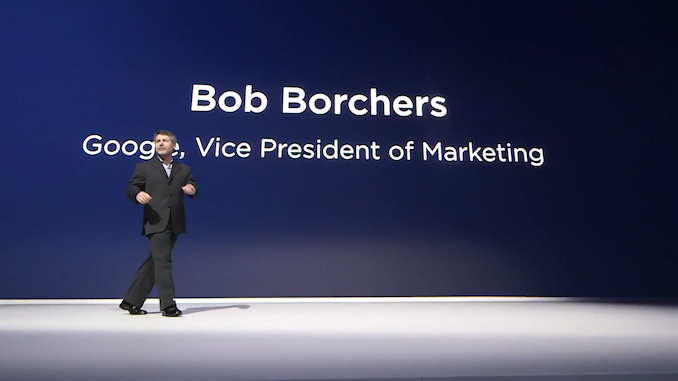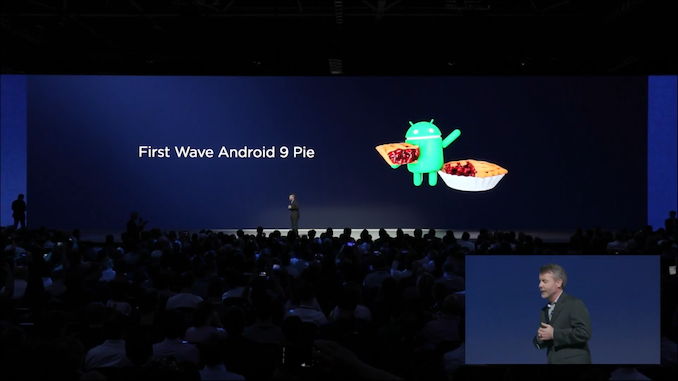 09:56AM EDT - First wave of Android 9 devices.
09:58AM EDT - Talking about the integration of new Android 9 security features with the new Huawei devices.
09:58AM EDT - Talking about the Android 9 features, such as digital well-being features that were covered earlier this summer.
09:59AM EDT - Huawei shares the same vision and beliefs, and makes use of the new APIs.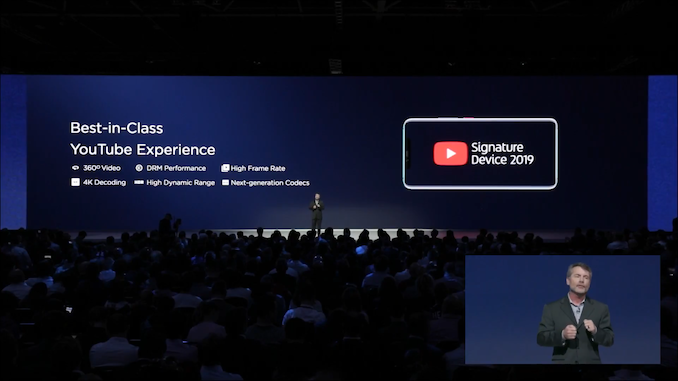 09:59AM EDT - The new Mate 20 are YouTube signature devices.
09:59AM EDT - HDR video 4K video with next generation codecs are criterias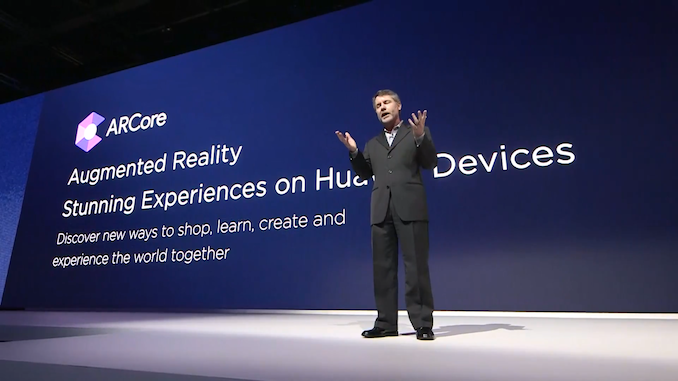 10:00AM EDT - ARCore is supported by the Mate 20's.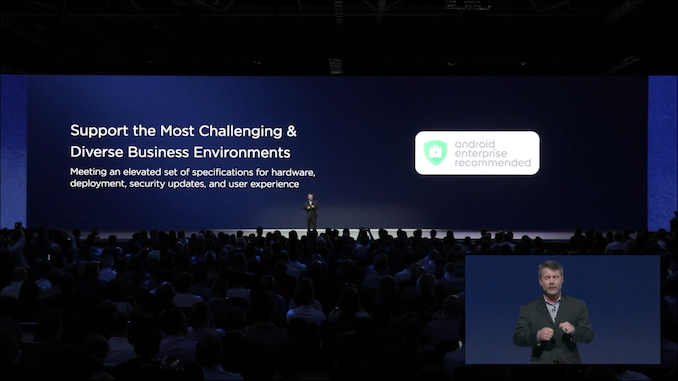 10:02AM EDT - New "Android enterprise recommended" devices which have criteria for hardware, software deployment, security updates.
10:02AM EDT - Mate 20's are part of the programme.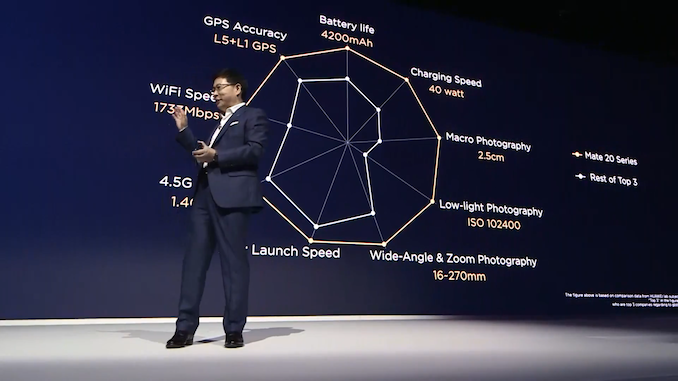 10:03AM EDT - Summing up all the new improvements of the Mate 20, in different aspects leading other industry players.
10:05AM EDT - Porsche Design CEO Jan Becker on the stage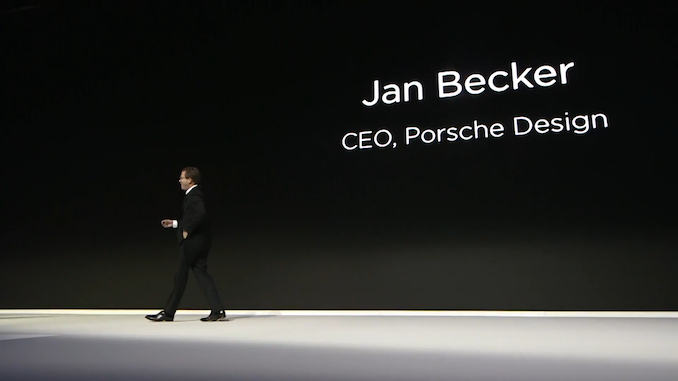 10:06AM EDT - Porsche Design Mate 20 RS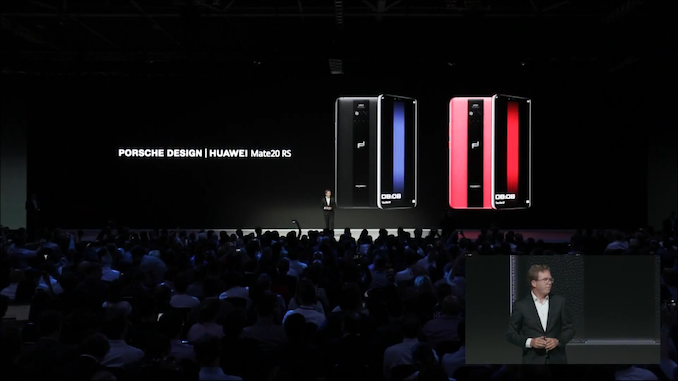 10:07AM EDT - Second generation PD phone, following the Mate RS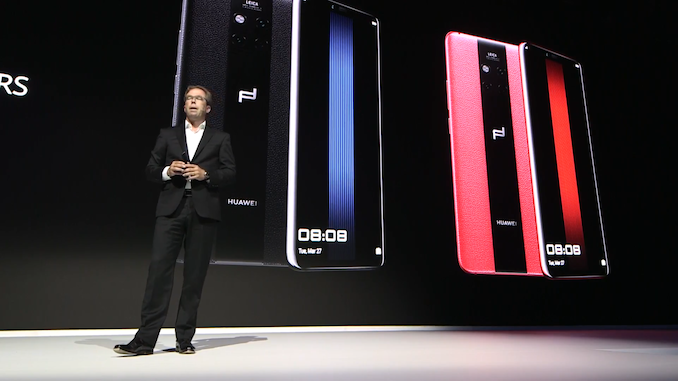 10:10AM EDT - So much talking saying nothing... It's a Mate 20 Pro with leather stripes on the back.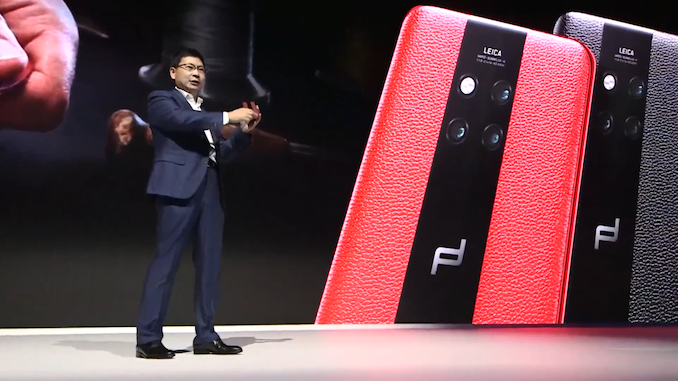 10:13AM EDT - Richard Yu back on stage, talking about the leather.
10:13AM EDT - No camera bump on the Mate 20 RS.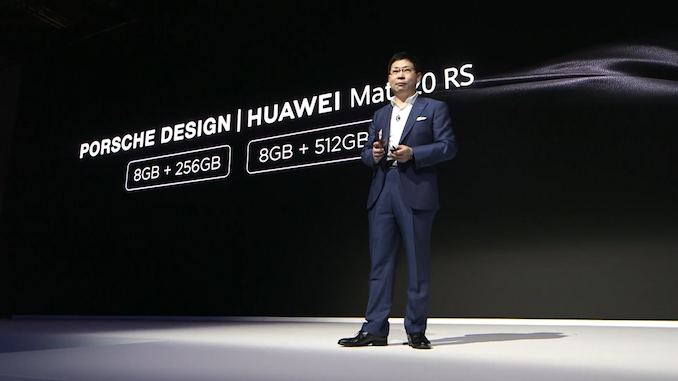 10:14AM EDT - 8GB + 256 or 512 GB models for the Mate 20 RS
10:16AM EDT - "One more big thing"
10:16AM EDT - Huawei Mate 20 X with a 7.2" screen.
10:17AM EDT - 7.2" OLED screen, though we didn't catch the resolution.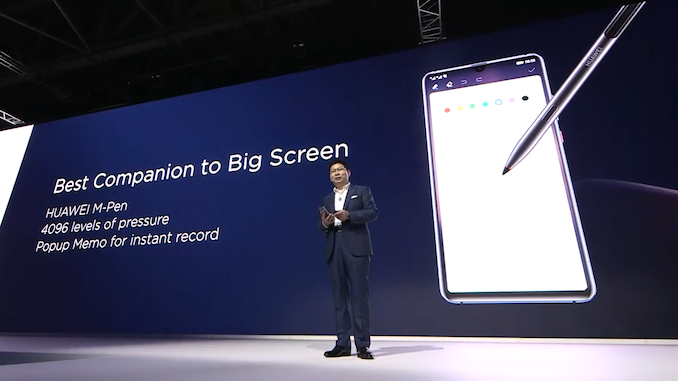 10:18AM EDT - Supports the Huawei Pen.
10:18AM EDT - Sporting a 5000mAh battery.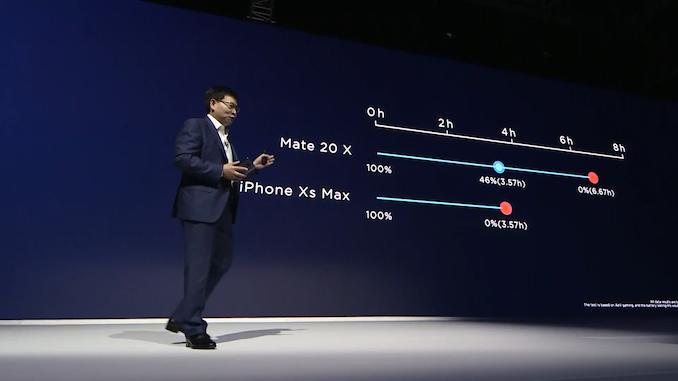 10:19AM EDT - Significantly better battery life than the iPhone XS Max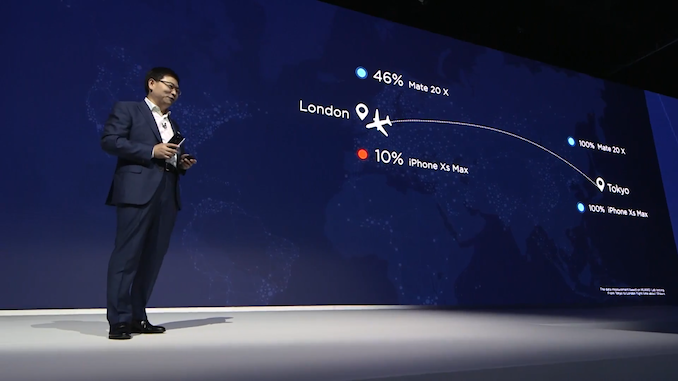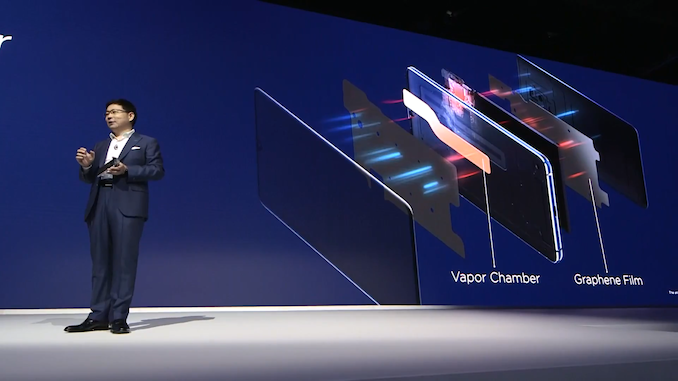 10:20AM EDT - Vapour chamber and graphene film cooling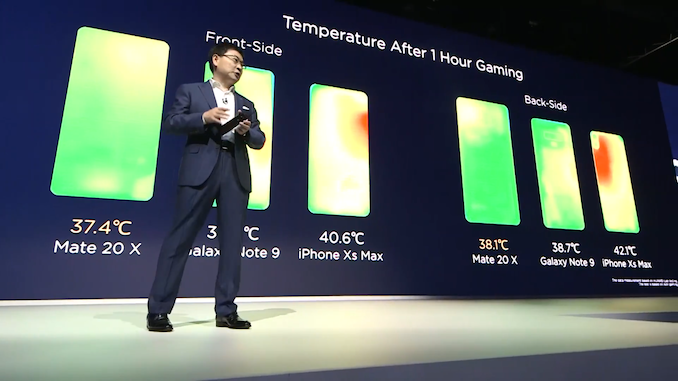 10:21AM EDT - Much lower temperature after sustained gaming sessions, thanks to the new efficient SoC and cooling system dissipating the heat throughout the frame.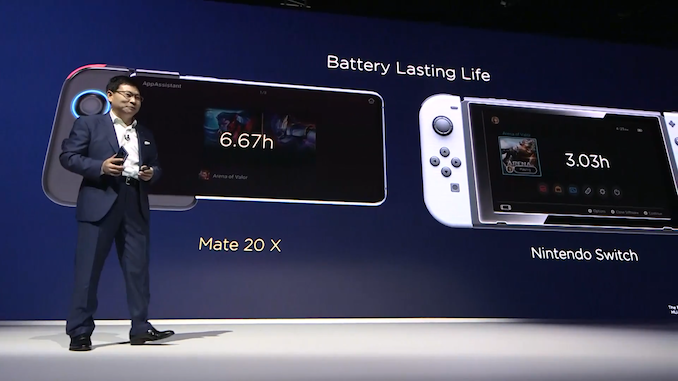 10:23AM EDT - Larger screen, bigger battery and double the battery life of a Nintendo Switch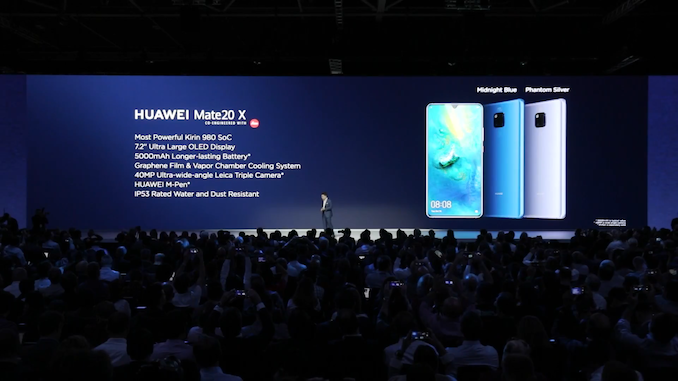 10:24AM EDT - One thing is still missing is the price.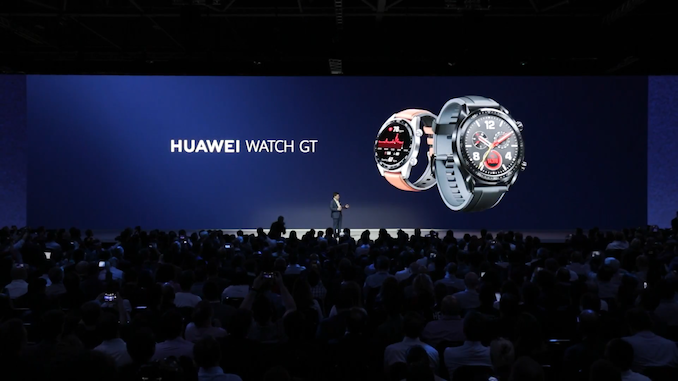 10:25AM EDT - Introducing the new Huawei Watch GT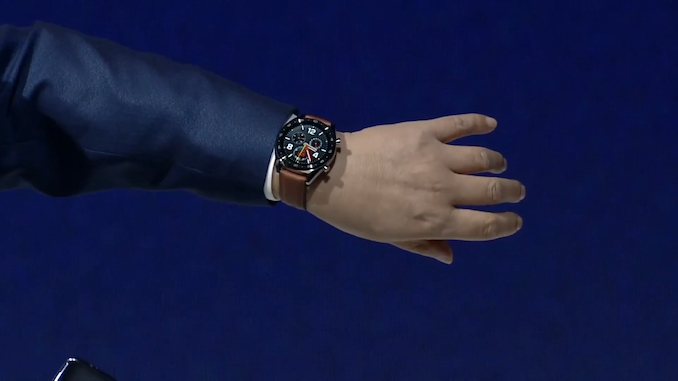 10:26AM EDT - High resolution 454x454 touch screen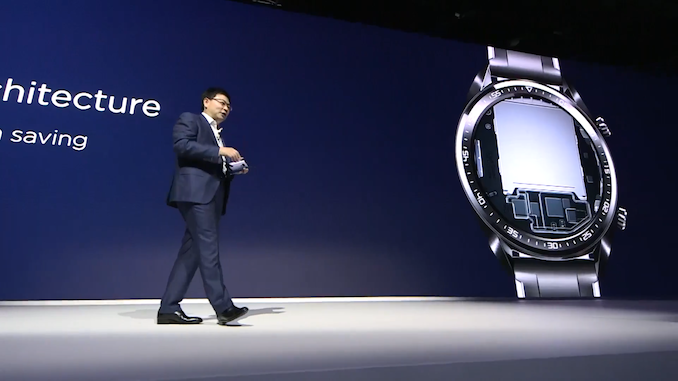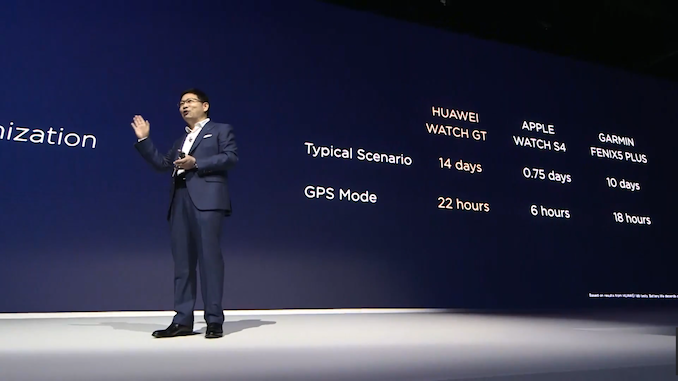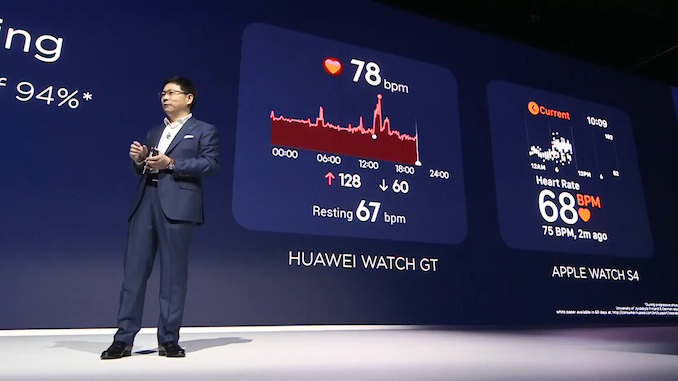 10:27AM EDT - Heartbeat monitoring on the new watch
10:28AM EDT - 15m water resistance on the Watch GT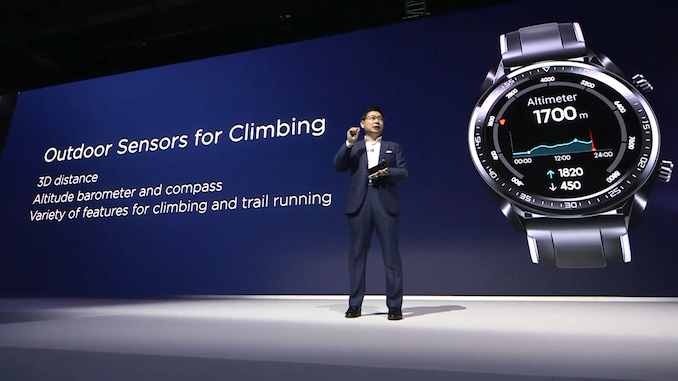 10:30AM EDT - Sorry for the readers - this live stream camera panning is a complete disaster and I can't catch any slide in its competeness.
10:30AM EDT - Video now about the new Watch GT.
10:32AM EDT - Finally something wrapping up the event, please just announce the pricing!
10:33AM EDT - Pricing pricing pricing!!!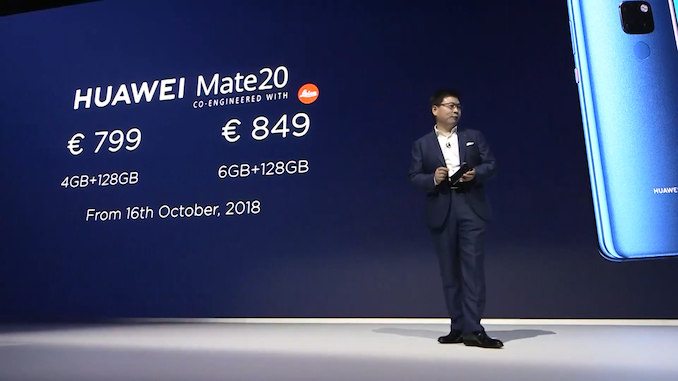 10:34AM EDT - 4+128 and 6+128GB for the Mate 20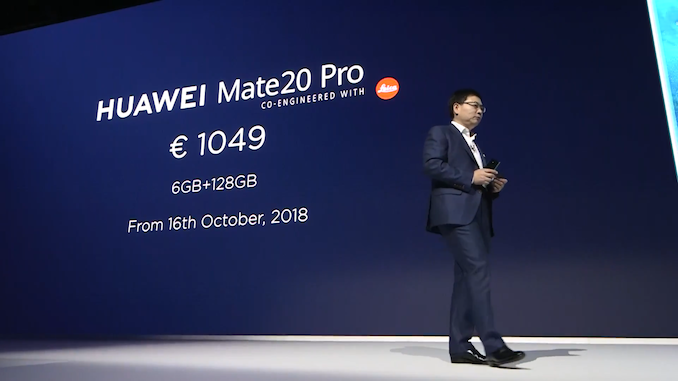 10:34AM EDT - 1049€ for the Mate 20 Pro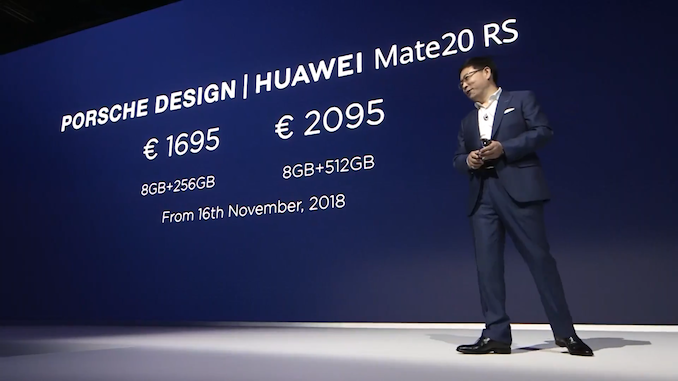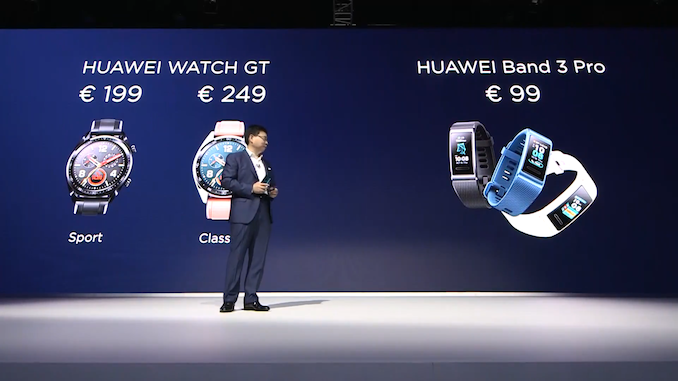 10:35AM EDT - That's a wrap people! Our apologies for the disaster in the first 15 minutes!
10:35AM EDT - .