Shuttle: Better than BTX?
Although Shuttle was showing off a BTX SFF at Intel's showcase, they had their own version of the BTX standard on display in their latest SFF based on Intel's 925X chipset: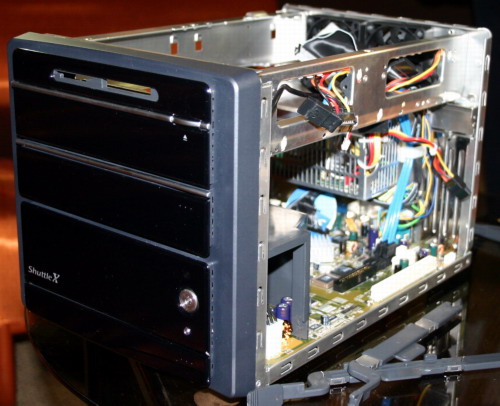 Shuttle's 925X SFF employs many BTX-like features, but others that Shuttle claims make it "better than BTX." For starters, the system has a smaller form factor than even a picoBTX based system could achieve.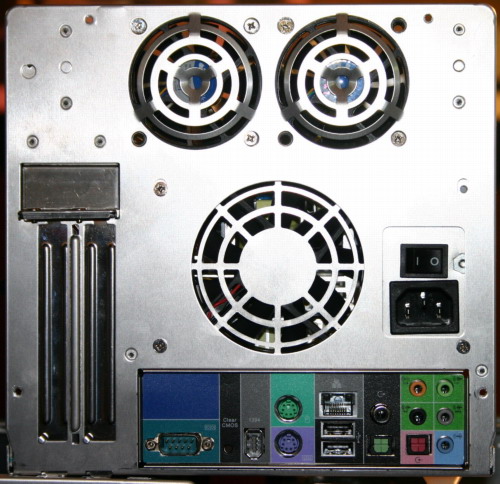 Note the three fans at the back. The larger one in the middle is for the 350W PSU, the two at the top are dedicated fans for the two hard drive bays at the top of the case.
What's also very nice is the inclusion of a clear CMOS button at the back of the case, a feature Shuttle introduced with their Zen platform: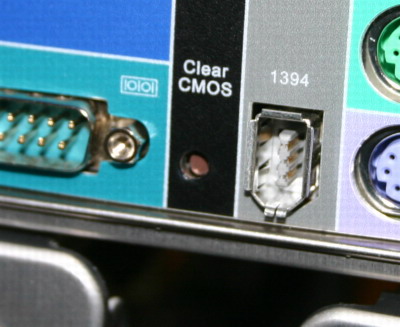 Having a clear CMOS button on the back helps avoid dealing with setting a jumper in the cramped internals (as clean as they may be on the Shuttle box).
The two connectors below are another unique feature of the 925X based SFF PC: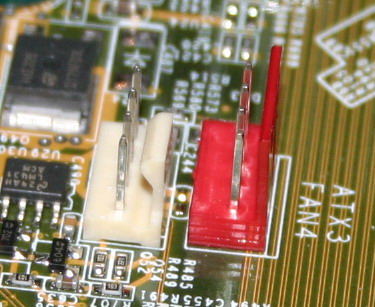 The connector to the left is a 4-pin fan connector (we'll get to why it's 4 pins in a bit), the connector to the right is actually a 4-pin PCI Express x1 connector - a proprietary connector that Shuttle implemented. Why include a custom PCI Express connector on the motherboard? In the event that Shuttle comes up with a unique location of a PCI Express expansion slot, run a cable to this connector and you've got instant PCI Express anywhere in the chassis. Shuttle will probably offer a cleaner connector if they decide to actually use this thing.
The PCI Express connector isn't the only unique thing about Shuttle's like-BTX box; this connector is Shuttle's version of the 4-pin 12V ATX power connector for CPUs: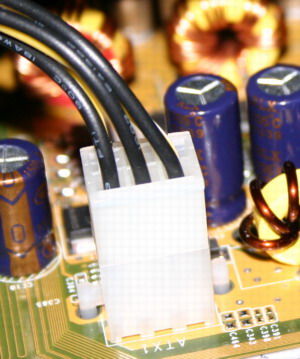 Shuttle's connector has 3 x 12V lines and 3 ground lines, and is necessary because Shuttle does not use a standard power supply connector setup for this system.