Power, Temperature, and Noise
With a large chip, more transistors, and more frames, questions always pivot to the efficiency of the card, and how well it sits with the overall power consumption, thermal limits of the default 'coolers', and the local noise of the fans when at load. Users buying these cards are going to be expected to push some pixels, which will have knock on effects inside a case. For our testing, we use a case for the best real-world results in these metrics.
Power
All of our graphics cards pivot around the 83-86W level when idle, though it is noticeable that they are in sets: the 2080 is below the 1080, the 2080 Ti sits above the 1080 Ti, and the Vega 64 consumes the most.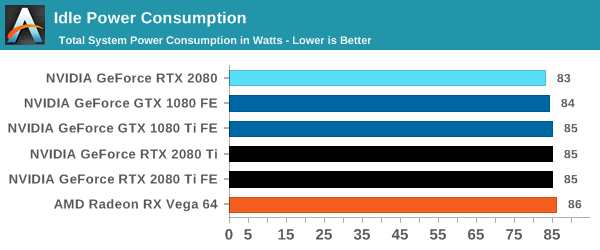 When we crank up a real-world title, all the RTX 20-series cards are pushing more power. The 2080 consumes 10W over the previous generation flagship, the 1080 Ti, and the new 2080 Ti flagship goes for another 50W system power beyond this. Still not as much as the Vega 64, however.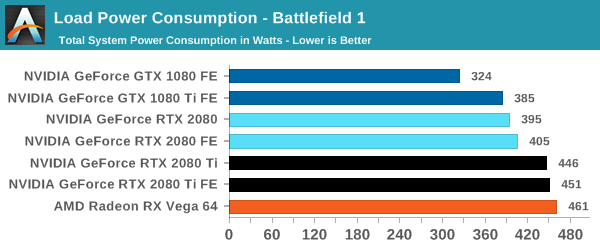 For a synthetic like Furmark, the RTX 2080 results show that it consumes less than the GTX 1080 Ti, although the GTX 1080 is some 50W less. The margin between the RTX 2080 FE and RTX 2080 Ti FE is some 40W, which is indicative of the official TDP differences. At the top end, the RTX 2080 Ti FE and RX Vega 64 are consuming equal power, however the RTX 2080 Ti FE is pushing through more work.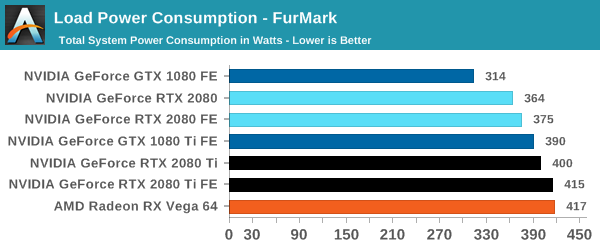 For power, the overall differences are quite clear: the RTX 2080 Ti is a step up above the RTX 2080, however the RTX 2080 shows that it is similar to the previous generation 1080/1080 Ti.
Temperature
Straight off the bat, moving from the blower cooler to the dual fan coolers, we see that the RTX 2080 holds its temperature a lot better than the previous generation GTX 1080 and GTX 1080 Ti.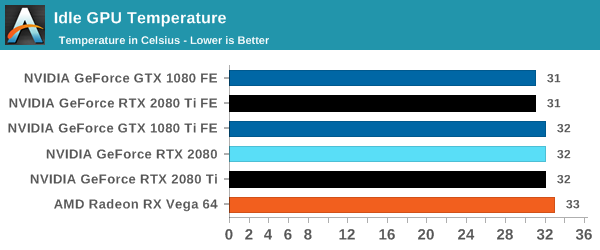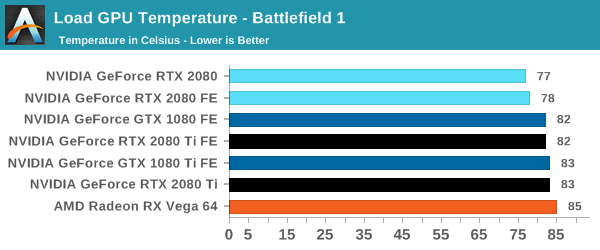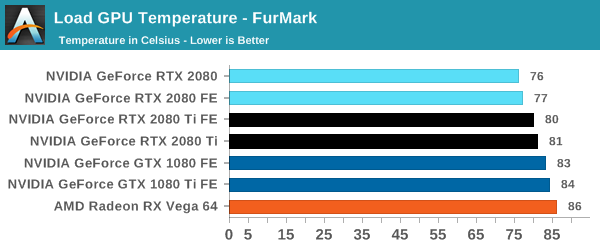 At each circumstance at load, the RTX 2080 is several degrees cooler than both the previous generation and the RTX 2080 Ti. The 2080 Ti fairs well in Furmark, coming in at a lower temperature than the 10-series, but trades blows in Battlefield. This is a win for the dual fan cooler, rather than the blower.
Noise
Similar to the temperature, the noise profile of the two larger fans rather than a single blower means that the new RTX cards can be quieter than the previous generation: the RTX 2080 wins here, showing that it can be 3-5 dB(A) lower than the 10-series and perform similar. The added power needed for the RTX 2080 Ti means that it is still competing against the GTX 1080, but it always beats the GTX 1080 Ti by comparison.