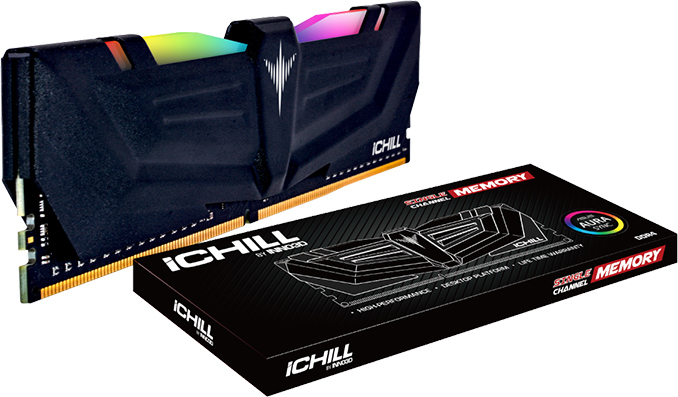 Inno3D is primarily known for its graphics cards featuring highly custom cooling systems, but apparently the company has decided to expand its business beyond that. This week Inno3D introduced its first memory modules carrying its signature iChill brand. The DIMMs will hit the market later this year and will feature speeds of up to DDR4-4000.
Inno3D's iChill family of memory modules will include 4 GB, 8 GB, and 16 GB DIMMs rated for speeds starting from DDR4-2400 and up to DDR4-4000. The memory sticks will be outfitted with heat spreaders featuring RGB lightbars compatible with the ASUS Aura Sync software. Like enthusiast-class memory modules from a number of other makers, Inno3D's DIMMs will be covered with a lifetime warranty.
The number of companies offering enthusiast-class memory modules declined in the recent years primarily because of low profitability of such business and high risks. This year the situation changed a bit as Antec and Colorful introduced their first memory modules aimed at enthusiasts. Inno3D is a yet another newcomer who will have to rival established players like ADATA, Corsair, G.Skill, Kingston, and others. Meanwhile, production of memory modules will help Inno3D (and, possibly, its owner PC Partner, which also controls Manli and Zotac) to establish better ties with makers of DRAM. Procuring memory and potentially getting it at lower prices could make Inno3D more competitive on the market of graphics cards as well.
Expect Inno3D to announce detailed specifications of its memory modules in the coming months. Considering highly volatile nature of DRAM pricing, DIMM suppliers tend not to announce MSRPs of their products, so it is likely that prices of Inno3D's DIMMs will be comparable to prices of similar modules from other makers.
Related Reading:
Source: Inno3D