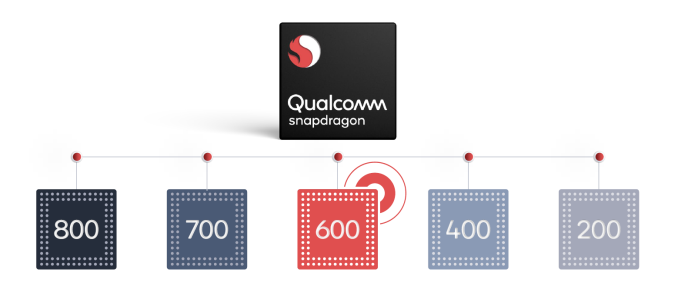 Today Qualcomm is announcing a new entry in the 600-series mid-range line-up. In a surprise move, the new Snapdragon 670 is a direct successor to the Snapdragon 660, and is intended to fill the gap between the 600-series and the newly introduced Snapdragon 710.
As a quick refresher, the Snapdragon 710 was released this year as the first entry in the new Snapdragon 700 tier of SoCs. The 700 series is intended to sit between the existing 600 and 800 series, offering many of Qualcomm's flagship features at a lower cost, something that's been in demand from handset vendors who are looking at putting together high-performance phones for more price-conscientious buyers.
The new Snapdragon 670, in turn, seems to be directly derived from the 710, as the two are so close in specifications that at first glance it's easy to miss the differences.
Qualcomm Snapdragon Upper Mid-Range SoCs
SoC
Snapdragon 660
Snapdragon 670
Snapdragon 710
CPU
4x Kryo 260 (CA73)
@ 2.2GHz
4x Kryo 260 (CA53)
@ 1.8GHz
2x Kryo 360 (CA75)
@ 2.0GHz
6x Kryo 360 (CA55)
@ 1.7GHz
2x Kryo 360 (CA75)
@ 2.2GHz
6x Kryo 360 (CA55)
@ 1.7GHz
GPU
Adreno 512
Adreno 615
Adreno 616
DSP
Hexagon 680
Hexagon 685
ISP/
Camera
Spectra 160 ISP
24MP
Spectra 250 ISP
25MP single / 16MP dual
Spectra 250 ISP
32MP single / 20MP dual
Memory
2x 16-bit @ 1866MHz
LPDDR4
14.9GB/s
2x 16-bit @ 1866MHz
LPDDR4X
14.9GB/s

1MB? system cache
Integrated Modem
Snapdragon X12 LTE
(Category 12/13)
DL = 600Mbps
3x20MHz CA, 256-QAM

UL = 150Mbps
2x20MHz CA, 64-QAM
Snapdragon X12 LTE
(Category 15/13)
DL = 600Mbps
3x20MHz CA, 256-QAM

UL = 150Mbps
2x20MHz CA, 64-QAM
Snapdragon X15 LTE
(Category 15/13)
DL = 800Mbps
3x20MHz CA, 256-QAM

UL = 150Mbps
2x20MHz CA, 64-QAM
Encode/
Decode
2160p30, 1080p120
H.264 & H.265
2160p30, 1080p120
H.264 & H.265
2160p30, 1080p120
H.264 & H.265

10-bit HDR pipelines
Mfc. Process
14nm LPP
10nm LPP
The Snapdragon 670 uses the same CPU configuration as found on the Snapdragon 710. The new Kryo 360 performance and efficiency cores are based on Cortex A75 and A55 IP designs and come in a configuration of 2x big cores at 2.0GHz and 6x small cores at 1.7GHz. This is a slight 200MHz downgrade from the 710's 2.2GHz cores. It's to be noted that as a direct successor to the 660, we're losing two big cores, so multithreaded performance might not see much of an upgrade on the new chip.
The GPU is also a new Adreno 6xx generation design in the form of a 615 implementation. Obviously we don't know much at all from just the model number, but it being numerically inferior to the S710's Adreno 616, performance should be slightly less. Qualcomm promises a performance increase of 25% over the Snapdragon 660, while the 710 promised a 35% increase in the same comparison.
The 670's DSP and ISP are identical in terms of design to the 710's – however they're run at a lower clockspeed and subsequently support a lower maximum resolution.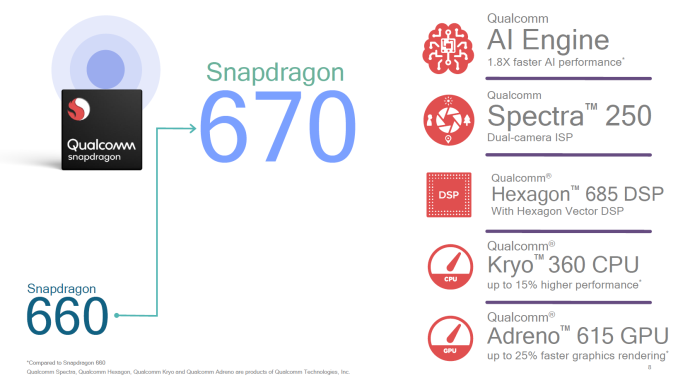 One of the other feature shavings is that the 670 doesn't support 4x4 MIMO on the modem, and thus the X12 modem has a lower download speed of up to 600Mbps versus 800Mbps on the 710.
Finally, the other seemingly important discrepancy here is the lack of 10-bit display pipelines and accompanying support on the part of the encoders, so HDR capture isn't a feature on the 670. The display controller also is less capable and only able to drive FHD+ resolutions as opposed to the QHD+ capabilitites of the 710.
Like the 710, the 670 is manufactured on a newer 10LPP process node, so it should benefit from the same power efficiency gains as its higher end sibling.
The Snapdragon 670 is a surprising chipset in terms of its positioning because it's not that far off from the Snapdragon 710. When briefed about the new model the first thing I thought was if this would be actually just a lower binned 710 – but Qualcomm confirmed that this is indeed a "different design". The market at these lower ranges is extremely competitive, and while the 670 does seemingly allow itself to shed some feature, I have to wonder just exactly how much silicon is saved as well as die area reduced in order for Qualcomm to decide that it's actually worth to design and tape out a product to fill this lower price point under the 710. Seemingly, customers must have had demand for it otherwise it wouldn't exist, and in a sense, it shows Qualcomm's strength in terms of being customer demand driven and adapting fast to the market.
The last advantage of the Snapdragon 670 in this aspect is that it's pin and software compatible to the Snapdragon 710, allowing vendors to choose between them with minimal engineering efforts.
The Snapdragon 670 is currently available and commercial devices are expected within the coming months.
Related Reading