Bitsetting, Calibration, Firmware Hacks
Our immediate thought when we opened this drive was the similarity between this burner and the Gigabyte GO-W0808A. Although the Gigabyte drive is still not in full retail in the US yet, we could see that the two drives were built on the same design with the same chipset. You may recall that the MSI DR8-A(2) and the Sony DRU-530A shared identical components (and performance) in our previous DVD roundups. Sony has moved from a Sanyo chipset (used in the Plextor 708A) to the more widely used MediaTek MT1818E instead. To us, this implies two things. First, the MT1818E used in several burners including the LiteOn SHOW-812S and the TEAC DV-W58G-A may also support DVD+R DL with modified firmware - whether or not the pickup on those drives is capable of burning reliable error free DL media may be another issue. Second, the transition to DVDR-9 (DVD DL) may be "no big deal" at least as far as hardware is concerned. Remember, all DVD burners execute the necessary calibration techniques to read DVD-9; writing to DVDR-9 only requires the same strategies to the write laser. Could it be that all those rumors of firmware upgrade DVD DL capabilities were true?
In fact, several other MT1818E burners are capable of firmware upgrades to DVD+R9. In fact, using beta firmware upgrades, we actually got our Gigabyte GO-W0808A to burn DVD+R9 as well. Keep in mind that the GO-W0808A retails for less than $110, while the DRU-700A will hit shelves at $199. Although the Sony DRU-700A is a considerable step up from the DRU-530A, we would have to recommend the GO-W0808A if it costs $90 less and performs the same.
Another perk of the MT1818E chipset? The obvious booktype support of course! Lite-On's BookType Utility 1.0.6 (found
here
) works for just about any drive based on the MediaTek chipset, including the GO-W0808A and... the Sony DRU-700A. Whether or not this actually slips through the cracks in the final hardware revision is undecided. Since the upcoming LWD-832S is based on essentially the same components, we would be very surprised if the Lite-On BookType tool stopped working for only the Sony DRU-700A.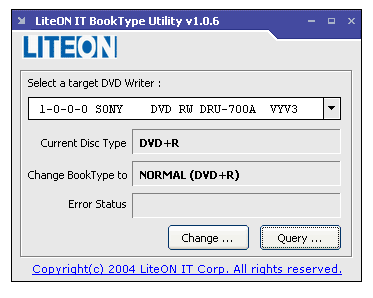 Bitsetting an MCC 003.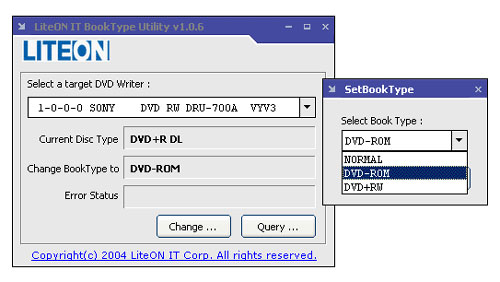 Bitsetting an MKM001 (DVD+R9).
You'll notice that we can go from "DVD+R DL" to "DVD-ROM" or "DVD+RW". This bodes well for those concerned with compatibility issues of DVD+R DL. Other sources claim this compatibility may become a large issue for DL, but since the book type utility clearly works, this becomes more of a non issue.