AnandTech Storage Bench - Heavy
Our Heavy storage benchmark is proportionally more write-heavy than The Destroyer, but much shorter overall. The total writes in the Heavy test aren't enough to fill the drive, so performance never drops down to steady state. This test is far more representative of a power user's day to day usage, and is heavily influenced by the drive's peak performance. The Heavy workload test details can be found here. This test is run twice, once on a freshly erased drive and once after filling the drive with sequential writes.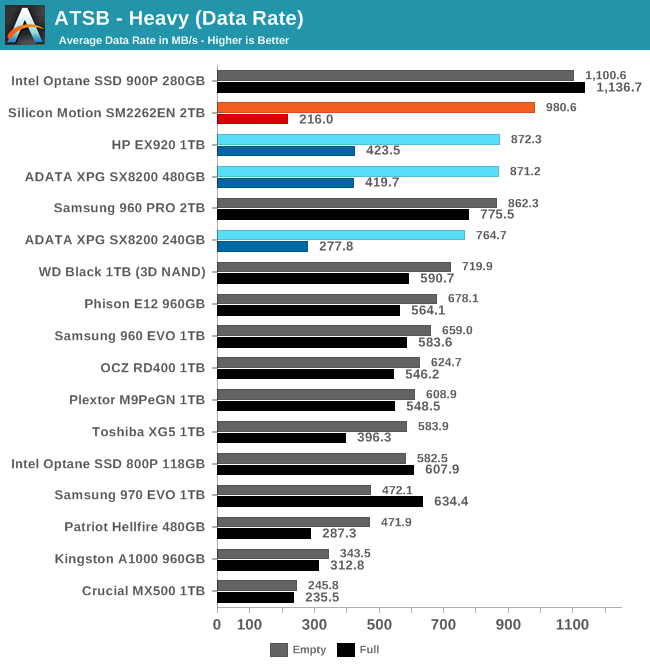 The SM2262EN improves on the SM2262's already class-leading performance on the Heavy test, with an average data rate that is about 12% higher. However, this comes at the cost of reduced performance when the test is run on a full drive—and that was already the biggest weakness of the SM2262 drives.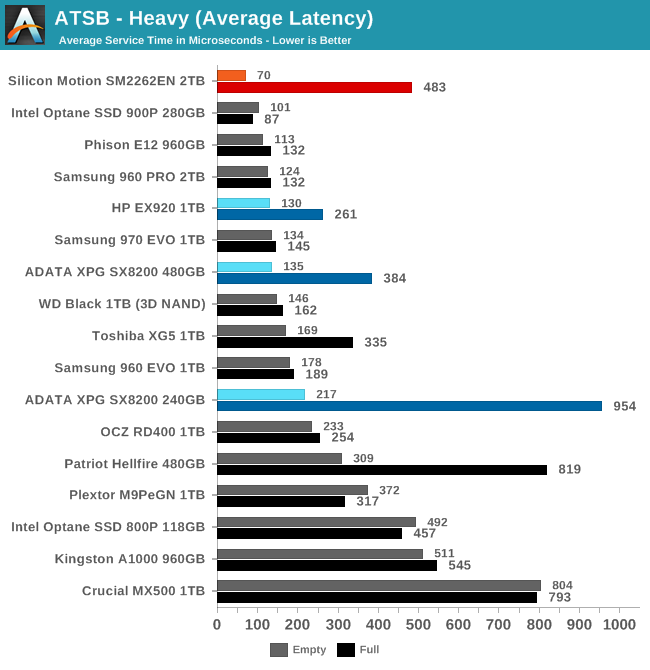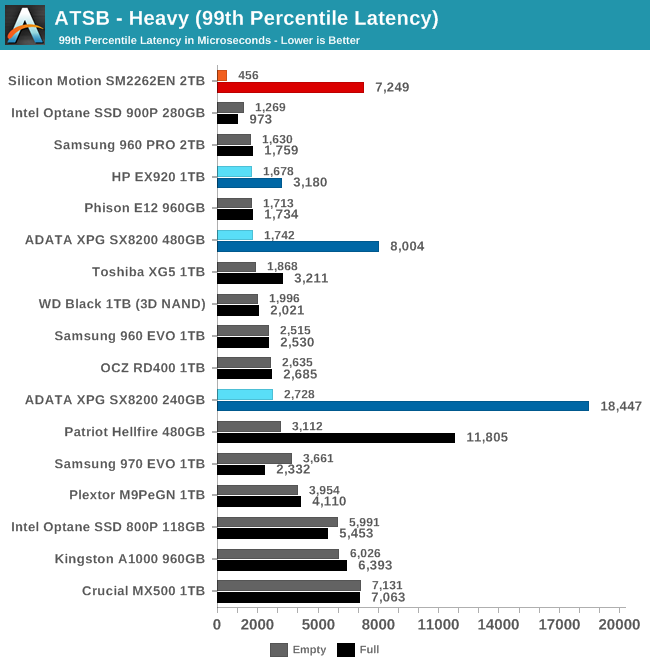 The average and 99th percentile latencies show an even more stark dichotomy in the SM2262EN's performance characteristics. When the Heavy test is run on a freshly-erased drive, the latency is impressively low and the 99th percentile QoS score is unprecedented. But when the drive fills up, it completely leaves the high-end performance bracket.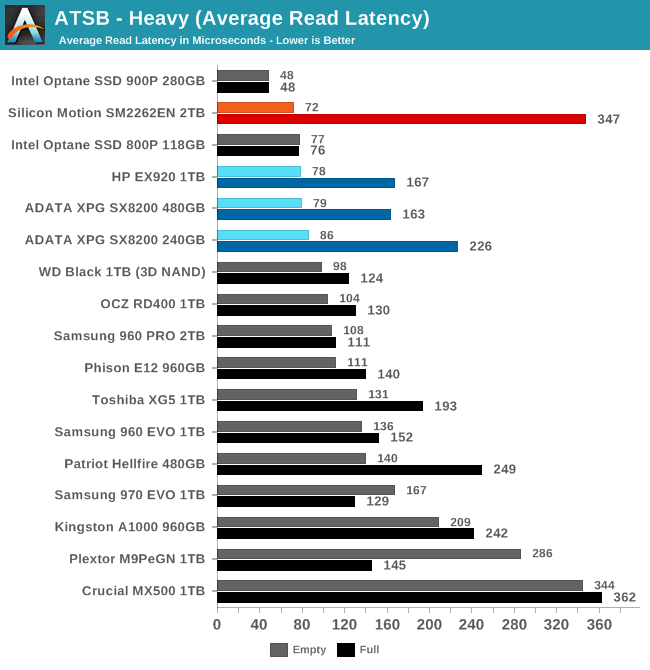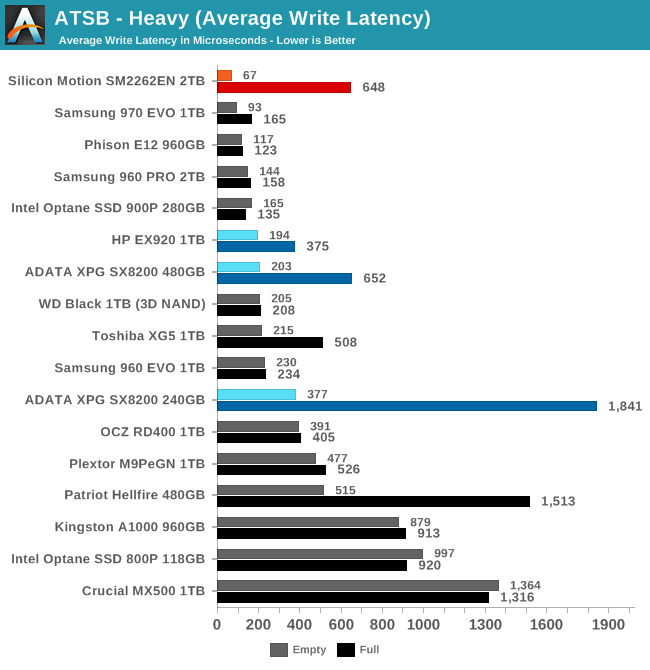 Under favorable conditions, the SM2262EN manages to beat the average read latency of the slower Optane SSD, and it offers the top-notch average write latency that the SM2262 drives couldn't quite manage. But when the drive is full, read latency gets pushed to SATA levels and write latency increases by an order of magnitude.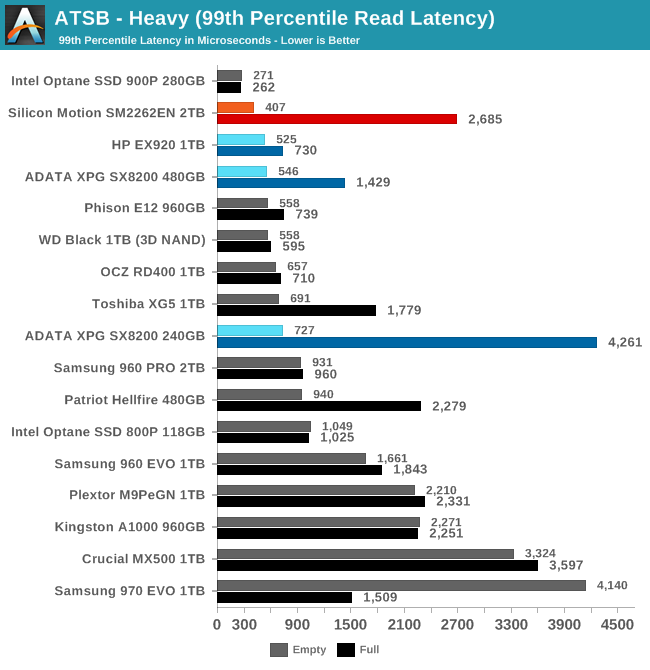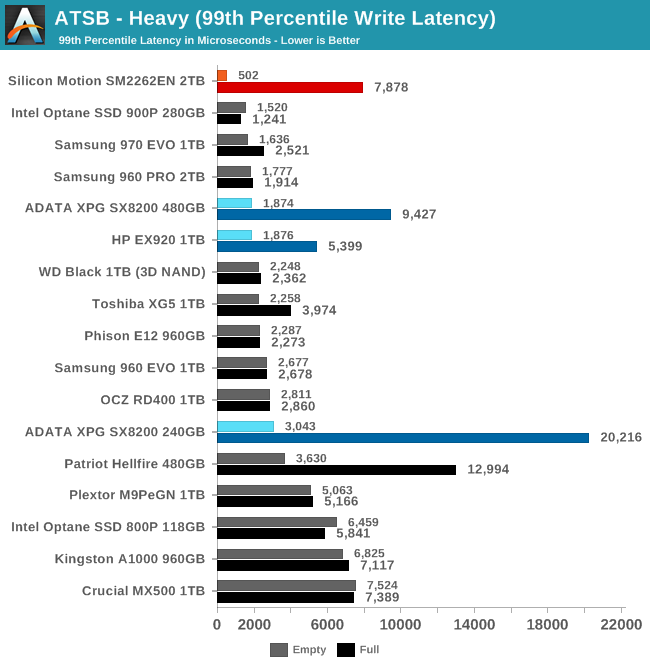 The 99th percentile write latency of the SM2262EN when the Heavy test is run on a freshly-erased drive is less than a third that of any other drive, and the 99th percentile read latency is second only to the Optane SSD 900P. When this drive has plenty of spare area and SLC cache space, it's extremely fast. But fill it up and we're back to low-end NVMe performance that's considerably worse than the 1TB HP EX920.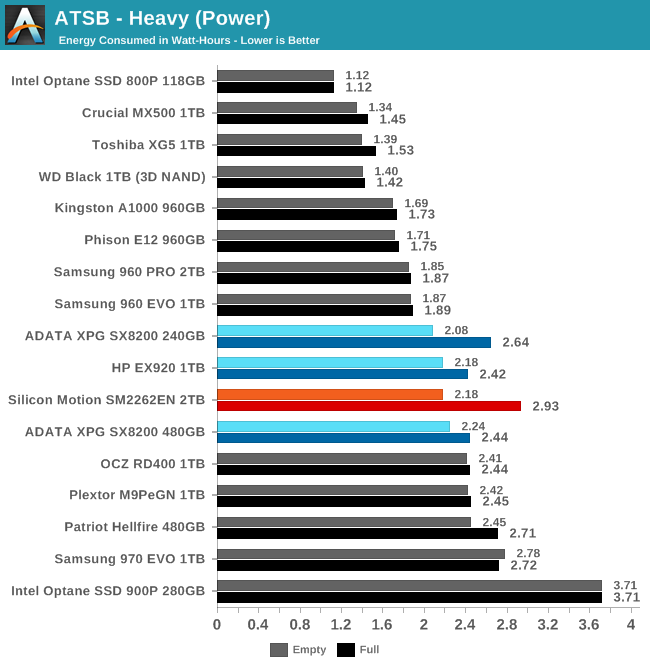 Energy usage by the SM2262EN drive on the Heavy test is comparable to the SM2262 drives, but with a much bigger disparity between the empty and full drive test runs. Even without the full-drive problems, this wouldn't be the best choice for a laptop.