AnandTech Storage Bench - Heavy
Our Heavy storage benchmark is proportionally more write-heavy than The Destroyer, but much shorter overall. The total writes in the Heavy test aren't enough to fill the drive, so performance never drops down to steady state. This test is far more representative of a power user's day to day usage, and is heavily influenced by the drive's peak performance. The Heavy workload test details can be found here. This test is run twice, once on a freshly erased drive and once after filling the drive with sequential writes.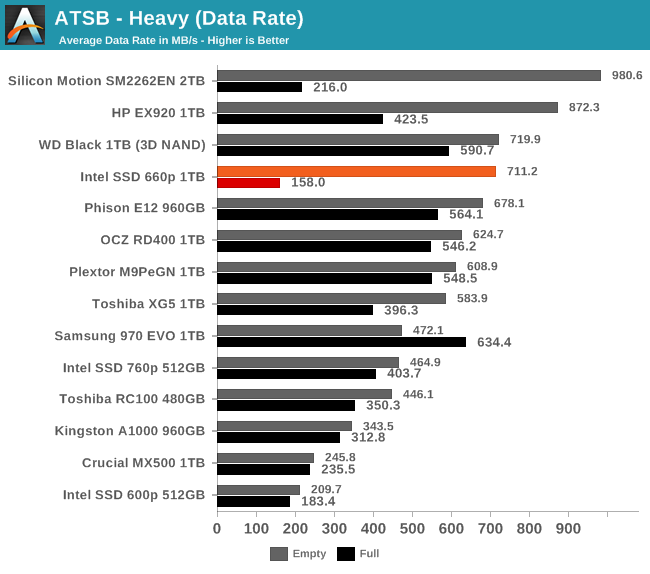 When the Heavy test is run on an empty Intel SSD 660p, the test is able to operate almost entirely within the large SLC cache and the average data rate is competitive with many high-end NVMe SSDs. When the drive is full and the SLC cache is small, the low performance of the QLC NAND shows through with an average data rate that is slower than the 600p or Crucial MX500, but still far faster than a mechanical hard drive.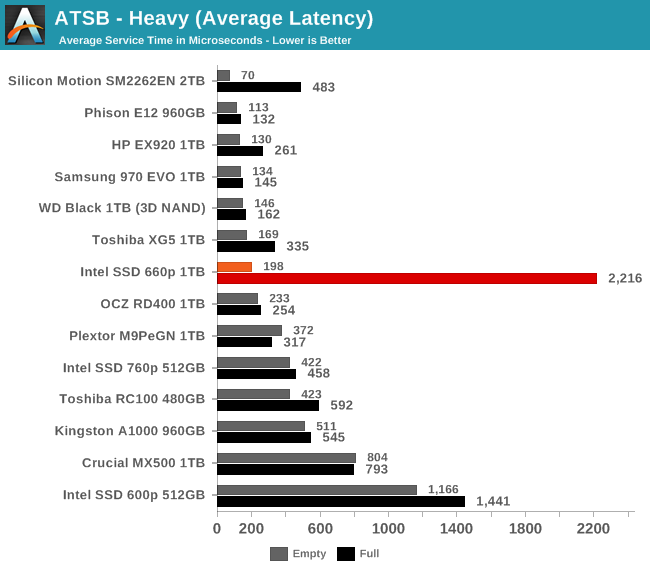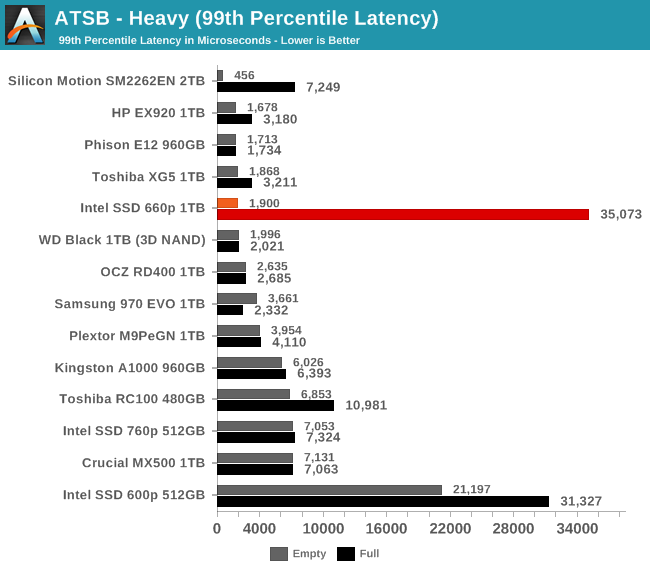 The average and 99th percentile latency scores of the 660p on the empty-drive test run are clearly high-end; the use of a four-channel controller doesn't seem to be holding back the performance of the SLC cache. The full-drive latency scores are an order of magnitude higher and worse than other SSDs of comparable capacity, but not worse than some of the slowest low-capacity TLC drives we've tested.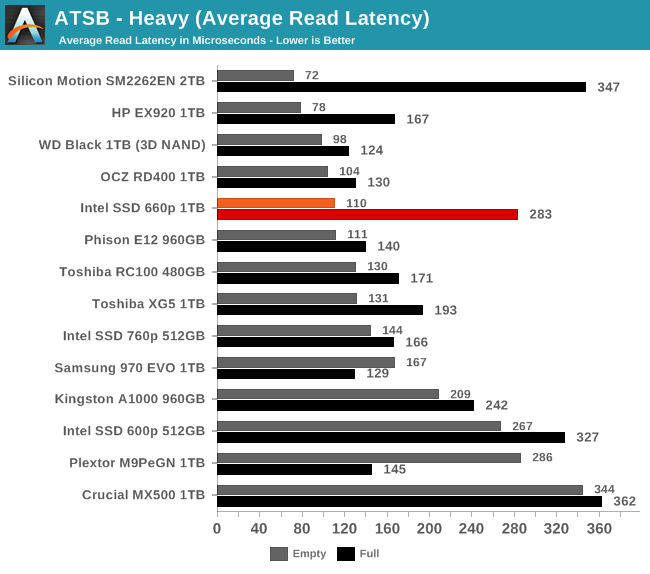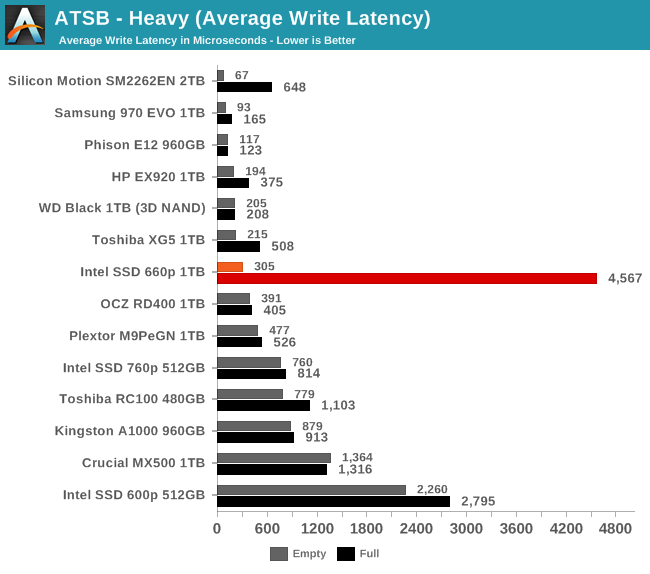 The average read latency of the Intel 660p on the Heavy test is about 2.5x higher for the full-drive test run than when the test is run on a freshly-erased drive. Neither score is unprecedented for a NVMe drive, and it's not quite the largest disparity we've seen between full and empty performance. The average write latency is where the 660p suffers most from being full, with latency that's about 60% higher than the already-slow 600p.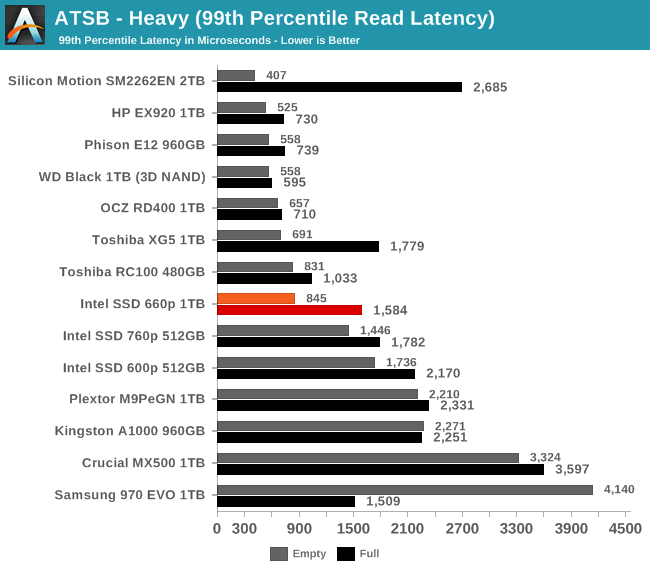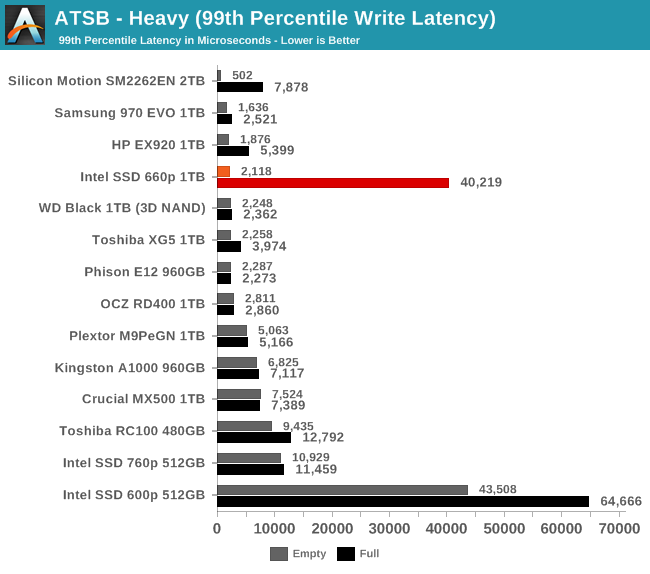 The 99th percentile read latency scores from the 660p are fine for a low-end NVMe drive, and close to high-end for the empty-drive test run that is mostly using the SLC cache. The 99th percentile write latency is similarly great when using the SLC cache, but almost 20 times worse when the drive is full. This is pretty bad in comparison to other current-generation NVMe drives or mainstream SATA drives, but is actually slightly better than the Intel 600p's best case for 99th percentile write latency.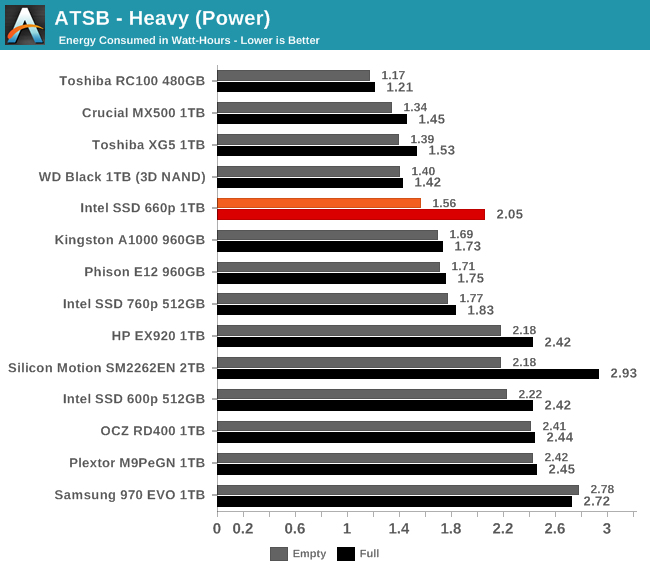 The Intel SSD 660p shows above average power efficiency on the Heavy test, by NVMe standards. Even the full-drive test run energy usage is lower than several high-end drives.