Processor Temperature Comparisons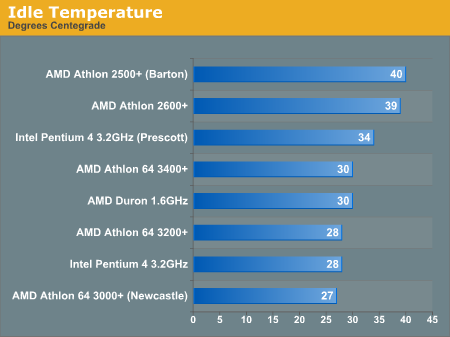 We can see that, at idle, Prescott is 6 degrees Celsius hotter than Northwood. Of course, its only 4 degrees hotter than the 3400+ (and cooler than what we are reading for the Athlon XP processors). It is important to note that the Athlon XP and Duron processors do not have heat spreaders on them, and therefore will dissipate all of their heat into a more concentrated area of the heatsink (directly below the thermistor). This could help account for their temperature readings, but since their interface with the heatsink is so different, it may be better to only compare them with eachother.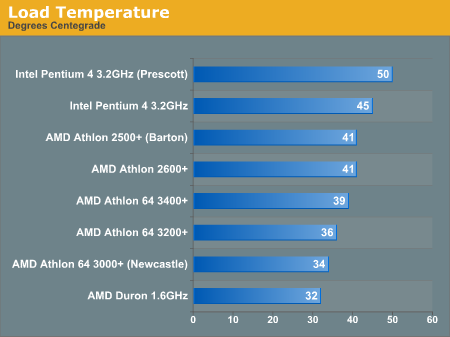 Under load the gap between Northwood and Prescott is cut down by a degree. These two are now the hottest processors we are looking at, but 5 degrees of difference isn't all that much in looking at the temperature at the bottom of the heatsink near the contact area.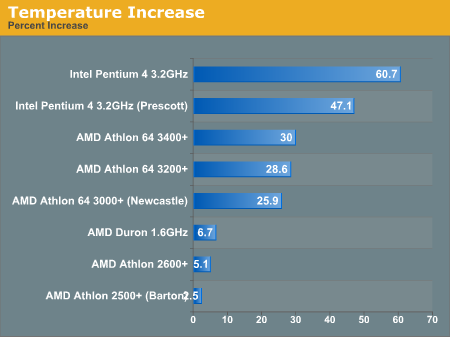 In looking at temperature increase in percentage, there isn't much point in ordering the graph. We don't even know what's better here. A small increase could mean that your processor doesn't draw that much more power under load, or it could mean that your architecture is inefficient in saving power when idle. We thought that these numbers were interesting though, so we included them.