Construction (continued)
Samsung SyncMaster 193P
LCD
19.0" SXGA LCD (Active Matrix)
pixel pitch: 0.294mm
Anti-glare coating
PVA
Scanning Frequency
Horizontal: 30-81kHz
Vertical: 56-75Hz
Response Time
20ms (Typical)
Contrast Ratio
800:1 (Typical)
Compatibility
1280 x 1024 (Native)
Brightness
250 cd/m2
Dimensions (WxHxD)
16.7"x 16.2" x 9.3"
Power
Working: 40W
Standby/Off: 5W
Warranty
3 years parts and labor
As we have seen with other LCDs from Samsung, the PVA display mode is a key giveaway that the panel in the 193P is manufactured by Samsung. PVA is proprietary to Samsung.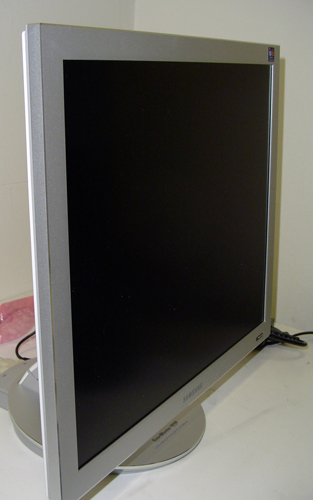 Click to enlarge.
We were slightly suspicious of the 800:1 contrast ratio. This seems fairly high for any LCD of this size, particularly with a 250cd/m
2
brightness. There are no Samsung LCD panels with 800:1 contrast ratios on the
Samsung website
as of March 2004. As we will see in later parts of the review, the contrast ratio does seem improved over previous models that we have seen in the past.
Recently, we have criticized a few LCDs for their approach to cooling (particularly the
Samsung 213T
and
Dell 2001FP
). Too little ventilation, and the monitor runs the risk of overheating. Too much ventilation, and the monitor components are exposed (as well as any and all effects of EMI shielding are negated). Our SyncMaster 193P demonstrates the best of both worlds. The bulk of LCD heat comes from the AC-DC inverter and the panel backlights. In the case of the 193P, Samsung uses an AC-DC brick adaptor. Panel temperatures are low enough to seal completely the components in a plastic sheath. The result is a very sleek design.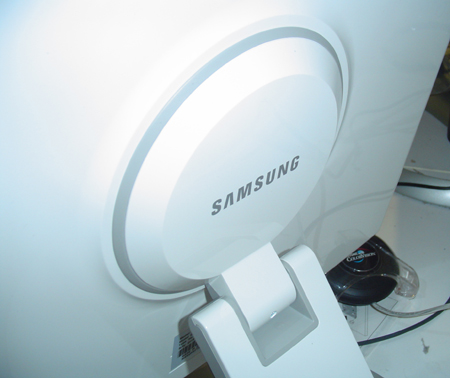 Click to enlarge.
Our 193P did not have any pixel defects. We spotted one dead subpixel in the upper right quadrant of the monitor, but it was, otherwise, flawless. This was expected; our 193P sample uses a 1280x1024 SXGA LCD panel. Our
last
reviews
were based on UXGA panels with significantly more pixels.