CPU and Motherboard Recommendations
CPU: AMD Athlon XP 2500+ Mobile Barton (512K L2 cache)
Motherboard: ABIT NF7-S Revision 2.0 (nForce2 Ultra 400)
Price: CPU - $92 shipped (OEM). Motherboard - $98 shipped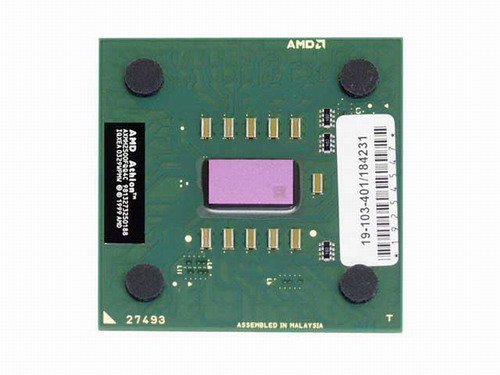 In the last month, not a whole lot has changed on the AMD overclocking front. Athlon XP processors are still the choice of AMD overclockers for the most part. Recently, however, there are those who have been experimenting with Athlon 64 (2800+) overclocking. Specifically, with motherboards like the AOpen AK86-L or MSI K8T Neo, with great results. We've done some testing and looked at the results, and while impressive, it's still not good enough for serious overclocking enthusiasts. Athlon 64 overclocking is tempting and certainly worth tinkering with if you can find the time, but not quite worth your money yet.
Anyway, operating at 1.45V instead of 1.65V, and with other electrical layout changes, the mobile 2500+ has quickly become a favorite among AMD overclockers. A key feature of the mobile 2500+ is the fact that it comes factory unlocked, meaning its multiplier is adjustable from (in this case) 11X up to 22 and as low as 5X. This is vitally important to overclockers because this allows them to squeeze out more performance from their chip without having to resort to fantastic FSB speeds. Being multiplier unlocked is an important feature of the mobile 2500+, not only because it gives overclockers more performance, but because the regular (desktop) version of AMD's 2500+ processor is now coming factory
locked
, and that means that your motherboard
has
to sustain much higher FSB speeds than an unlocked CPU like the mobile 2500+.
Last month, we purchased a mobile Athlon XP 2500+ processor from a local vendor and tested it ourselves to see what we could ring out of it. We set the mobile 2500+ to 1.65V instead of leaving it at the default 1.45V, primarily because most Athlon XP processors' Vcore default is at 1.65V anyway. On just 1.65V, we were able to get a 2.38GHz core clock speed. This was stable during Prime95 and SPECviewperf 7.1.1 runs (8 hours), both of which, by the way, are good programs to test the stability of your system. Anyway, this is simply a great overclock, especially on 1.65V. Remember, the mobile 2500+'s stock speed is 1.87GHz (not 1.83GHz, like the desktop version), meaning that we were able to achieve a
510MHz
total overclock. Moving on, we decided to head straight to the highest Vcore at which we would run a chip like this: 1.80V. At 1.80V, we were able to get a stable 2.52GHz overclock. In other words, with an additional 0.15V, we pumped out another 150MHz of speed. Knowing that most overclockers are frequent upgraders who usually don't use a CPU for more than 9 months (sometimes much less), 1.80V will be OK with the proper cooling and maintenance. We suggest a lower Vcore (like 1.75V or 1.775V) if your working environment happens to be significantly hotter than room temperature, as your CPU may overheat under load in a poorly ventilated room. Granted, as you'll see at the end of this guide, we chose powerful enough cooling that basically prevents this from ever happening.
Anyway, when you overvolt your CPU, you normally should be wary of how much you overvolt. For example, running your Athlon XP CPU at 2.0V or higher is simply not a good idea by any stretch of the imagination if you plan on keeping your CPU more than a month or two. It will die at that high of a voltage; we've seen it happen before and have had countless reliable reports of such failings. However, with the right mix of overvolting (1.75V-1.80V), your CPU should last as long as you're going to keep it, which is usually 9 months or less (by the time the better overclocking chips come around, in other words). However, we should note that not all mobile 2500+ processors will be guaranteed to reach the overclock that we experienced. 2.52GHz is simply not going to be possible for everyone. However, look at the bright side - you could get a chip that overclocks higher than 2.52GHz, and that would be a steal.
In case you're wondering, our mobile 2500+ is an IQYFA 0343 stepping processor. If you receive a different-week mobile 2500+, don't panic; we've seen reports of overclocks similar to ours with non-IQYFA chips, such as IQYHA chips and others.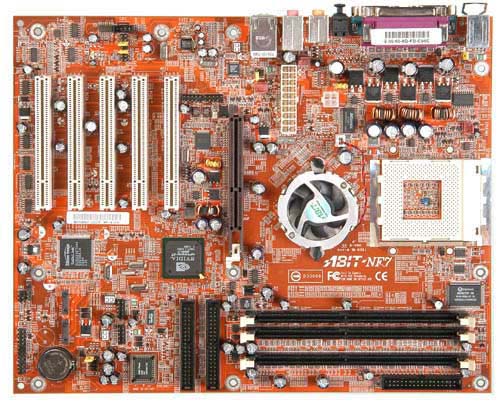 Seeing that we're recommending the ABIT NF7-S Rev. 2 today, you would be correct to infer that we used this motherboard to achieve the 2.52GHz overclock with our mobile 2500+ processor. The NF7-S includes features like SATA RAID, SPDIF, and sound via the nForce2's APU, using the MCP-T South Bridge. Overall, the NF7-S provides a very nice package for just $98. The addition of four mounting holes for more powerful HSFs is an absolute necessity for AMD overclockers and is greatly appreciated. Combined with the mobile 2500+ processor, this motherboard will make a great foundation for your overclocking rig. Make sure you check out ABIT's
user forums
for more detailed information regarding daily BIOS and driver updates available to your NF7-S Rev. 2, in addition to any other information that you may need to tweak and overclock your system better. Online forums can be a very useful tool to maintaining your overclocked system over time and is highly recommended if you're a serious overclocker. Then again, there probably aren't very many overclocking enthusiasts who haven't visited an online forum, so forgive us if we're being a little too elementary.
Anyway, another nice little thing that the NF7-S Rev.2 does is allow full access to CPU multipliers 5X-22X. While full access is sometimes completely unnecessary, it's nice to have, and basically shows that ABIT has made a motherboard, in part, to serve the overclocker's needs. Thankfully, ABIT allows Vcore tuning up to 1.90V (and higher, but that's unnecessary) on the NF7-S Rev.2, in addition to plenty of VDIMM and FSB adjustments. This is all necessary on an overclocker's motherboard like the NF7-S Rev.2, so we see it as no surprise.
Listed below is part of our RealTime pricing engine, which lists the lowest prices available on the AMD CPUs and motherboards from many different reputable vendors:
If you cannot find the lowest prices on the products that we've recommended on this page, it's because we don't list some of them in our RealTime pricing engine. Until we do, we suggest that you do an independent search online at the various vendors' web sites. Just pick and choose where you want to buy your products by looking for a vendor located under the "Vendor" heading.