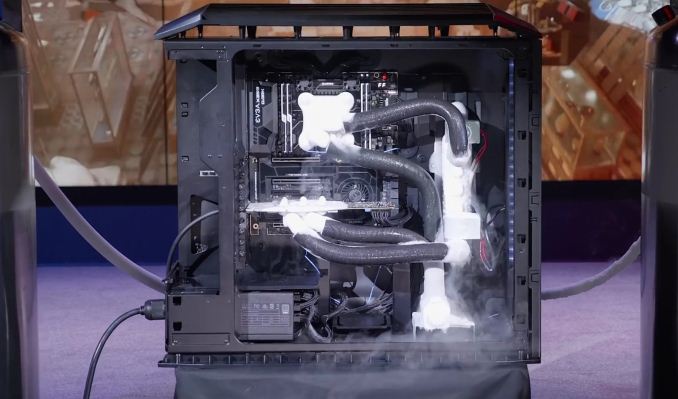 One of the more esoteric elements of the technology industry are the extreme overclockers. Much like what drag racing is for cars, extreme overclocking is to computers: trying anything and everything to do the quickest benchmark. This means modifying the components, having a super streamlined OS, and to a certain extent be a money-no-object scenario.
One of the things that overclocking does is generate heat, and that needs to be kept under control. Beyond air cooling and water cooling is sub-zero cooling, using items such as dry ice to cool processors for the 20 minutes needed for that special benchmark record. Liquid nitrogen is the favored tool of extreme overclockers, being easy enough to handle and 'reasonably' cheap, with the lucky few having played with liquid helium.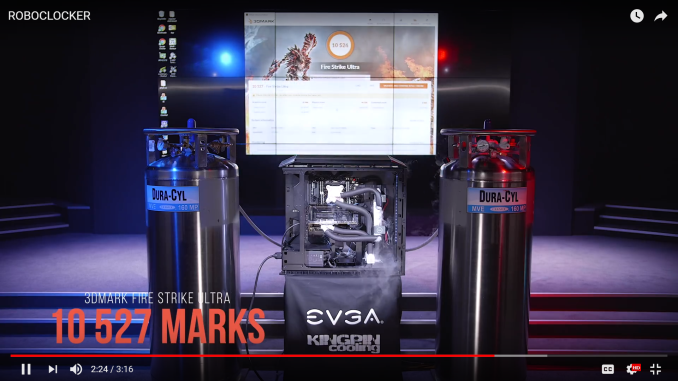 Normally Liquid Nitrogen, as it sublimes from a liquid to a gas, requires an exit: the ability to escape by using an open pot is key to how to get a system to overclock beyond 6 GHz. EVGA has gone crazy, by developing a closed water-loop esque system for liquid nitrogen. I cannot explain how insane this is.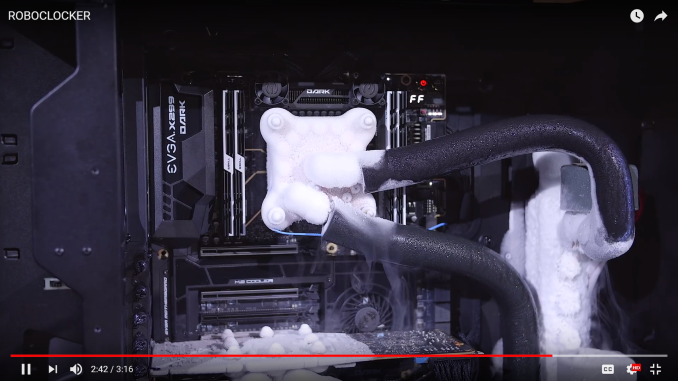 As shown in the image above, using these coolants invokes moisture, and water is bad for the system. Liquid nitrogen overclocking requires motherboard preparation, in this case, to stop moisture from affecting the components. What exactly EVGA is doing here to stop moisture I have no idea. The tool they have in place is called ROBOCLOCKER.
Want to keep up to date with all of our Computex 2018 Coverage?

Laptops

Hardware

Chips
Follow AnandTech's breaking news here!