Design
Lian Li has been known for its unique designs in their entire product line. The PC-6070 is based on its PC-6 series counterparts. Though not completely screw-less, it emphasizes removable components. Everything from the motherboard tray to the drive bays are all held in place by thumbscrews, which can be removed for installation of hardware.
The exposed drive bays as well as the bright power and HDD LEDs are hidden behind a full height aluminum door. The power button is easy to press and is concaved to prevent accidental brushes with disaster. The reset button is a bit small for any normal adult finger, but its size also prevents it from being accidentally pushed. The LEDs are directed through to the front of the door by way of a plastic insert.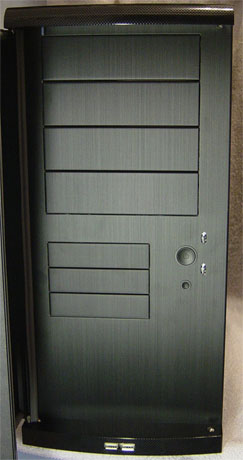 Click to enlarge.
The door can be removed by pushing the release clip to the left for those who access the drives often.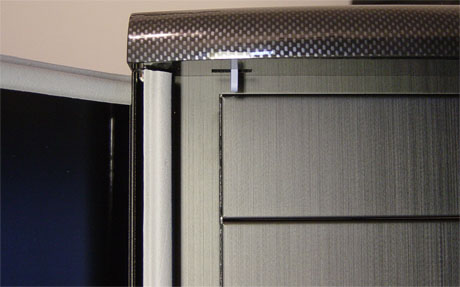 Click to enlarge.
The entire front end of the chassis is composed of drive bays. There are four 5-1/4" bays at the top, three 3-1/2" bays at mid-height, and a carriage that can hold up to five more 3-1/2" drives, which sits at the bottom. This carriage sits elevated above the PC speaker and is kept in place by 2 thumbscrews.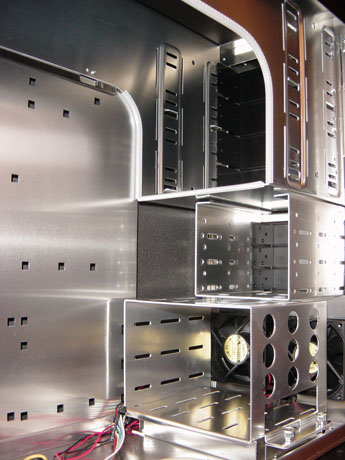 Click to enlarge.
The PC-6070 has a compact design that is ideal for desktop use. Unlike the
SilverStone Nimitz
that we reviewed last week, it has a small footprint for being such a feature-packed model.
Many case designers overlook the fact that noise levels can affect the attractiveness of the final product. Lian Li takes measures to ensure a quiet case by adding 2mm thick foam insulation on both side panels as well as the ceiling of the chassis. They have also lined the inside of the door with foam strips and also lined the insides of the drive bay openings to further reduce any noise from seeping through.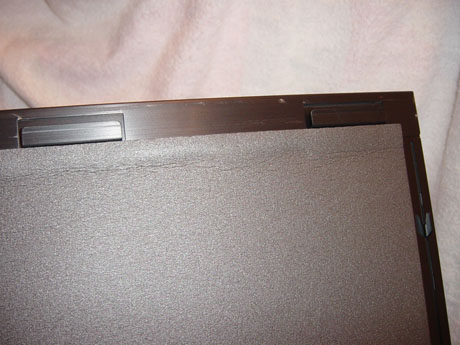 Click to enlarge.