Inspiron All-in-Ones
On the desktop side of matters, Dell has announced updates to the entire range of its popular Inspiron All-in-One desktop line, starting from its cost effective 22 & 24 3000 models, the mid-range 24 5000 series as well as the flagship 27 7000 series. The updated models include 7th and 8th gen Intel processors, an AMD CPU variant on some of the 3000 series models, as well as updated discrete graphics. The devices use the Dell Cinema pillars on these AIO's including Cinemastream, Cinemasound, and Cinemacolor to bring users what they call 'the ultimate movie watching and cinematic experience on the PC. That isn't all they will be able to do of course, but this is Dell's focus on many of their recent products.
22 & 24 3000 AIO
According to Dell, the 22-inch and 24-inch 3000 series were designed for the price conscious user who does not want to sacrifice quality. The 3000 series includes a total of four models (3275, 3277, 3475, and 3477). Where the first digit represents the series, the second digit represents the size of the monitor, and the last two digits note AMD (75) or Intel-based CPUs in use (77). The AMD variants will start at lower prices than the Intel options and have fewer options in both RAM and storage configurations.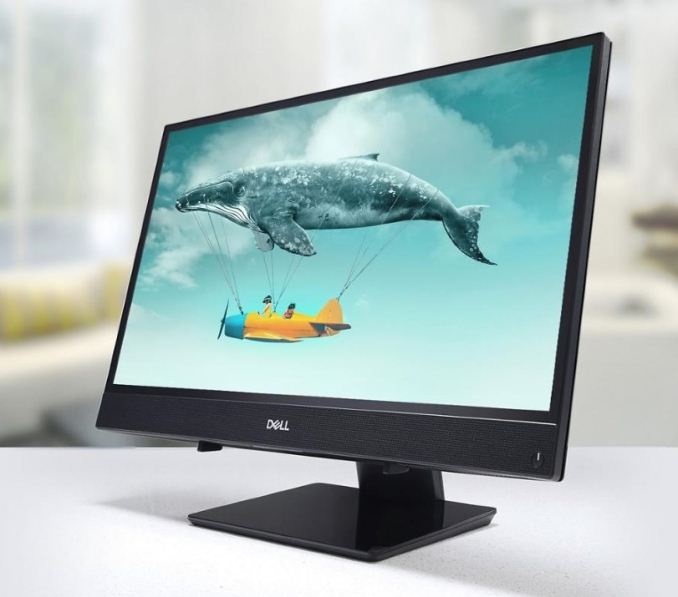 On the AMD side, the CPU options are unfortunately all a bit dated, using AMD's circa 2016 Bristol Ridge APUs and not the new Ryzen-based APUs. Overall the processor choices range from the dual-core AMD E2-9000e with Radeon R2 Graphics, A6-9225 with R4 graphics, to an A9-9425 with R5 based graphics. The Intel CPU options are also a generation out, tapping Intel's 7th generation products with four choices, all dual cores w/HT - A Pentium 4415U, i3-7130U, i5-7200U, and i7-7500U. Graphics options will vary with the AMD systems using only integrated Radeon graphics while the Intel-based models can use the integrated HD 610/620 or a GeForce MX110 2GB GDDR5. RAM capacity is up to 16GB of DDR4 2400. Be careful about how you select it however as some combinations are in a single channel which can take away performance in memory-sensitive applications.
There are a total of two monitor options for each screen size; one is a 10-point touch screen option, the other, not. All are LED-backlit IPS FHD (1920x1080) with anti-glare screen and narrow border display. The bezels are notably smaller than on the previous generation Inspiron AIOs giving the newest model a slimmed down and more modern appearance. These are available in Black or White, with a Gold color available in China.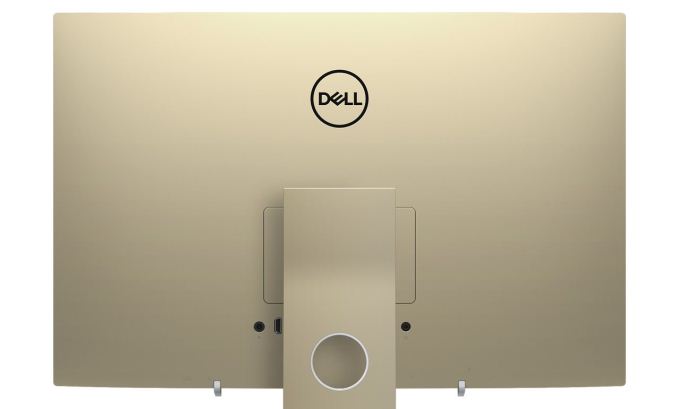 The internal storage options range from HDDs (500-2TB), to SATA and PCIe NVMe based M.2 SSDs up to 512GB. The AMD populated devices only support a single spinner drive (no SSD options) while the Intel-based models can support two drives, one M.2 based SSDs and another 2.5" HDD.
The 3000 series AIO's includes stereo speakers with Waves MaxxAudio Pro technology, as well as an integrated widescreen 720p pop-up webcam. The chassis includes a USB2.0 port, three USB 3.0 ports, a universal audio jack, HDMI-out and a 3-in-1 card reader. Network connectivity is handled by a single RJ-45 GbE as well as integrated 802.11ac Dual Band 1T/1R wireless with Bluetooth 4.1
The Inspiron 3000 series is already available with a starting price of $399.99.
Dell 22 & 24 3000 AIOs
3275 (22") and 3475 (24") - AMD
3277 (22") and 3477 (24") - Intel
Warranty Period
1 Year Warranty
Product Page
LINK
LINK
Processors
E2-9000e 2C / 2T
1.5 GHz Base, 2 GHz Turbo
A6-9225 2C / 2T
?.? Base, ?.? Turbo
A9-9425
?.? Base, ?.? Turbo
Pentium 4415U 2C / 4T 2.3 GHz
Core i7-7130U 2C / 4T 2.7 GHz
Core i7-7500U 2C / 4T
2.7 GHz Base
3.5 GHz Turbo
Memory
4GB DDR4-2400 (4GB x 1)
8GB DDR4-2400 (8GB x 1)
16GB DDR4-2400 (16GB x 1)
4GB DDR4-2400 (4GB x 1)
6GB DDR4-2400
(4GB x1 + 2GB x 1)
8GB DDR4-2400 (8GB x 1)
8GB DDR4-2400 (4GB x 2)
12GB DDR4-2400
(8GB x 1 + 4GB x 1)
16GB DDR4-2400 (16GB x 1)
16GB DDR4-2400 (16GB x 2)
Network Connectivity
Gigabit Ethernet
802.11ac Dual Band (1Tx1R) Wi-Fi
Bluetooth 4.1
Storage
SSD
N/A
128 GB SATA M.2 SSD
256 GB SATA M.2 SSD
256 GB PCIe NVMe M.2 SSD
512 GB SATA M.2 SSD
128GB SATA M.2 + 1 TB
256GB PCIe NVMe M.2 + 1 TB
16GB Intel Optane accelerated 1TB 5400RPM
HDD
500 GB 5400RPM
1 TB 5400RPM
2 TB 5400RPM
500 GB 5400RPM
1 TB 5400RPM
2 TB 5400RPM
Graphics
Integrated Graphics with AMD APU
Intel HD 610
Intel HD 620
NVIDIA MX110 2GB GDDR5
Expansion Slots
1 x SD card reader (3-in-1)
Display
21.5" FHD IPS Anti-Glare LED-backlit
21.5" FHD IPS Anti-Glare LED-backlit Touch Display
23.8" FHD IPS Anti-Glare LED-backlit
23.8" FHD IPS Anti-Glare LED-backlit Touch Display
Ports and Connectors
2 x USB 2.0
2 x USB 3.0
1 x HDMI
1 x 3.5mm Univ. Audio Jack
1 x RJ-45 10/100/1000
1 x SD Card Reader (SD/SDHC/SDXC)
1 x USB 2.0
3 x USB 3.0
1 x HDMI
1 x 3.5mm Univ. Audio Jack
1 x RJ-45 10/100/1000
1 x SD Card Reader (SD/SDHC/SDXC)
Input Device
Membrane Keyboard
Camera
HD (720p) pop-up
Power
45W AC Adapter (E2 CPU)
65W AC Adapter
65W AC Adapter
90W AC Adapter (Discrete GPU)
Audio
Stereo Speakers with Waves MaxxAudio
Dimensions
22" - 12.9" x 19.6" x 1.6" (H x W x D)
24" - 14.1" x 21.6" x 1.6" (H x W x D)
Weight
22" - 9.41 lbs+
24" - 10.18 lbs+
Price ($US)
Starting $399.99
24 5000 AIO and Inspiron 27 7000 AIO
The 5000/7000 series each offer one model (5477 and 7777) and is a step up from the 3000 series offering a combination of features, performance, and connectivity aimed at achieving a good multimedia experience. The 27 7000 is the flagship device in the Insipiron AIO line giving users access to the larger screen and optional 4K UHD resolution. The upgraded platforms use 8th gen Intel Core processors, higher-end discrete graphics, higher capacity memory options, as well as new storage options including Intel Optane. Both the 24-inch and 27-inch monitors sport Dell's InfinityEdge displays with even smaller bezels than the 3000 series.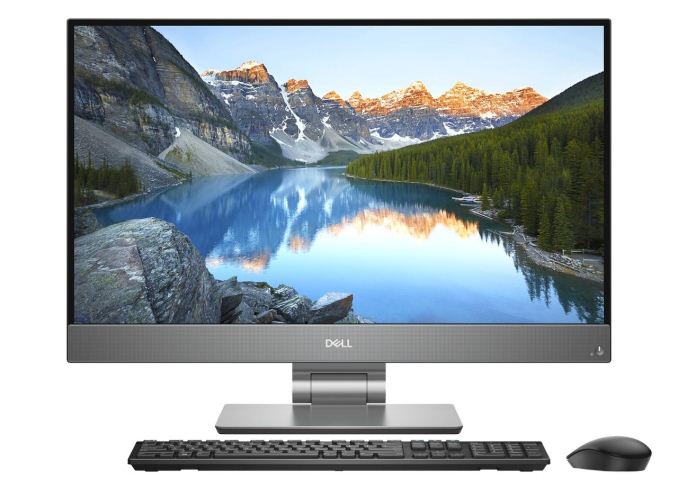 Hardware wise, the AIOs step up to the latest 8th generation Intel Core i7 processors starting with the quad-core i3-8100T up to 4.6 GHz, hex core i5-8400T up to 4.0 GHz, and an i7-8700T up to 4.6 GHz. Graphics options include the integrated Intel UHD Graphics 630, or a discrete NVIDIA Geforce GTX 1050 4GB GDDR5. The latter offering the ability to play games on the FHD screen, but will be lacking on the 4k UHD screen. System RAM capacity ranges from 8GB-32GB of DDR4 2400 using the Core i3 or faster DDR4 2666 when the Core i5 and i7 processors are selected.
On the storage side, Dell is using a dual drive setup with up to a 1TB 7200RPM HDD and 256GB NVMe SSDs. Intel Optane is supported here (3000 series also) and can be used in conjunction with the 1TB 5400RPM drive. While not a large amount of storage, it should be enough for most users.
There are two monitor options for the 24 5000 series, both are 23.87-inch FHD (1920x1080) LED-backlit IPS panels with anti-glare technology and an InfinityEdge display. The other option is the carries the same features but uses a 10-point Touch Display. The 27 7000 has three monitor options, 27-inch FHD (1290x1080) IPS Anti-glare LED-Backlit InfinityEdge, and a touchscreen model. The third option steps up to a 4K UHD (3840x2160) IPS Anti-glare LED-backlit InfinityEdge display. Other multimedia options include 'performance' stereo speakers with Waves MaxxAudio Pro Tuning, Wide quad-array digital microphones, integrated HD pop-up (720p) webcam, and an optional Windows Hello compliant IR facial recognition FHD (1080p) camera.
Both the 24 5000 and 27 7000 includes Dell CinemaStream to help deliver a smooth content streaming experience by prioritizing video streaming traffic over the network. In addition, the AIO includes Dell mobile Connect software for PC-smartphone wireless integration. This is a useful bit of software is able to make and receive calls, texts, and get notifications through a secure point-to-point connection without using the internet or Wi-Fi routers.
The 24 5000 (5477) AIO starts at $849.99 and is available beginning today. The 27 7000 (7777) starts at $999.99 and will be available in late May.
24 5000 and Inspiron 27 7000 AIOs
24 5000 (5477)
27 7000 (7777)
Type
AIO PC
Processors
i7-8700T (6C / 6T - 2.4 GHz base, 4 GHz Turbo)
i5-8400T (6C / 6T - ?.? GHz base, 4.0 GHz Turbo)
i3-8100T (4C / 4T - ?.? GHz base, 3.6 GHz Turbo)
Maximum Memory
32GB DDR4-2400 (2 DIMM slots)
Network Connectivity

Gigabit Ethernet


802.11ac Dual Band (1Tx1R and 2T x 2R) Wi-Fi
Bluetooth 4.1
Internal Storage
1 TB 5400RPM HDD
1 TB 7200RPM HDD
128GB SSD + 1 TB 5400RPM HDD
256GB PCIE NVMe SSD + 1 TB 5400RPM HDD
16GB Optane accelerated 1 TB 5400RPM HDD
Graphics
Intel HD Graphics 620
NVIDIA GeFroce GTX 1050 4GB GDDR5
Expansion Slots
1 x Smart card reader
Display
23.8" FHD IPS anti-glare LED-backlit InfinityEdge
23.8" FHD IPS anti-glare LED-backlit Infinity Edge Touch Screen
27" FHD IPS anti-glare LED-backlit InfinityEdge
27" FHD IPS anti-glare LED-backlit Infinity Edge Touch Screen
27" 4K UHD IPS anti-glare LED-backlit InfinityEdge
Ports and Connectors
2 x USB 2.0
3 x USB 3.0 (1 w/Powershare)
1 x USB 3.0 Type-C
1 x HDMI-on, HDMI-out (1.4)
1 x RJ-45 10/100/1000
1 x headphone/microphone combo
Input Device
Membrane Keyboard
Camera
HD (720p) Camera, HD IR webcam (Windows Hello compliant)
Power
130W AC Adapter (UMA Graphics)
180W AC Adapter (Discrete Graphics)
Dimensions
24" - 16.3" x 21.3" x 2.1" (16.3" includes pedestal stand)
27" - 17.9" x 24.2" x 2.27" (FHD)/ 2.27" (UHD)
Weight
17.31 lbs+
23.55 lbs+
Price
$849.99+
$999.99