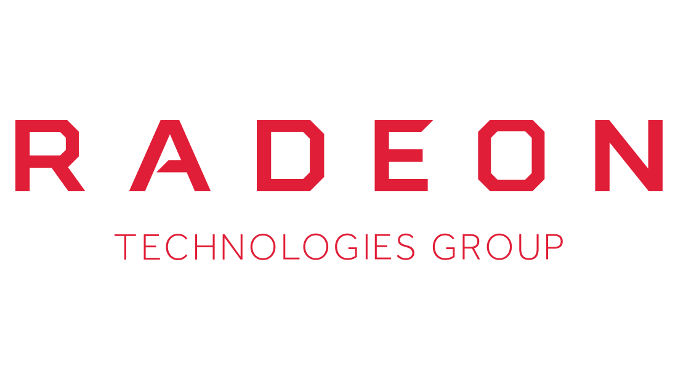 Yesterday, AMD released Radeon Software Adrenalin Edition 18.3.1 and introduced AMD's Project ReSX ("Radeon eSports Experience"), largely responsible for 18.3.1's specific performance optimizations to Dota 2, Overwatch, and PlayerUnknown's Battlegrounds (PUBG). As an internal Radeon Software initiative for the past few months, Project ReSX involved collaboration with game developers for focused performance improvements, including reducing input latency and 99th percentile frametimes. Additionally, along with some bug fixes, the 18.3.1 release includes the usual driver fare: game support for today's Final Fantasy XV Windows Edition launch, as well as Warhammer: Vermintide 2's launch this Thursday (3/8).
As part of Project ReSX, AMD targeted several of the most popular PC titles and worked with the developers of the respective games, advising developers on in-game optimizations and providing on-site engineering support. Naturally, this was matched with driver-side improvements in Radeon Software itself. For 18.3.1, the Dota 2, Overwatch, and PUBG optimizations are the fruits of this labor. Compared 18.3.1 to 17.12.1, AMD is claiming a number of improvements in framerates, 99th percentile frametimes, and responsiveness, with the Radeon RX 580 as a case study.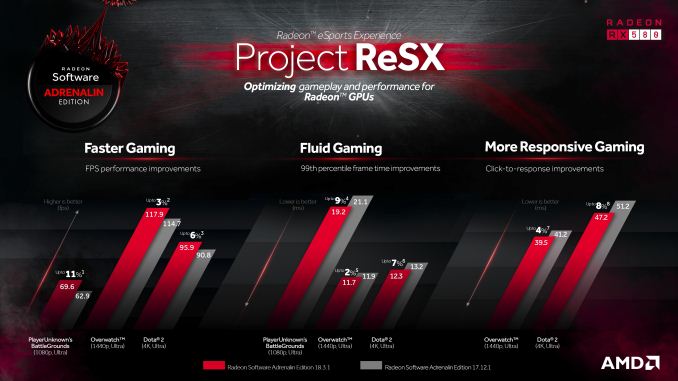 For framerates, AMD cites a 3 – 11% increase for specific resolutions and settings, while 99th percentile frametimes see a 2 – 9% improvement and input lag sees a 4 – 8% reduction. Ultimately, AMD refers to overall "experience" rather than pure framerates, which is especially pertinent to eSports titles that tend to be less graphically intensive but require competitive level responsiveness and frametime consistency. At the same time, as these are some of the most widely played games on the market, this is a very senisble move for AMD to make: they can improve the gaming experience for a very large number of their users all at once with only a modest engineering outlay.
For the release of 18.3.1, it was not specified whether some of these gains manifested in earlier 18.x releases, though Project ReSX has been running for the past few months. As a whole, Project ReSX appears to be ongoing, and 18.3.1 does not represent all the optimization work done as part of the initiative.
Moving on to the bugfixes, 18.3.1 resolves the following issues:
Radeon Chill hotkey may fail to reset when Radeon Settings is restored to defaults.
Sea of Thieves may experience an intermittent application hang or crash during gameplay.
Middle-earth: Shadow of War may experience texture flickering on trees or hills when using multi GPU enabled system configurations.
World of Tanks may experience color corruption when changing some game settings in multi GPU enabled system configurations.
In terms of new documented issues, two bugs with Destiny 2 and Final Fantasy XV and a Radeon Settings resizing issue were added:
Final Fantasy XV may experience minor stutter during some particle effects. A workaround is to disable the "Geomapping" in-game setting.
Resizing Radeon Settings may cause the window to intermittently stutter.
A random system hang may be experienced after extended periods of use on system configurations using 12 GPUs for compute workloads.
Destiny 2 may experience an application hang in the mission "Heist" on some Radeon GCN 1.0 products.
Radeon Overlay may intermittently fail to enable when toggled in some games.
FFmpeg application may experience corrupted output for H264 video streams.
The updated drivers for AMD's desktop, mobile, and integrated GPUs are available through the Radeon Settings tab or online at the AMD driver download page. More information on these updates and further issues can be found in the respective Radeon Software Adrenalin Edition 18.3.1 release notes.
Source: AMD