Today Intel announced their quarterly earnings, and 2017 was another record year for the company. Q4 revenue was a record $17.1 billion, and the full year revenue was a record $62.8 billion. For this quarter, Intel's GAAP earnings took a hit due to a $5.4 billion tax expense thanks to the new tax reforms that were enacted in December, but as a one-time hit, it shouldn't be a concern going forward. In fact, Intel is forecasting only a 14% tax rate for FY 2018.
In GAAP terms, Intel's gross margin was 63.1%, which is up 1.4% from a year ago, and their operating income was up 19% to $5.4 billion. However, thanks to a 111.4% effective tax rate due to the one time $5.4 billion tax fee, Intel is actually reporting a GAAP loss for the quarter of $0.7 billion. Earnings per share were therefore down 120% to a loss per share of $0.15.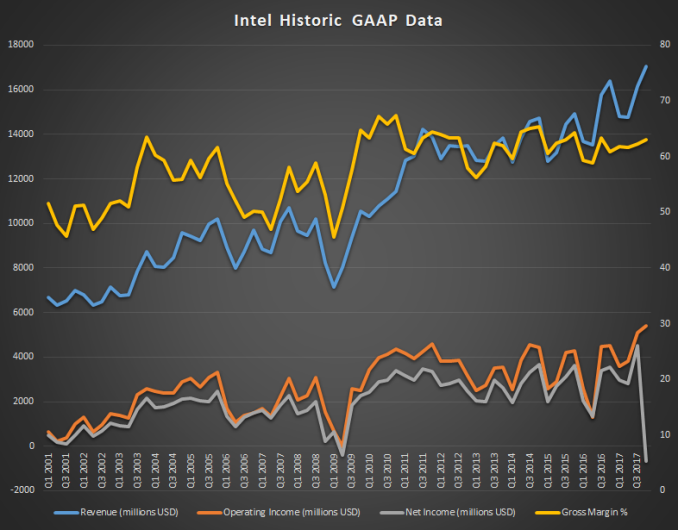 Due to the tax impact, it's probably a good thing to look at Non-GAAP earnings as well which will exclude that one-time charge. In terms of Non-GAAP, Intel's gross margin was 64.8%, which was up 1.7%. Operating income was up 21% to $5.9 billion. Intel's Non-GAAP tax rate was 21.2%, which is actually higher than the 19.8% they paid last year, and net income was $5.2 billion, up 34% from a year ago. This led to earnings per share being up 37% to $1.08.
For the full year, Intel had $62.8 billion in revenue, with a gross margin of 62.3%. Operating income was up 39% year-over-year to $17.9 billion, although thanks to the tax hit their net income was down 7% to $9.6 billion. In Non-GAAP terms, net income was up 27% to $16.8 billion.
Intel Q3 2017 Financial Results (GAAP)
Q4'2017
Q3'2017
Q4'2016
Revenue
$17.1B
$16.1B
$16.4B
Operating Income
$5.4B
$5.1B
$4.5B
Net Income
-$0.7B
$4.5B
$3.6B
Gross Margin
63.1%
62.3%
61.7%
Client Computing Group Revenue
$9.0B
+1.6%
-2.0%
Data Center Group Revenue
$5.6B
+14.7%
+20.0%
Internet of Things Revenue
$879M
+3.5%
+21.0%
Non-Volatile Memory Solutions Group
$889M
-0.2%
+9.0%
Programmable Solutions Group
$568M
+21.1%
+35.0%
Intel is still pivoting business away from the declining PC market, and they have done well to diversify, but still, their PC business is still the biggest piece of the pie. For the quarter, the Client Computing Group had revenues of $9.0 billion, which is down 2% year-over-year, but for the full year of 2017, their CCG was up 3% to $34 billion. It's not quite dead yet. In an effort to show their diversification, Intel is now quoting their data in "PC-centric" and "Data-centric" and conveniently, Data-centric is all of their business outside of the CCG, but even so, the CCG still accounted for 53% of Intel's revenue for the quarter.
But, the Data-centric group is certainly growing much quicker than the PC market which is still in a decline. The Data Center Group is by far the largest portion of Intel's Data-centric efforts, and the DCG had revenues of $5.6 billion for the quarter, which are up 20% year-over-year. With the expansion of the cloud, this likely still has some ways to go before it hits a peak, so it's likely just a matter of time before they finally surpass their Client Computing Group.
The rest of the Data-centric business was also up for the quarter, with IoT up 20% year-over-year, to $879 million. For the full year the IoT was up 20% and had revenues of $3.2 billion. Non-volatile memory was up 9% for the quarter to $889 million, and for the year it was up 37% to $3.5 billion. Programmable Solutions was up 35% for the quarter to $568 million, and for the full year, was up 14% to $1.9 billion.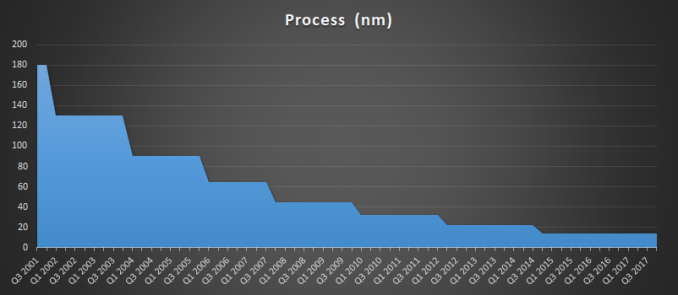 Intel still hasn't shipped anything on 10nm to the point where someone could go buy a chip, although we're finally getting close, with Intel shipping 10nm to some of their partners. 14nm was delayed, but the delay in getting to 10nm has been longer than likely anyone expected. Intel has still made some bold claims about density, so it should be a good node for them if and when it arrives.
Intel's forecast for Q1 2018 is for $15.0 billion in revenue, plus or minus $500 million, and despite the rough start to 2018, they are still forecasting another record year, with $65 billion in revenue, plus or minus $1.0 billion.
Source: Intel Investor Relations