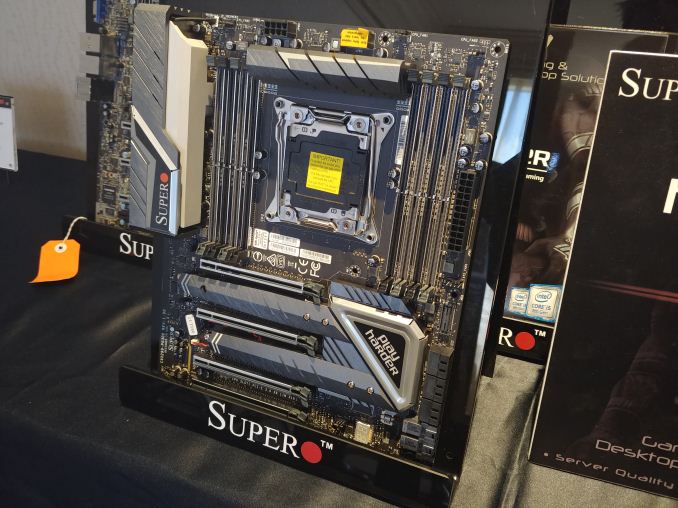 Aside from the mini-ITX motherboard on display, Supermicro also had its two X299 consumer-based motherboards on display. These two were somewhat identical, although each had a separate key feature – one with IPMI interactivity normally need on server-level motherboards, and the other had an interesting listing on CPU power consumption support.
The first board, the C9X299-PGF, with integrated IPMI management, has been listed on Supermicro's website for a while, but we were able to see it up close for the first time. Normally on server motherboards, the Aspeed AST2500 controller that does this management has a dedicated Ethernet interface, but in the consumer line-up, it actually piggybacks off of one of the two built-in gigabit Ethernet ports instead. Some home users enjoy having this functionality, and as such Supermicro offers two versions: one with, and one without.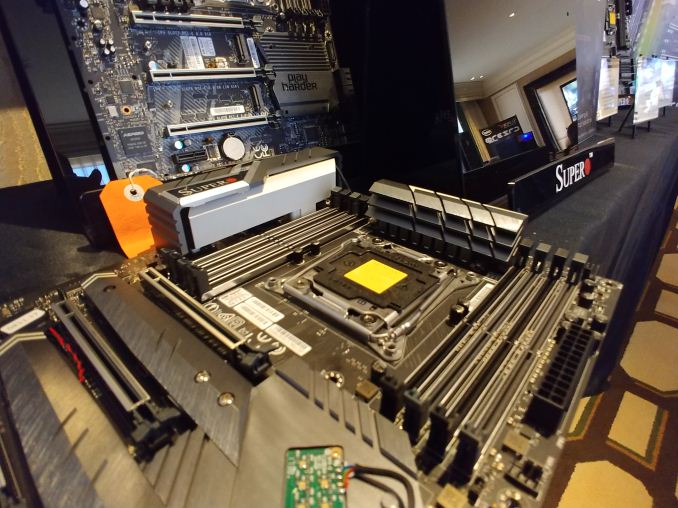 The second board, however, is the surprising one. Listed as the C9X299-PG300, where 'PG' is for Professional Gaming, it uses Supermicro's new heatsink design for dual M.2 drive cooling supported by the chipset, with RGB LEDs underneath the chipset heatsink to illuminate the 'Play Harder' slogan for the Supero consumer product brand. The rear panel has an updated cover using the same metallic look and colors, as does the power delivery heatsink on the CPU.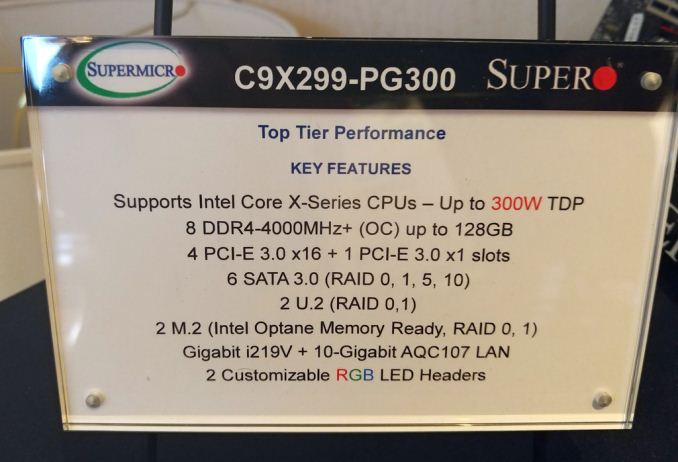 Staying on the CPU for a second: the reason it is called the 'PG300' is because this motherboard is geared up to accept CPUs with up to 300W TDP. This comes across as somewhat odd – the X299 platform only has CPUs up to 165W listed. Even with turbo modes applied and all cores going, somewhere around 240-250W is 'normal', which would mean that the system is being geared for something bigger.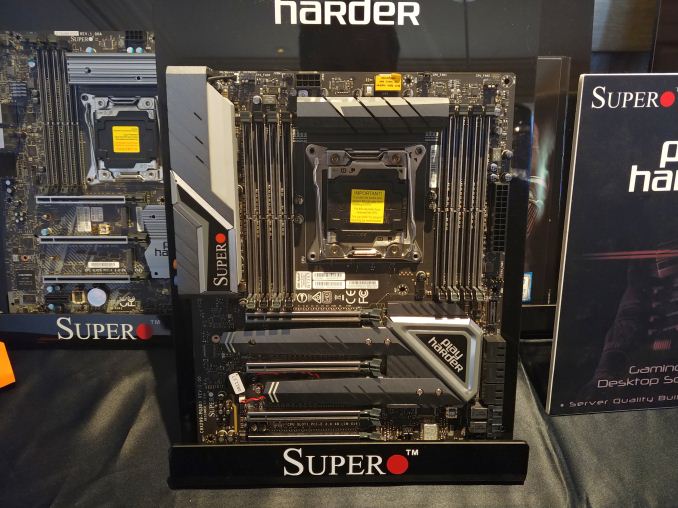 Now at this point, I should point out that the Z370 motherboard on display said 'support' up to 120W TDP, which might draw the same conclusion, although the CPUs that the Z370 supports have been observed at 120W in regular use with motherboard turbo modes. Also, there was a Xeon W motherboard on display, stating support for CPUs up to 165W TDP, which is what I would have expected. So with this C9X299-PG300, listing 300W TDP support, it can mean one of two things.
It is geared for extreme overclocking. To which Supermicro has no serious heritage.
There are CPUs still to be released that might flirt with the 300W TDP.
Obviously trying to confirm this on the record is somewhat of a fruitless task. Supermicro couldn't answer any questions (not even as a negative), and Intel does not comment on rumor/future product.
Two other things spring to mind on this. A number of X299 motherboards, especially the high-end ones, are built for extreme overclocking, where the CPU can draw 500W+. None of those are listed as having 300W TDP support, although Supermicro is a bit different to those companies. Secondly, the initial run of X299 motherboards had problems with CPUs with high power consumption and the power delivery, causing the VRMs to overheat and throttle. Some vendors combatted this with new designs with bigger heatsinks, so it would be a similar kettle of fish if higher TDP processors were released.

However, other features on the PG300 include dual U.2 ports, an Aquantia AQC107-based 10-gigabit ethernet port, support for dual M.2 drives, support up to DDR4-4000, and customizable RGB LED headers. There is also legacy PS2 support, and a pair of USB 3.1 (10 Gbps) controllers, giving four ports on the rear.
Related Reading