AOpen AK86-L: Basic Features
 Motherboard Specifications
CPU Interface
Socket 754 Athlon64
Chipset
VIA K8T800/VIA VT8237
Bus Speeds
200MHz to 255MHz (in 1MHz increments)
PCI/AGP Speeds
None. BIOS reports AGP/PCI frequencies as FSB changes
Available CPU Ratios
CPU ratios below rated multiplier can be selected in the range of 4x - 16x
Core Voltage
Normal, 0.8V to 1.55 V in .025V increments
DRAM Voltage
Normal, 2.50V to 2.70V in 0.05V increments
AGP Voltage
1.5V, 1.533V, 1.566V, 1.6V
Memory Slots
Three 184-pin DDR DIMM Slots
Single-Channel Configuration
Regular Unbuffered Memory to 2GB Total
Expansion Slots
1 AGP 8X Slot
5 PCI Slots
Onboard Serial ATA RAID
VIA 8237 (2 Drives, 0, 1)
Onboard IDE
Two Standard VIA ATA133/100/66 (4 drives)
Onboard USB 2.0/IEEE-1394
8 USB 2.0 ports supported by 8237
No FireWire ports
Onboard LAN
Realtek RTL8110S Gigabit LAN
Onboard Audio
Realtek ALC655 codec AC '97 2.3
6-Channel with UAJ
BIOS Revision
1.06M (2/03/2004)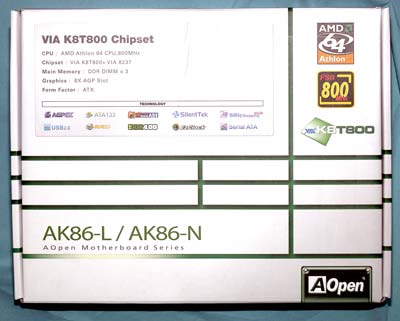 The packaging is a rather basic green on white, but the feature list is very extensive. For a motherboard selling at a bit less than $100, you get the full range of AOpen features, including SilentTek smart fan controller to lower system noise, EZWin Flash for BIOS updates from Windows, Watch Dog for recovering from bad overclocks, and the EzClock utility for overclocking while in Windows. AOpen includes the VIA RAID driver floppy that is needed for installing the OS with a SATA drive. Many manufacturers have started leaving this necessity out of the box - forcing the installer to find another PC to create the install floppy.

The AK86-L back panel options include 4 USB 2.0 ports, 3 individual mini jacks for audio, Gigabit LAN, PS2 mouse/keyboard ports, Parallel, and a single serial port. There are additional headers on the motherboard for a 2
nd
serial port and a game port, but brackets for the game and the 2
nd
serial are not included in the retail package.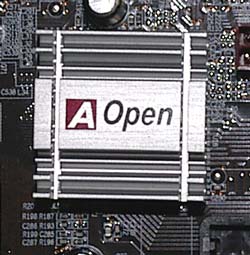 The VIA K8T800 is a traditional Northbridge/Southbridge chipset. A large passive heatsink is used on the Northbridge instead of an active solution used in other designs. However, we did not have any overheating problems in our benchmarking. The 8237 Southbridge has much less to do with the memory controller on the Athlon 64 chip, and does not provide any cooling. The Southbridge also remained cool during benchmarking.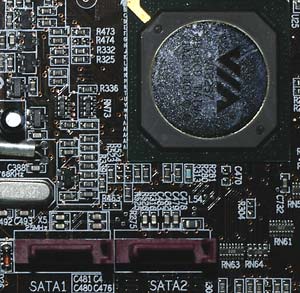 AOpen has included provisions for 2 SATA drives supported by the 8237, either regular SATA or SATA RAID 0 or 1.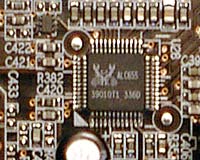 The AOpen AK86-L uses the Realtek audio codec called ALC655, which is compliant with the latest AC '97 Rev. 2.3. This audio codec features 6-channel sound and UAJ or Universal Audio Jack, with a better than 90db signal-to-noise ratio. This allows automatic jack programming as we've seen on some boards based on Intel's 865/875 chipsets. The ALC655 is quite similar to the Realtek premium ALC658 sound solution. Additional information and specifications are available at
Realtek
.
While an SPDIF bracket is not included in the AK86-L package, there is an SPDIF I/O header on the motherboard. In addition, there is an audio connection header with connector options and two connectors for Optical Drive audio cables. While the audio input and output options are very good, please keep in mind that you must find and put in additional brackets to use many of the audio options. The brackets are not part of the standard package.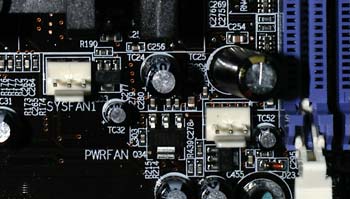 One of the first things that many manufacturers seem to eliminate when they build a $100 board is fan-headers. AOpen has a really effective smart fan control system and they also thoughtfully included
five
fan headers on the board - four 3-pin headers and one 2-pin temp header. Obviously, it occurred to someone in AOpen engineering that SilentTek was only useful if there were plenty of fan headers on the board. The large number of fan headers will be appreciated by anyone with multiple cooling fans.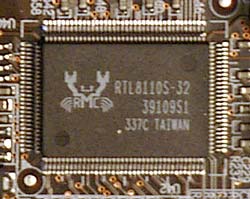 The AK86-L includes Realtek Gigabit LAN. LAN connections have moved from added cards to an on-board feature, and we now are starting to see Gigabit LAN become more common, even on boards designed for the mid-to-low price range. Dual color LEDs in the LAN socket indicate 10/100 or Gigabit operation.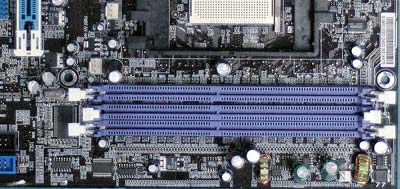 Three DIMM slots support standard unbuffered Single-Channel memory. AOpen claims support for up to 2GB of DDR400 memory in 2 DIMMs, and up to 3GB of DDR333 or slower memory in 3 DIMMs.