UPDATE 3/30/2004:
AOpen has made a number of changes to the AK86-L motherboard since our initial review. The board was an excellent performer with outstanding features for the price, but there were several areas that were suggested for improvement. Many of our suggestions regarding those feature improvements have been added to the board with BIOS updates. Almost all of the updated features are available on all AK86-L boards, but there is also a new revision to the board that adds additional options to vCore adjustment. All other features are available on all revisions of the board.
AOpen has posted a special beta revision to the AK86-L on the AOpen download site. This is called Revision 1.08c Beta. Many of these added features are also incorporated into the latest release version 1.09. There will also likely be a further revision to 1.09 to incorporate adjustable CPU ratios in the 1.09 BIOS. Revised features of 1.08c Beta BIOS: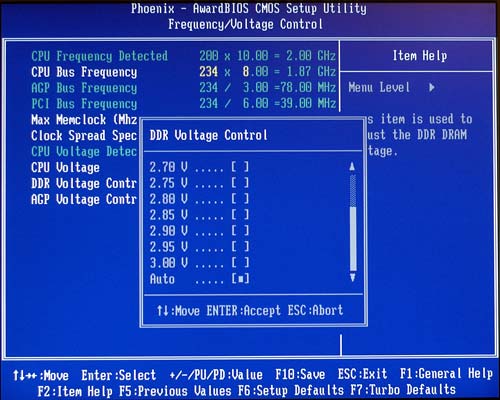 Adjustments for memory voltage have now been extended from 2.5V to 3.0v in 0.05v increments. This is an extremely wide and useful range for users trying to get the most from their memory.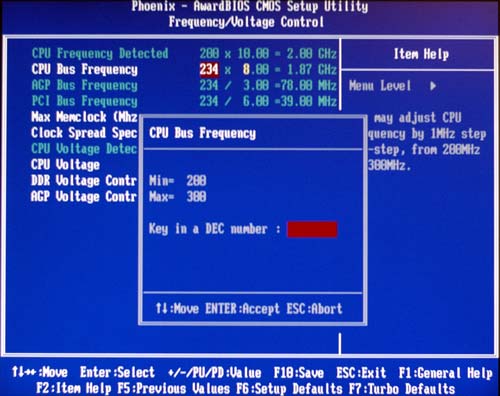 In the original shipping BIOS, FSB adjustment was only available to 255. In the 1.08c revision, FSB can now be adjusted from 200 to 300 in 1MHz increments.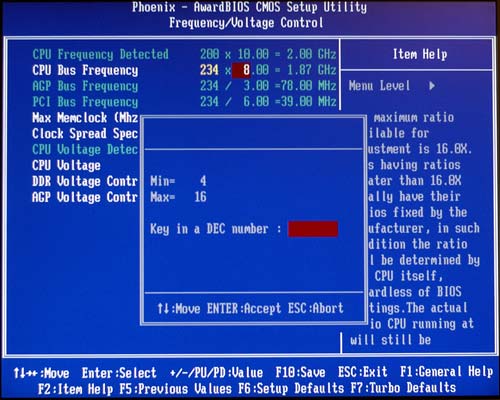 CPU ratios can be adjusted down in the 1.08c BIOS. Available ratios are from 4 to 16, but only values equal to or lower than the CPU shipping ratio will work. For example, the 3200+ has a ratio of 10 (10x200), so values of 10 and lower will work.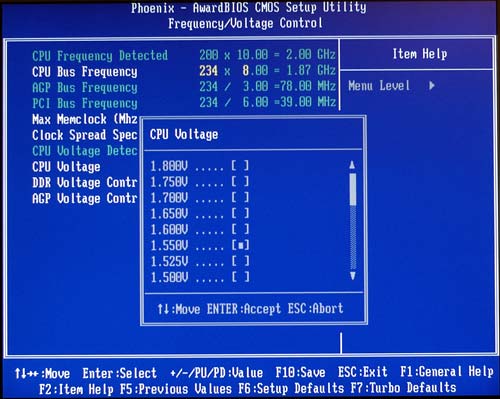 A new revision of the board has been released to allow a greater range of vCore settings. The new revision, which AOpen says is now in production, allows vCore to be adjusted from 0.8v to 1.8v in 0.05V increments. All revisions allow adjustment from 0.8v to 1.55v. The default voltage for a 3200+, for example, is 1.5v. We have not had much success overclocking Athlon 64 chips by increasing processor voltage with air cooling, but those with water or phase-change cooling will appreciate the added vCore options on the new revision of the AK86-L.
As stated in our review, the AK86-L is a fast and stable Socket 754 motherboard that represents outstanding value. With the recent changes, AOpen has certainly broken away from the pack in the value segment and deserves to be recognized as an AnandTech Editor's Choice.
| | |
| --- | --- |
| | We are pleased to recognize the AOpen AK86-L with the AnandTech Editor's Choice as the best value in Socket 754 motherboards. At a price of about $100, the AOpen AK86-L offers genuine value for those building an Athlon 64 system. |
Almost all of the current Athlon 64 boards are limited in overclocking by the inability to fix the AGP/PCI bus. The AK86-L does not break new ground in that area, but the performance is very fast at stock speed and the available options are as good as you will find in almost any Athlon 64 board. The Shuttle AN50R and Gigabyte K8NNXP are currently the darlings of the serious overclocking community because they apparently do have working AGP locks and great FSB flexibility, but they cost a great deal more than the AK86-L. If you want the best overclocking available on current Athlon 64 boards then you should choose one of these motherboards. However, the AOpen with the new BIOS delivers standout speed at stock plus overclocking as good as you will see in a VIA chipset board for Socket 754.