Shuttle created what has become the SFF market with their first shipment of the SV24 in 2001. The current Shuttle SFF line has grown to some 16 models from those beginnings. In the last year, AnandTech has also received a huge number of review requests from many different manufacturers with a "new" SFF computer. Based on these developments, the SFF appears to be a huge and growing success story in the computer industry.
Shuttle continues to dominate SFF sales. While some competitors now produce competent SFF systems, no one appears to focus constant attention on their SFF line as Shuttle does. This constant attention to SFF development and improvement is one of the key reasons why Shuttle has achieved such success in the SFF market.
With the ST61G4, Shuttle brings the ATI IGP to market in a new 250-watt Chassis design. Shuttle worked closely with ATI in developing the ATI IGP system; early ATI prototypes were built around a Shuttle XPC chassis. The current shipping XPC ST61G4 is based on the second revision to ATI's 9100IGP chipsets, which is said to provide improved performance over the earlier prototypes.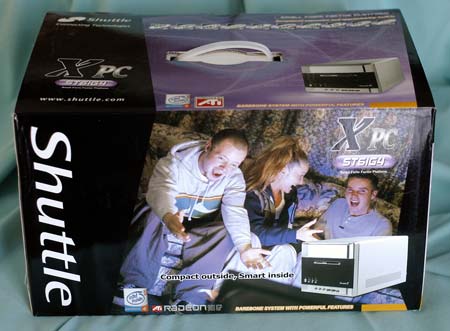 As you can see from the packaging, the ST61G4 is a new Shuttle chassis that replaces the aging 3.5" floppy with a bootable flash-card reader. What you can't see on the outside is a new 250-watt Shuttle designed "Silent-X" power supply - one of the largest power supplies to appear in a SFF.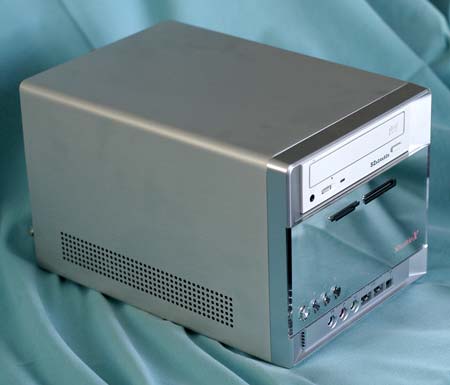 The ST61G4 supports any current Intel 800FSB Series Intel processor, as well as earlier 533 and 400FSB socket 478 CPUs. This includes Prescott, as well as the Pentium 4 Northwood and Celeron processors. The ATI RS300/IXP150 chipset also provides 6 USB 1.1/2.0 ports. Shuttle also includes a VIA-chip 1394a Firewire port, Realtek ALC650 6-channel audio, and Silicon Image 3512 Serial ATA with RAID 0/1 capabilities.
 System Specifications
 
 Shuttle XPC
ST61G4
 Soltek Qubic EQ3401M
 Biostar iDEQ 200T
 Shuttle SB65G2
Expansion Bays (5.25"/3.5"/Hidden)
1/0/1
2/1/1
1/1/1
1/1/1
Front USB Ports
2
2
2
2
Rear USB Ports
2
4
2
4
Internal USB Ports
2
2
4
2
Front Firewire Ports
1 Mini
1 Standard
1 Standard
1 Mini
Rear Firewire Ports
1 Standard
2 Standard
1 Standard
1 Standard
On-Board Parallel Port
Internal Header
Internal Header
Internal Header
Internal Header
On-Board LAN
10/100 Rear
10/100 Rear
10/100 Rear
10/100 Rear
On-Board Game Port
None
None
Internal Header
None
Front Audio Jacks
3 - Mini Mic, Headphone, Audio Out
2 - Mini Mic & Line-In
2 - Mini Mic & Heaphone
3 Mini
Rear Audio Jacks
3 - Front, Rear and Center / Subwoofer Speakers
3 Mini
3 Mini
3 Mini
SPDIF
Two Rear Optical Out & Optical In
One Front Optical Out
Two Rear Optical Out & Front Optical In
Two Rear Optical SPDIF In & Out
On-Board Serial Ports
1 Rear
2 Rear
2 - One Rear & One Internal Header
2 Rear
Number of Fans (including CPU/chipset)
2 - Northbridge and Rear ICE exhaust
2
2
1
Power Supply
250W Shuttle
250W Enhance
200W Enhance
220W Enhance