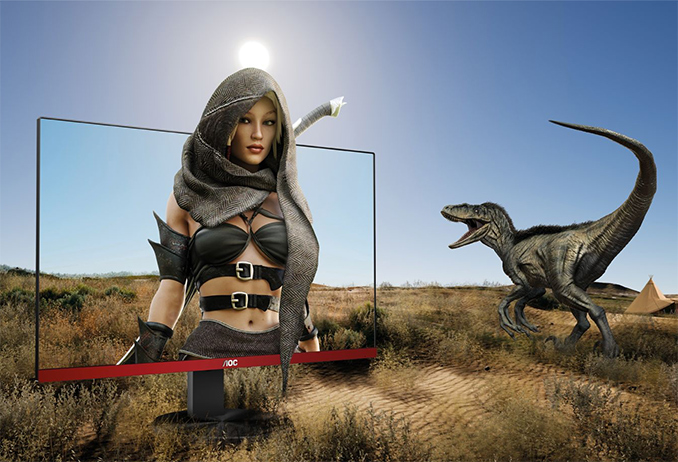 AOC has introduced its new family of entry-level displays that offer a refresh rate up to 144 Hz, a 1 ms response time, and AMD's FreeSync technology. The G90 monitors do not belong to the premium AGON lineup designed for serious gamers, but they still take some pages from the AGON book when it comes to design and firmware.
The AOC G90 family consists of three models: the 24.5-inch G2590VXQ, the 24.5-inch G2590PX, and the 27-inch G2790PX. All three are based on TN panels featuring an FHD resolution, 250-400 nits brightness, 1000:1 contrast ratio, 1 ms GtG response time, and 170°/160° horizontal/vertical viewing angles (which is just what you come to expect from inexpensive TN LCDs). All three monitors share a similar design with rather thin bezels and "gaming red" inlays, but there are some differences when it comes to how the stand adjusts. All three support AMD's FreeSync dynamic refresh rate technology with low framerate compensation (LFC), with a 30-144 Hz range for the G2590PX and G2790PX as well as 30-75 Hz for the cheapest G2590 VXQ. Finally, all three support AOC's low input lag feature as well as Shadow Control enhancement to make dark scenes brighter.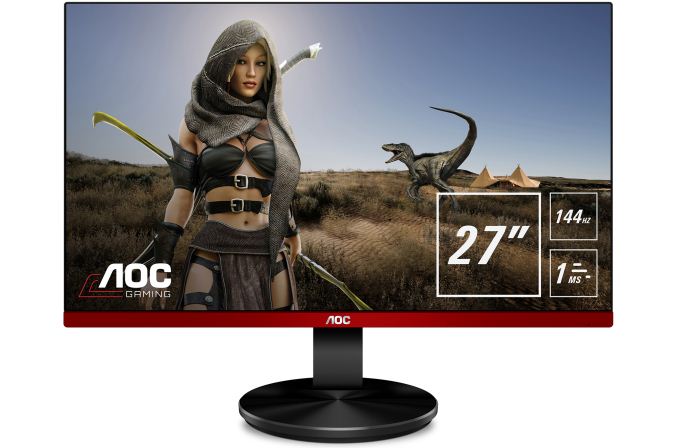 The G90 lineup from AOC is aimed at a wide audience of gamers and support a variety of inputs, including D-Sub, DisplayPort, HDMI (two of these, probably to simplify connection of game consoles) and even MHL for the 24.5" models.
Specifications of AOC's G90 Series Gaming Displays
G2590VXQ
G2590PX
G2790PX
Panel
24.5" TN
27" TN
Native Resolution
1920 × 1080
Maximum Refresh Rate
75 Hz
144 Hz
Dynamic Refresh
Tech
AMD FreeSync with LFC
Range
30 - 75 Hz
30 - 144 Hz
Brightness
250 cd/m²
400 cd/m²
Contrast
1000:1
Viewing Angles
170°/160° horizontal/vertical
Response Time
1 ms GtG
Pixel Pitch
0.2825 mm²
0.3113 mm²
Pixel Density
90 PPI
81 PPI
Color Gamut Support
sRGB
Inputs
1 × DisplayPort 1.2
2 × HDMI 1.4
1 × MHL
1 × D-Sub
1 × DisplayPort 1.2
2 × HDMI 1.4
1 × D-Sub
USB Hub
-
4-port USB hub
Audio
2 W × 2
headphone output
Proprietary Enhancements
AOC Low Input Lag
Shadow Control
Power Consumption
Idle
0.5 W
Operating
25 W
28 W
32 W
Stand Adjustments
Tilt
-3.5º/19.5º
Swivel
-
-20º/20º
Height
-
130 mm
Pivot
90º
VESA Mounts
100 × 100 mm
Launch Timeframe
January 2018
February 2018
December 2017
Launch Price
€179 in Europe
£159 in the UK
€279 in Europe
£249 in the UK
€349 in Europe
£309 in the UK
Additional Information
Link
Link
Link
Check Availability
Amazon.com
Amazon.com
Amazon.com
The AOC G2790PX is already available from select retailers in Europe for €349/£309; the G2590X, its younger brother, will hit the market in February and will cost €279/£249. The most affordable G2590VXQ will ship next month with a €179/£159 price tag.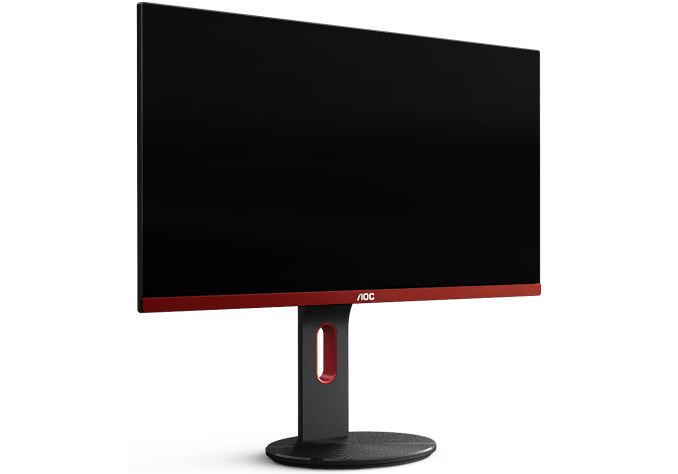 Pricing of the new AOC G90-series monitors in the USA is to be announced at a later date. In the meantime, AOC's partners are selling off previous-gen gaming monitors with discounts right now. For example, the AOC G2460PF that strongly resembles the G2590PX (24" TN, FHD, 350 nits, 1000:1, 144 Hz, 1 ms GtG, FreeSync, DVI, D-Sub, HDMI, adjustable stand, no Shadow Control) can now be purchased for $205 from Amazon.
Related Reading
Source: AOC