Conclusion
As expected, the 480GB Optane SSD 900p performs about the same as the 280GB model. That makes it one of the overall fastest SSDs money can buy, but the Optane SSDs don't win in every test.
Higher performance is often an important selling point for higher capacity SSDs—and sub-par performance can be a major reason to avoid the smallest model in most product lines. This doesn't really apply to the Optane SSDs, so consumers are faced with the simpler question of how much fast storage they really want to pay for. As the most expensive "consumer" SSDs on a per-GB basis, the Optane SSDs force potential buyers to consider just how much blazing fast storage they actually need. I'm currently using an Optane SSD in one of my machines as a cache in front of a RAID array of hard drives. For this use case, even the 280GB model is larger than necessary. But as a primary storage device, the 480GB model would definitely feel less crowded.
Given the high price per GB of the Optane SSDs so far, the upcoming 960 GB and 1.5 TB models of the Optane SSD are going to be an even tougher sell: The market for $1200+ SSDs is pretty small, and very few users actually need a full TB of data within ten microsecond's reach.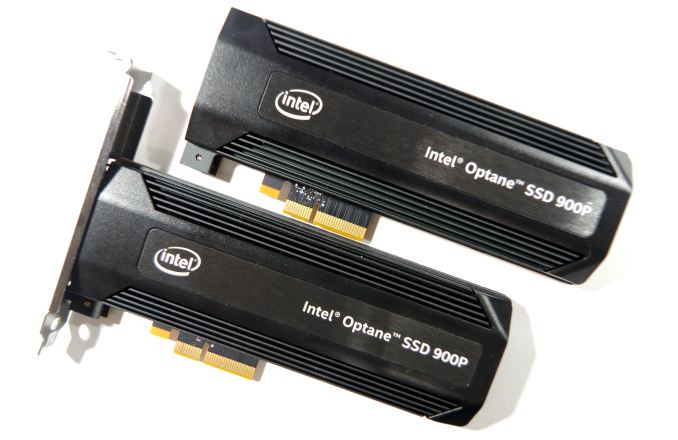 Our first round of power measurements of the Optane SSD 900p showed what we expected: the Optane SSD 900p requires far more power than M.2 NVMe SSDs, and usually ends up being less efficient than a good M.2 SSD in spite of the great performance of the Optane SSD. It's hard to score well on efficiency with an idle power draw of over 3.5W. The Optane SSD 900p did score a clear efficiency win for random reads at low queue depths, where its performance advantage over flash-based SSDs is greatest.
Don't hold your breath for a M.2 version of the 900p, or anything with performance close to the 900p. Future Optane products will require different controllers in order to offer significantly different performance characteristics. Higher sequential performance to compete against the top flash-based SSDs will require a higher channel count, making for a more expensive drive with an even larger and more power-hungry controller. Lower power consumption will require serious performance compromises. In the near term, we're much more likely to see a new controller that's a step up from the Optane Memory M.2's single channel, but not large enough to rule out using the M.2 form factor. A three or four channel controller should be able to fit within a M.2 card's physical, electrical and thermal limits, but would offer much lower performance than this Optane SSD 900p.
For the most part, the Optane SSDs are holding to their MSRPs, leaving them more than twice as expensive per GB as the fastest NAND flash based SSDs. They're a niche product in the same vein as the extreme capacity models like Samsung's 2TB 960 PRO and 4TB 850 EVO. But where the benefits of expanded capacity are easy to assess, the performance benefits of the Optane SSD are more subtle. For most ordinary and even relatively heavy desktop workloads, high-end flash storage is fast enough that further improvements are barely noticeable.