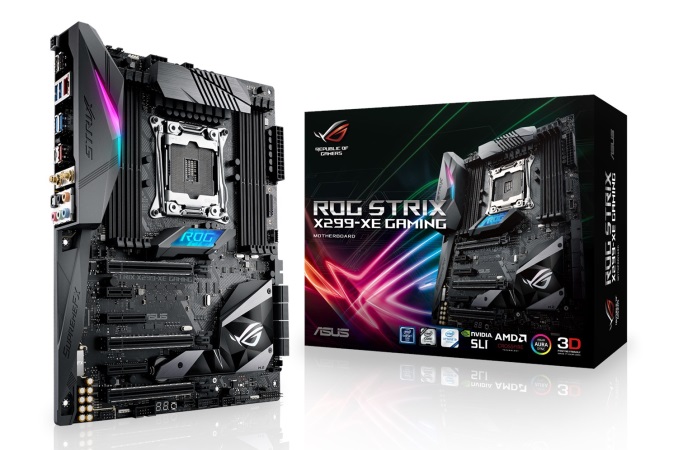 Today we have a chance to dig down on the ASUS ROG Strix X299-XE Gaming. The XE Gaming differs from the non-XE by adding a larger VRM heatsink and includes a 40mm fan and mounting hardware to further assist VRM cooling. A number of companies are releasing 'XE' models with larger heatsinks, although the fan will be an interesting addition.
ASUS ROG Strix X299-XE Gaming Overview
ASUS started the Strix line of hardware a few generations back and has now expanded to a lot of their product lines including headsets, mice, keyboards, mousepads, sound cards, graphics cards, and motherboards. Initially, it was a 'zero decibel silent' brand, focusing on GPUs, but is now more along the lines of a budget gaming brand and spread to multiple categories. According to ASUS, the word Strix is taken from the ancient Roman and Greek Word for an owl, meaning the keenest hearing and sharpest eyesight - traits that a number of gamers want and/or need.
To that end, the Strix lineup fits under the Republic of Gamers (ROG) branding. The ROG Strix X299-XE Gaming offers 3-Way SLI and Crossfire support, an Intel NIC, an ASUS tweaked Realtek ALC S1220A audio, and focus on the larger heatsinks to help with power delivery cooling.
The ROG Strix X299-XE Gaming came out due to the hullabaloo over the general pervasiveness of X299 weak power delivery, and more specifically, weak heatsinks cooling the VRMs. While most would do an acceptable job at stock and mild overclocks, when things really would get pushed some boards had issues in specific testing situations relating to thermal runaway. Both ASUS and ASRock have updated a couple boards to XE models, and ASUS gave the ROG Strix the same heatsink bump to support the flagship 165W parts as well as peace of mind when overclocking.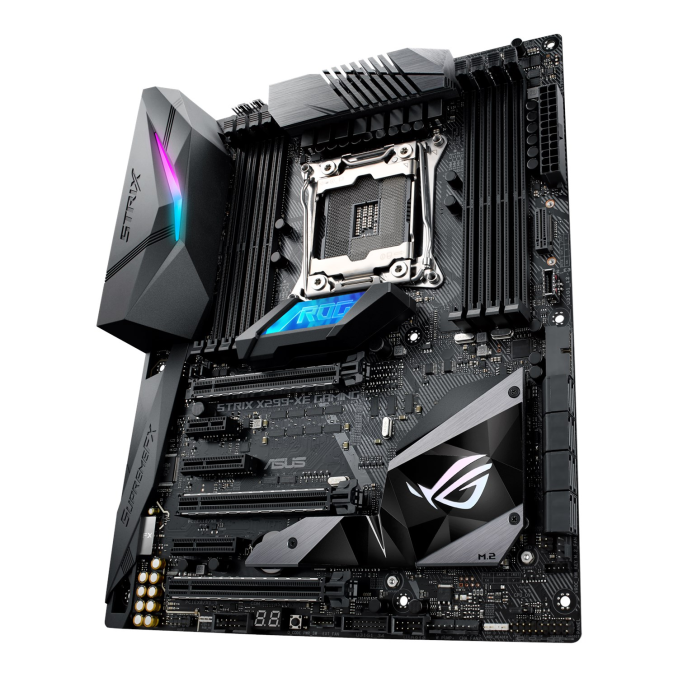 Overall, default performance on the ROG Strix X299-XE Gaming was average to a bit below average due to the lack of Multi-Core Enhancement - in order to assuage some issues at X299 launch, ASUS has moved MCE to disabled by default, but it offers the feature when XMP is enabled. So in the case of the Strix we have, the CPU boosted all cores to 3.6 GHz throughout testing. The results may be related to how the board ramps up and down the frequency in my testing environment at the time. Boot times were square in the middle of the pack while power use was on the lower side compared to previous boards we've tested. While in most other tests it was a middling or bottom half compared to the other boards. Overclocking results were the same as the other boards topping out at 4.5 GHz and hitting our temperature limit.
The ROG Strix board allows users to have almost the full run of storage connectivity. There are eight SATA ports (the maximum from the chipset), and two M.2 slots - one horizontal under the chipset heatsink, and one vertical by the DRAM slots with its own support bracket. The first M.2 slot, under the chipset, supports both PCIe and SATA drives, although it will share with some of the SATA ports when in SATA mode. The vertical M.2 slot only supports PCIe based modules.
There are a total of six PCIe slots with positions 1, 4, and 6 (top to bottom) all CPU connected and intended for video cards. PCIe slots 2 (x1), 3 (x4), and 5 (x4) are all connected via chipset. For connectivity, there are USB 3.1 (10 Gbps) Type-C and Type-A port on the back panel fed from an ASMedia 3142 controller. There are four other 5 Gbps ports on the back as well as two USB 2.0 ports. Also on the back panel is a five-plug audio stack plus SPDIF, 802.11ac Wi-Fi antenna mount points, the Intel NIC, and a BIOS flashback button. Not a large number of USB ports, but it should be enough for most users.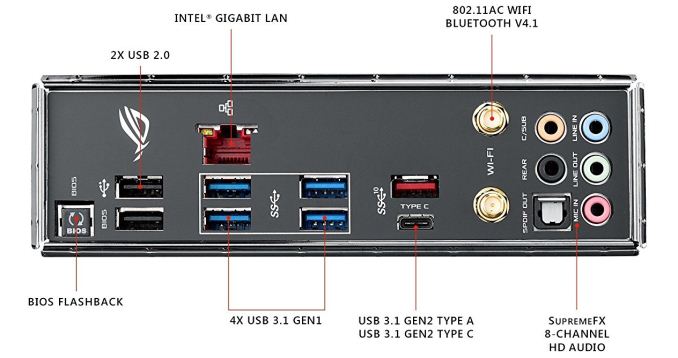 The ROG Strix X299-XE Gaming is currently priced at $369.99 at both Newegg and Amazon. The pricepoint slots the board in the middle of ASUS' product stack with the Apex, Prime Deluxe and RVIE above it. The non-XE version of this board comes in at $320 which and is nearly a $50 price increase. Compare that to ASRock's Taichi and Taichi XE are $20 apart (the latter does not come with a fan, note), that is a significant price jump for a larger VRM heatsink and a fan, so users should be sure that their use case would benefit before spending the cash.
ASUS X299 Strategy
ASUS brings a current total of eight X299 boards to choose from: the ASUS ROG Rampage VI Extreme making its home in the Republic of Gamers (ROG) enthusiast segment along with the ROG Rampage VI Apex and the ROG Strix X299-E Gaming and Strix X299-XE Gaming (review soon!).
ASUS' X299 Motherboard Lineup (11/21)
AnandTech
Review
Amazon
Newegg
ROG Rampage VI Extreme
-
$650
Prime X299-Deluxe
$474
$470
ROG Rampage VI Apex
$437
$430
ROG Strix X299-XE Gaming
this review
$370
$370
TUF X299 Mark 1
LINK - Dec 6th
$340
$340
ROG Strix X299-E Gaming
$320
$320
Prime X299-A
-
$296
TUF X299 Mark 2
$260
$260
The Prime segment consists of two boards in the Prime X299-A and the Prime X299-Deluxe. The TUF lineup also consists of two boards, the TUF X299 Mark 2, and TUF X299 Mark 1.
Information on Intel's X299 and our other Reviews
With Intel's release of the Basin Falls platform, encompassing the new X299 chipset and LGA2066 socket, a new generation of CPUs called Skylake-X and Kaby Lake-X were also released. The Skylake-X CPUs range from the 7800X, a hex-core part, all the way up to an 18-core 7980XE multitasking behemoth. Between the bookend CPUs are five others increasing in core count, as in the table below. The latter HCC models are set to be launched over 2H of 2017.
Skylake-X Processors
7800X
7820X
7900X
7920X
7940X
7960X
7980XE
Silicon
LCC
HCC
Cores / Threads
6/12
8/16
10/20
12/24
14/28
16/32
18/36
Base Clock / GHz
3.5
3.6
3.3
2.9
3.1
2.8
2.6
Turbo Clock / GHz
4.0
4.3
4.3
4.3
4.3
4.3
4.2
Turbo Max Clock
N/A
4.5
4.5
4.4
4.4
4.4
4.4
L3
1.375 MB/core
1.375 MB/core
PCIe Lanes
28
44
44
Memory Channels
4
4
Memory Freq DDR4
2400
2666
2666
TDP
140W
140W
165W
Price
$389
$599
$999
$1199
$1399
$1699
$1999
Board partners have launched dozens of motherboards on this platform already, several of which we will have an opportunity to look over in the coming weeks and months.
Other AnandTech Reviews for Intel's Basin Falls CPUs and X299
Prices checked Dec 11th
To read specifically about the X299 chip/platform and the specifications therein, our deep dive into what it is can be found at this link.
X299 Motherboard Review Notice
If you've been following the minutiae of the saga of X299 motherboards, you might have heard some issues regarding power delivery, overclocking, and the ability to cool these processors down given the power consumption. In a nutshell, it comes down to this:
Skylake-X consumes a lot of power at peak (150W+),
The thermal interface inside the CPU doesn't do much requiring a powerful CPU cooler,
Some motherboard vendors apply Multi-Core Turbo which raises the power consumption and voltage, exacerbating the issue
The VRMs have to deal with more power, and due to losses, raise in temperature
Some motherboards do not have sufficient VRM cooling without an active cooler
This causes the CPU to declock or hit thermal power states as to not degrade components
This causes a performance drop, and overclocked systems are affected even more than usual
There has been some excellent work done by Igor Wallossek over at Tom's Hardware, with thermal probes, thermal cameras, and performance analysis. The bottom line is that motherboard vendors need to be careful when it comes to default settings (if MCT is enabled by default) and provide sufficient VRM cooling in all scenarios – either larger and heavier heatsinks or moving back to active cooling.