Mixed Random Performance
Our test of mixed random reads and writes covers mixes varying from pure reads to pure writes at 10% increments. Each mix is tested for up to 1 minute or 32GB of data transferred. The test is conducted with a queue depth of 4, and is limited to a 64GB span of the drive. In between each mix, the drive is given idle time of up to one minute so that the overall duty cycle is 50%.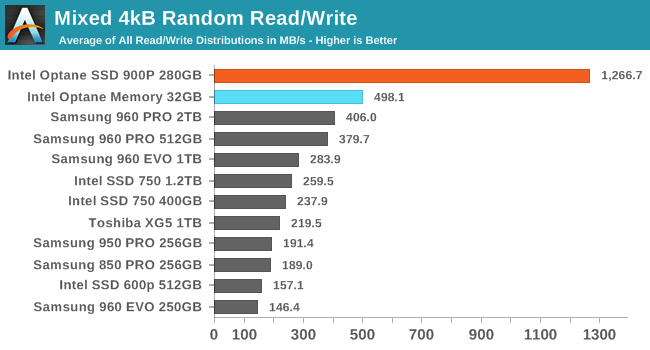 The mixed random I/O performance of the Intel Optane SSD 900P is completely unmatched. The small Optane Memory M.2 is the second fastest drive we've tested, and the fastest flash-based SSD is only a third as fast as the Optane SSD overall.
At the very end of the test, when the workload shifts to pure random writes, Samsung's fastest SSDs are able to batch the writes and dramatically improve throughput, almost enough to catch up to the slowest speed the Optane SSD hits during this test.
Mixed Sequential Performance
Our test of mixed sequential reads and writes differs from the mixed random I/O test by performing 128kB sequential accesses rather than 4kB accesses at random locations, and the sequential test is conducted at queue depth 1. The range of mixes tested is the same, and the timing and limits on data transfers are also the same as above.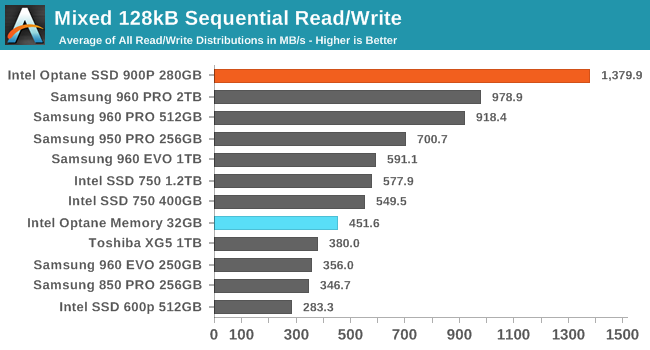 The Intel Optane SSD 900P doesn't quite dominate the mixed sequential I/O test to the extent that it trounced the competition in the mixed random I/O test, but it still breaks the record with a 40% higher average throughput than the fastest flash-based SSD.
The Optane SSD 900P's performance wavers a bit as the workload changes, but the general trend is a gradual reduction in performance as the proportion of writes increases. The flash-based SSDs tend to show an sharper decline in performance during the first half of the test, and the good ones recover most of that performance over the course of the second half. But the low performance in the middle of the test brings the averages way down and leaves the Optane SSD alone at the top.