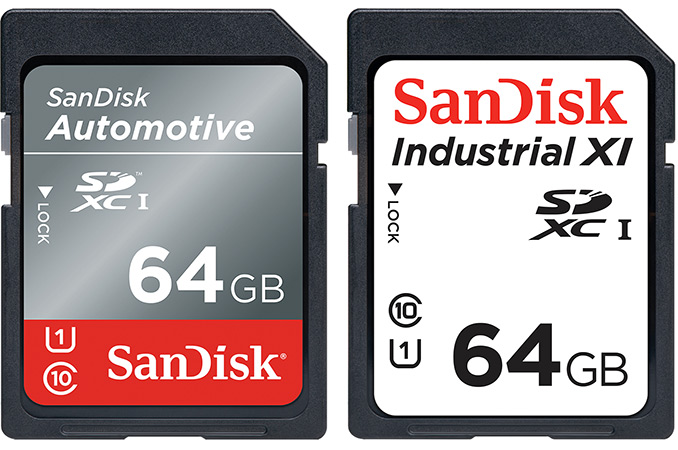 Western Digital has introduced its new SanDisk Automotive and SanDisk Industrial memory cards for specialized applications. The new cards can work in extreme temperatures for prolonged amounts of time, integrate health status monitor capability, special data retention mechanisms, and some are compliant with the AEC-Q100 Grade 3 standard. In addition, the cards are substantially faster than their predecessors are, thus enabling Western Digital to offer them for emerging applications, such as surveying commercial drones and automotive dash cameras.
Western Digital's new family of cards for specialized application consists of four lineups each offering slightly different features. The SanDisk Automotive devices are aimed at cars, drones and other vehicles, they come in SD form-factor in capacities from 8 to 64 GB and they are compliant with the AEC-Q100 Grade 3 requirements, and can operate in extreme temperatures between -40ºC and 85ºC for prolonged amounts of time. The SanDisk Industrial cards for "mainstream" industrial applications come in SD (8 – 64 GB) and microSD (8 – 128 GB) form-factors, are rated for up to 192 TBW (the manufacturer does not disclose which drives can survive 192 TB, but it is likely that it means the 64 GB and/or 128 GB versions) and are guaranteed to work for extended amounts of time in "mildly" extreme temperatures from -25ºC to 85ºC. For machines that are going to work at -40ºC, SanDisk offers the Industrial XI range. When it comes to performance, the cards feature a sequential read speed of up to 80 MB/s and a sequential write speed of 50 MB/s. This is a significant performance boost over previous-gen SD cards for automotive and industrial applications that had throughput of 20 MB/s.
Western Digital does not disclose much about technologies behind the new SanDisk Automotive and SanDisk Industrial cards, but given extended temperature ranges, we are talking about NAND flash memory and controllers produced using appropriate process technologies. Speaking of the controller, this one supports a number of technologies developed exclusively for SanDisk's latest memory cards for automotive and industrial applications.
SanDisk Automotive, SanDisk Industrial and SanDisk Industrial XI Cards
Automotive
SD
Industrial
SD
Industrial microSD
Industrial XI
SD
Capacity
8, 16, 32, 64 GB
8 - 64 GB
8 - 128 GB
8 - 64 GB
Read Speed
up to 80 MB/s
Write Speed
up to 50 MB/s
Minimum Sequential Write Speed
10 MB/s
Endurance
unknown
Up to 192 TBW (possibly, for 64 GB version)
Operating Temperatures
-40ºC to 85ºC
-40ºF to 185ºF
-25ºC to 85ºC
-13ºF to 185ºF
-40ºC to 85ºC
-13ºF to 185ºF
Compliancy
AEC-Q100 Grade 3
unknown
Health Status Monitor
Expanded reporting capabilities enable manufacturers to remotely monitor usage of the card and identify when card upgrades or replacements are needed.
Data Retention
Yes, through "Read Refresh" feature
Security
Host Lock feature
Power Protection
Yes
Standard
SDA 3.0
Interface
UHS-I
Sample Availability
Fall 2017
SDA Labels
UHS-I, Speed Class 10, U1
First off, the new cards support the Health Status Monitor feature, which enables OEMs to monitor capacity usage, performance levels and some other factors. The features relies on the suggested SD spec; it works with the host system and thus requires the latter to support it.
To ensure maximum reliability and data integrity, the new SanDisk cards support the Read Refresh feature. This techique automatically manages various situations and refreshes data as needed to help ensure data integrity and accurate performance even in circumstances where data has not been accessed for very long periods of time. As well, it protects against "read disturbances" which are interferences from neighboring read-intensive cells. The algorithm is completely proprietary and is not a part of the SD specification. This technology works automatically on all cards and does not require support from the host.
In addition, the new SanDisk Automotive and Industrial SD cards support Power Protection capability, which prevents data from being corrupted during a write when the power supply is unstable or unexpectedly lost, which is a feature found on several industrial and enterprise SSDs as well, and is required due to the way in which flash memory is written (see here for a quick refresher)
Finally, the cards support the Host Lock capability, which enables customers to set up passwords for their cards and prevent them from reading on non-native hosts.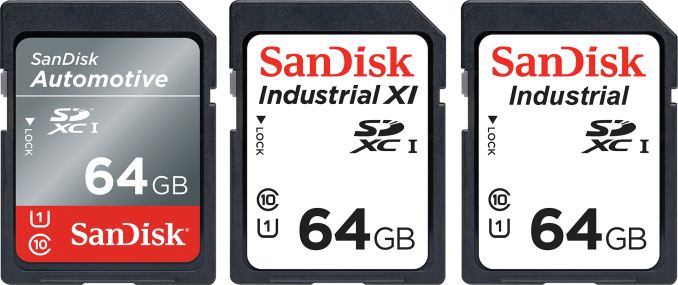 Western Digital says that the SanDisk Industrial SD and microSD cards, as well as the SanDisk Automotive SD cards are now sampling to OEMs worldwide. The company cannot disclose when its partners plan to use the cards in their products, but industrial and automotive tests are thorough, take a long time and life cycles of appropriate applications depend on multiple things in addition to memory cards. Meanwhile, samples of the SanDisk Industrial Extended Temperature SD cards will be available in October.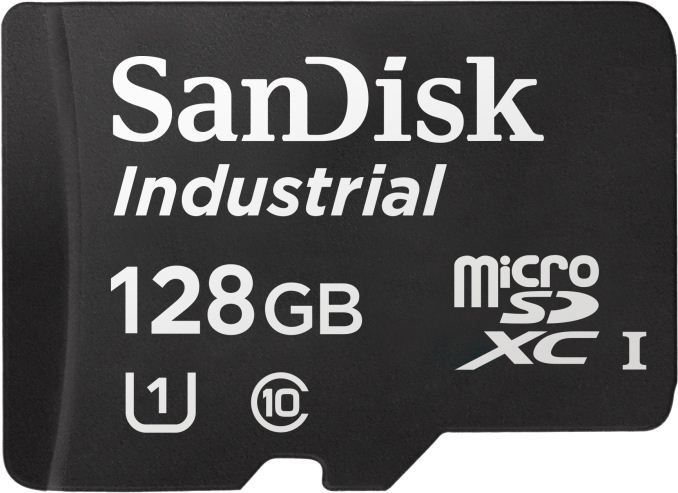 Related Reading:
Source: Western Digital