Dual Monitor Support — What the doctor ordered
One of the biggest requests for the All-in-Wonder product line has been dual monitor support (from dual engines). This is something long in waiting, which was first materialized in Personal Cinema 2, though still a bit "off."
The reason behind this frequent request is that the act of watching TV or a movie is often done in conjunction with doing something productive (like writing an article, in our case). With TV or File Player running, it does take up a significant amount of desktop space, and the only way to work on a spreadsheet and watch media (TV or File) is to enable ThruView (which manipulates the video in a certain transparency range). Though ThruView isn't the same as watching TV and working on a spreadsheet separately, it is a clever idea as a space saver. That having been said, the need/want to multitask and the increase of desktop space are obvious reasons for dual monitor support for an All-in-Wonder card.
The problem, however, comes in the implementation of dual monitor support. Previous All-in-Wonder cards could do simply one monitor plus another device (TV monitor, projector, etc.). However, the single video source could only be shown on the primary display.
Now, ATI has brought the All-in-Wonder 9600 Pro with dual monitor support, which brings the option of running up to three displays (dual monitor and TV/projector/etc. in clone mode). Yet, there are certain limitations to the way dual monitor support works. TV, for one, can't be extended over the second monitor so that it is viewed on both monitors at the same time. When you drag the TV window towards the other desktop, there is a docking effect, where you just hit the edge of the primary monitor and are automatically stopped. While running video on the second monitor, you can't get the extending effect either, which the Personal Cinema 2 allows. When you drag the window to the other desktop, the video simply appears there. Meanwhile, whichever desktop has less video occupying it, the video won't appear on that monitor's desktop space.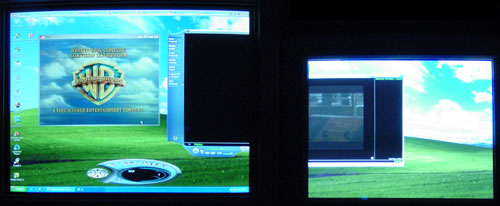 Click to enlarge.