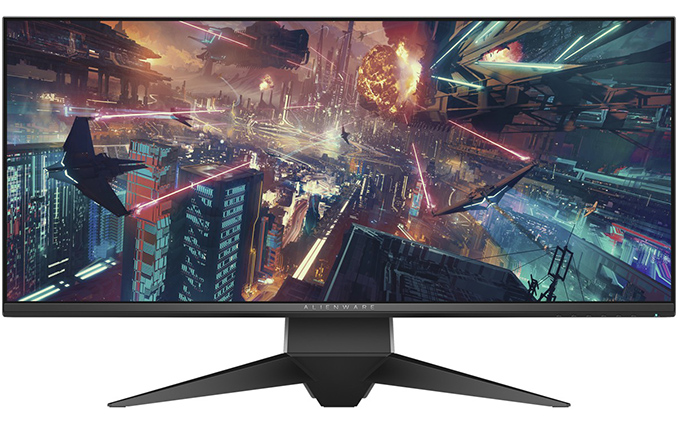 Among their many IFA announcements this week, Dell's Alienware group has introduced two ultra-large displays aimed at gamers. The monitors measure 34" in diagonal and feature refresh rates of over 100 Hz. In accordance with the recent industrial trends, the monitors feature NVIDIA's G-Sync dynamic refresh rate technology, AlienFX RGB lighting, and thin bezels.
The Alienware AW3418DW will be the company's new flagship IPS-based display boasting with a 3440×1440 resolution, a 120 Hz refresh rate (when overclocked), a 4 ms GtG response time, a 1900R curvature, 178°/178° vertical/horizontal viewing angles and NVIDIA's G-Sync technology. When it comes to brightness, contrast and color accuracy, we are dealing with rather typical specifications for this class of monitors — 300 nits brightness, a 1000:1 contrast ratio and 99% of the sRGB coverage. As for connectivity, the display has one DisplayPort 1.2 and one HDMI 1.4 input, a quad-port USB 3.0 hub (with one upstream port) as well as 3.5-mm audio connectors. The Alienware AW3418DW is available immediately and carries a $1,499 price tag.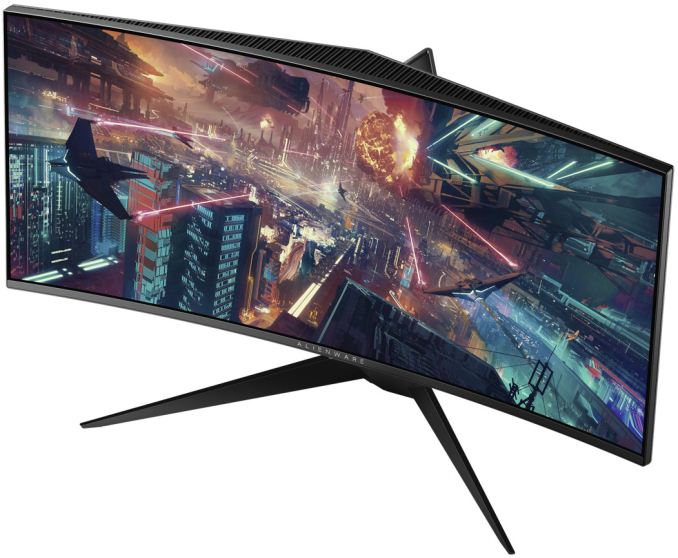 From outer design point of view, the Alienware AW3418HW haa a lot of similarities with the more advanced AW3418DW: it has the same diagonal size, AlienFX RGB lighting, cable management, a die cast metal stand and so on. Under the hood however, the lower cost 34" curved display is completely different from its more advanced brother. The AW3418HW has a 2560×1080 resolution, a 160 Hz refresh rate (when overclocked) with G-Sync treatment, a 4 ms response time and a 3800R curvature. Given a lower resolution, the AW3418HW will be significantly cheaper than the AW3418DW — it is going to cost $1,199 when it becomes available later this holiday season.
Alienware's 34" Curved Displays
AW3418DW
AW3418HW
Panel
34" IPS
34"
Native Resolution
3440 × 1440
2560 × 1080
Maximum Refresh Rate
120 Hz overclocked
160 Hz overclocked
Response Time
4 ms
Brightness
300 cd/m²
unknown
Contrast
1000:1
Viewing Angles
178°/178° horizontal/vertical
unknown
Curvature
1900R
3800R
Pixel Pitch
0.233 mm
0.31 mm
Pixel Density
109 ppi
81.72 PPI
Anti-Glare Coating
Yes
Color Gamut
99% sRGB
unknown
Dynamic Refresh Rate
NVIDIA G-Sync
Inputs
1 × DP 1.2
1× HDMI 1.4
unknown
USB Hub
4-port USB 3.0 hub,
one USB Type-B upstream port
Audio
audio in/out ports
Power Consumption
Idle: 0.5 W
Typical: 60 W
unknown
RGB Lighting
AlienFX programmable RGB LED lighting
Launch Price
$1499.99
$1199.99
The new ultra-wide 34" monitors from Alienware will complement the company's 25" display it announced earlier this year. As it appears, the company sees demand for screens designed specifically for gaming, which is why it is expanding the lineup. It is evident that when designing its displays Alienware focuses primarily on features important for gamers: maximum refresh rate with dynamic refresh support, curvature, but not high resolution per se. Such approach makes a great sense because not every gamer has a graphics card that has enough processing horsepower to run the latest games in a 4K resolution (or similar) at 120 – 160 Hz, which is why the monitors like AW3418DW and AW3418HW have all chances to become popular among those who spend a lot of time playing games.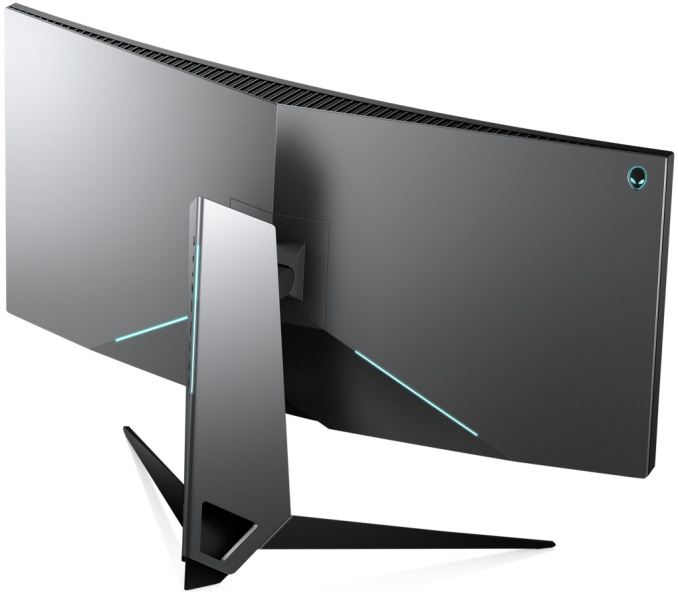 Related Reading:
Source: Alienware