IBM Hard Drive Active Protection System
This brings us to today's topic: IBM's Hard Drive Active Protection System or HDAPS, for short. It is a feature that IBM is introducing to reduce their RMAs and increase overall customer satisfaction. According to IBM, this will be part of their
ThinkVantage Technologies
, which "helps make IBM personal systems less depending on IT staff or intervention for basic tasks like deployment, backup, security, and more…" (We took a look at ThinkVantage briefly in our
IBM ThinkPad X31 review
.) IBM's focus on their ThinkVantage Technologies is also from an 80/20 rule in which they believe and work around, where their customers care less than 20% on purchasing price when considering the total cost of ownership and the 80% is everything else (including support, security, data integrity, fast redeployment, etc.). They have really thought this cost benefit analysis through, since they even go as far as publishing their
optimizing management costs white paper
.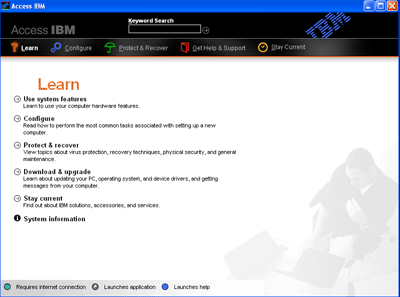 Now back to the matter at hand. IBM's Hard Drive Active Protection System, in a nutshell, is a feature that protects the laptop automatically from damage when dropped or when motion occurs, which are one of the top causes of RMAs and service requests.
Technically speaking, this features parks the hard drive head temporarily when a drop or similar damage event is predicted. Prediction is based on hardware and software components. The hardware component is comprised of a motherboard-mounted motion detector (IBM also refers to it as the "accelerometer") that monitors movement of the notebook continuously. The software component basically receives, interprets, and reacts to signals from the motion detector. It is the software component that actually signals the hard drive to park the drive head when motion or vibration is detected.
Dropping a hard drive while a hard drive is still active can result in misaligning the drive head, which in consequence, results in the inability to read and write data. More impressively, IBM says that their software can differentiate between harmful movements and repetitive motion (for example, in a train, car, or airplane).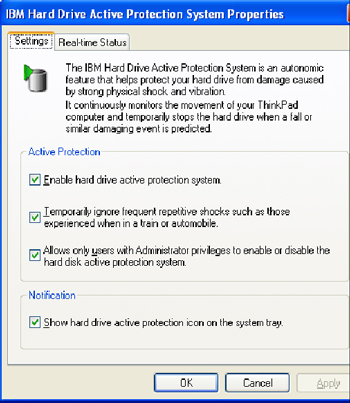 This system is user-configurable to the extent that you can mediate one or two minor features and enable or disable HDAPS. The status of the system is displayed to the user via the control panel, system tray icon, and/or the configuration applet.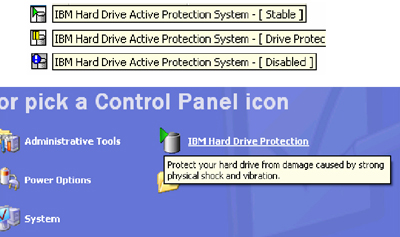 It is even more interesting to note that the IBM Hard Drive Active Protection System can monitor (and illustrate) the orientation of the notebook in real-time.
Click to enlarge.
We have yet to take a look or experience this protection system first hand, but this is something that really interests us. If the hardware component can provide orientation information, it is definitely something that we want to take an up-close look at once we get a working sample.