Conclusion
IBM tells us that the Hard Drive Active Protection System will be available on all ThinkPad R50 (pictured below) and T41 models. With the information we have on hand, it doesn't look like this feature will be included on earlier notebooks. If it was a simple software issue, IBM could simply issue a notice to upgrade all past notebooks and even those in current production. However, the Hard Drive Active Protection System is based largely on a motherboard-mounted motion sensor, which means that systems without the hardware sensor will be incompatible with the software. Refreshing designs for motherboards of current notebook systems in production would just cost a ridiculous amount of money (plus the large resources and the length of time needed to qualify the new design).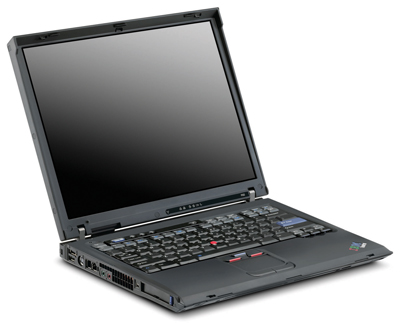 Click to enlarge.
We bet that this is a feature that past IBM consumers (and other pre-existing non-IBM notebook owners) will want, and this should put another notch towards making an IBM notebook more tempting to prospective buyers. This will prove to be a more ample feature to business users, since it gives data integrity and peace of mind.
As of yet, we have not heard of a similar feature that has been or will be provided on other brands of mobile systems. Overall, the concept is really simple (and some may wonder why no one thought of this before), but it will provide a large benefit to both IBM and its customers and is revolutionary in approach, thought, and concept.
So now it is waiting time; let's see if IBM can bring us a working sample soon. After we put it through the paces, it'll be interesting to see if it stays working…