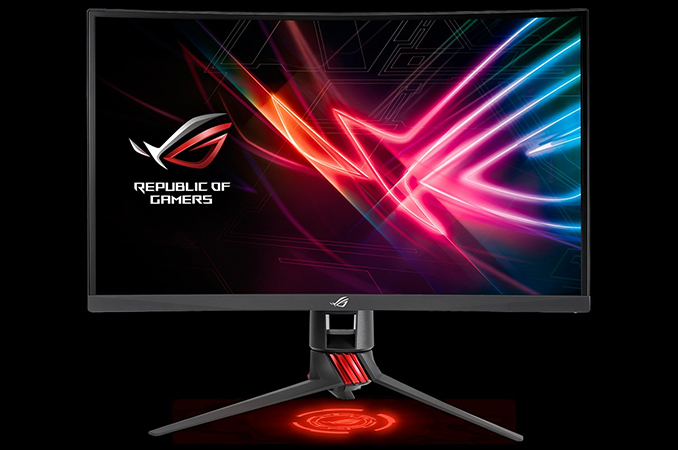 ASUS is about to start shipments of its ROG Strix XG27VQ display — an inexpensive curved 27" screen with a high refresh rate and AMD's FreeSync technology designed for gamers and modders. The monitor has all the features that one expects from the ROG trademark as well as one brand new tech from ASUS, the so-called Extreme Low Motion Blur (ELMB). Besides, the XG27VQ is among the first monitors to have the ASUS Aura RGB lighting on the back along with a customizable light signature projector on the bottom. With the launch of the ROG Strix XG27VQ, ASUS not only releases a moderately-sized curved LCD, but also makes a ROG-branded monitor more accessible since the new model costs $349.99. The product will soon be joined by a more advanced ROG Swift PG27VQ.
ASUS is gradually expanding its family of curved monitors. Unlike some of its rivals, the company started introduction of curved displays into its lineup from the very high-end with the ultra-wide ROG Swift PG348Q aimed at gamers in mid-2016. Since then, the company has released two curved Designo displays for those looking for style, a couple of inexpensive curved monitors for gamers and even the ROG Swift PG35VQ (the successor of the PG348Q) with a 200 Hz refresh rate, HDR and quantum dots. One of the distinguishable features of all ASUS' curved displays so far was their diagonal size: all of them were 32" and larger. While some argue that curvature makes sense only for very large monitors, there are manufacturers, which produce considerably smaller curved screens.
In a bid to offer a similar option for its customers, ASUS introduced two 27" curved displays for gamers into its premium ROG lineup earlier this year (think of BMW 1-series: they are compact cars with premium features). The monitors belong to the Swift and Strix sub-families and thus use different panels and come with different sets of features. Meanwhile, there are several things that the ROG Swift PG27VQ and ROG Strix XG27VQ displays have in common: they are 27" large, they feature very high refresh rates of 144 and 165 Hz, they support dynamic refresh rate technologies, and they feature the ASUS Aura RGB lighting. Apparently, the ROG Strix XG27VQ is going to reach the market earlier than its brother as Amazon and Newegg recently started to list it.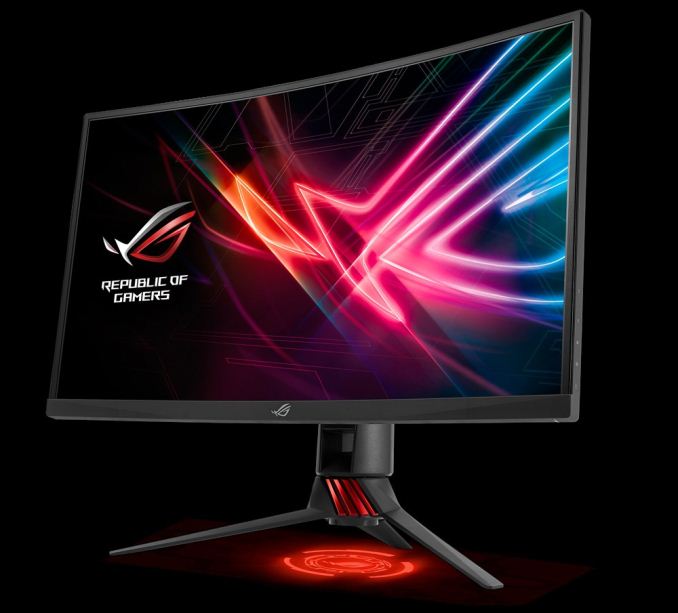 The ASUS ROG Strix XG27VQ is based on a 27" VA panel with a FHD 1920×1080 resolution and a 16:9 aspect ratio. General specifications of the panel are typical for contemporary entry-level gaming devices: 300 nits brightness, 3000:1 contrast ratio, 178°/178° viewing angles, a 4 ms response time (grey-to-grey) and so on. The monitor can use HDMI 1.4, DisplayPort 1.2, or a dual-link DVD-D connector. As for ergonomics, the Strix XG27VQ can adjust height, tilt, swivel or can be attached to a VESA wall mounting.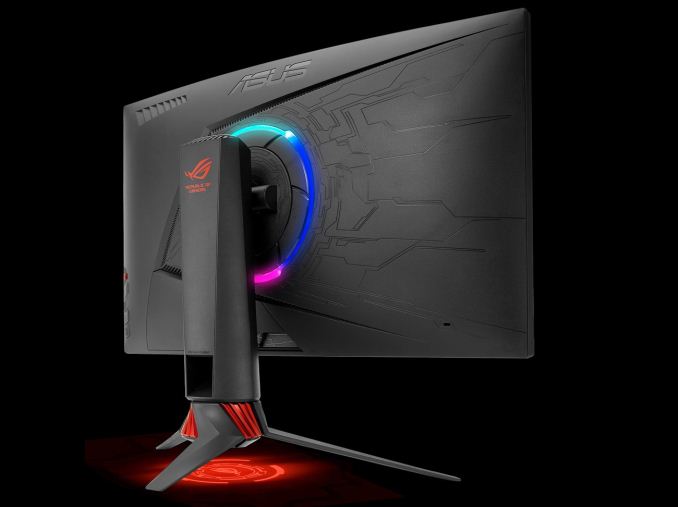 While at first glance the new ROG Strix looks like a fairly standard monitor, there are several features that make the XG27VQ especially appealing to gamers. Firstly, it has a 144 Hz maximum refresh rate along with AMD's FreeSync that works over both DP and HDMI with a refresh range between 48 and 140 Hz. Secondly, it has a brand-new feature called the Extreme Low Motion Blur (ELMB), which promises to make fast-paced actions look sharper. ASUS does not describe how the ELMB works, but it may be the company's alternative to the ULMB tech that has been around for a while. Thirdly, the XG27VQ has a 1800R curvature for those who want some additional immersion. Fourthly, it is equipped with the ASUS Aura RGB lighting on the back to customize its look (and match it with lighting effects on a PC based on a motherboard featuring the ASUS Aura lighting) as well as a customizable light signature projector on the bottom. Finally, the monitor supports the ASUS GamePlus modes, which are present on other gaming monitors by the company.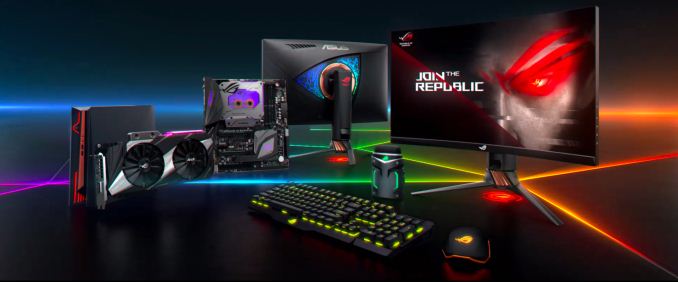 When it comes to the ROG Swift PG27VQ display announced alongside the ROG Strix XG27VQ, it looks considerably more advanced. The Swift PG27VQ has a higher resolution of 2560×1440, a faster 1 ms GtG response time, an "overclockable" 165 Hz refresh rate, NVIDIA's G-Sync dynamic refresh rate technology with ULMB, 1800R curvature, the Aura Sync RGB lighting (which can synchronize lighting effects with all connected Aura-enabled components) as well as all the ergonomics and features of its younger brother. Quite obviously, this one is going to be more expensive too.
ASUS ROG 27" Curved Gaming Monitors
ROG Strix XG27VQ
ROG Swift PG27VQ
Panel
27" VA
27"
Native Resolution
1920 × 1080
2560 × 1440
Refresh Rate Range
144 Hz
165 Hz overclockable
Dynamic Refresh Rate
FreeSync with ELMB (48 - 140 Hz)
G-Sync with ULMB
Response Time
4 ms (gray-to-gray)
1 ms (gray-to-gray)
Brightness
300 cd/m²
unknown
Contrast
3000:1
unknown
Viewing Angles
178°/178° horizontal/vertical
unknown
Curvature
1800R
Inputs
1 × HDMI 1.4
1 × DP 1.2
1 × DL-DVI-D

unknown
Audio
Audio out port
Proprietary Enhancements
Trace Free Technology
Skin-Tone Selection: 3 Modes
Color Temperature Selection: 4 Modes
GamePlus Modes: Crosshair/Timer/Display Alignment
Low Blue Light: Yes
VividPixel: Yes
GameVisual Modes: Scenery/Racing/Cinema/RTS/RPG/FPS/sRGB
Power Consumption

Idle
~0.5 W
unknown
Active
50 W at 200 cd/m²
unknown
Detailed Information
Link
Link
The ASUS ROG Strix XG27VQ display can be pre-ordered from Amazon and Newegg for $349.99, which is highly likely going to be its MSRP. The exact availability date of the monitor is unknown, but it will probably ship in Q3. As for the more advanced ROG Swift PG27VQ, nothing is clear at this point. ASUS still has not released its final specs just yet and no retailers are taking pre-orders.
Related Reading:
Source: ASUS