XGI Technology
We happened to stop by XGI, which is a new graphics part company that has recently created a stir with their Volari graphic processors. The company is actually comprised of about 300 some workers and of that number about 250 is research and development. The research and development is split into two groups: hardware and software, with software making up 150 and hardware 100. The particular interest that they have managed to generate comes from their claim that their dual graphic cards are competitive with ATI and NVIDIA, both from a cost and a performance standpoint. Right now it is hard to say.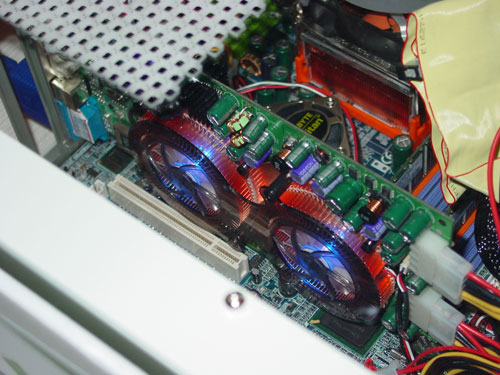 Volari Product Line
We saw a demo of a Volari V8 Ultra in a mix mode benchmark of DX8 and DX9 pixel shaders, and it seems to not quite be up to par with some other stuff we have seen. However, this was a demo, and it could be the performance we saw was limited to this particular software title. The bidirectional link between the two graphic processors is certainly of interest, but the cost is issue is an obvious one that will determine a lot. Even if XGI can produce a graphic processor (two of them technically) that can beat out ATI and NVIDIA in performance, they need to be able to offer it a low [or no] premium over their competitors. The pricing range for them to adjust will depend on how much more they can deliver.
Final Words
Well, that about wraps up our motherboard and video Computex coverage for this year. Don't forget about our additional Computex coverage of optical storage, displays and enclosure analysis coming your way. And stay tuned as we will take an exclusive first look at yet another next generation processor during the next few days...