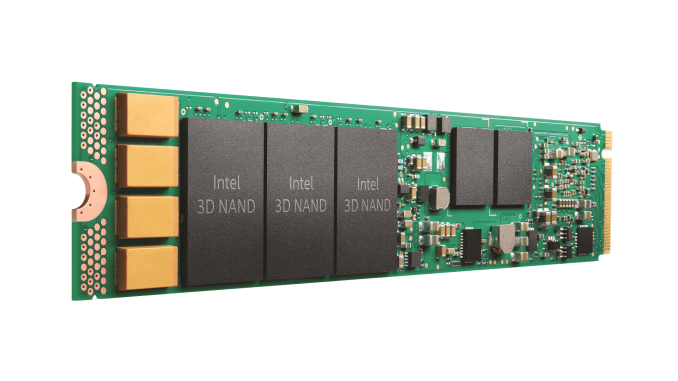 A month ago, Intel unveiled a new generation of enterprise SSDs based on their 3D TLC NAND and powered by a new generation of Intel NVMe SSD controllers. Intel's first NVMe controller—introduced with the SSD DC P3700—had a great run, but it's been showing its age for a while now. The new controller used on the P4500 and P4600 enables higher performance despite the new drives using 3D TLC NAND compared to the P3700's 20nm planar MLC, and despite the newer controller having only 12 flash channels instead of 18.
More significantly, Intel's second-generation NVMe controller is much smaller and more power-efficient, allowing it to be used in product segments that Intel's first generation controller literally couldn't fit in. Intel's new SSD DC P4501 is a lower-power take on their new generation of NVMe technology, putting Intel controllers into M.2 and 2.5" 7mm U.2 SSDs for the first time. With capacities from 500GB to 4TB, the P4501 delivers somewhat lower performance than the P4500 and P4600, but with reduced power consumption and substantially higher density.
Intel has previously shipped the SSD DC P3100 M.2 SSD, but despite using the same 3D TLC, it was not at all in the same league as the P4501. The P3100 is based on the same platform as the consumer Intel SSD 600p, with a Silicon Motion controller, poor sustained write speeds and no power loss protection. The P3100 was pitched as a boot drive for servers, but the P4501 can be a serious workhorse. The P4501 supports the same advanced feature set of its bigger siblings, including full power loss protection, NVMe Management Interface, and support for up to 128 queues for optimal performance even in systems with the highest CPU core counts. The P4501 even comes with a slightly higher endurance rating than the P4500.
Intel NVMe Datacenter SSD Comparison
P4500
P4600
P4501
Form Factor
PCIe HHHL or 2.5" 15mm U.2
M.2 22110 or 2.5" 7mm U.2
Interface
PCIe 3.1 x4 NVMe 1.2
Memory
Intel 384Gb 32-layer 3D TLC
Capacities (TB)
1, 2, 4 TB
1.6, 2, 3.2 TB (U.2)
2, 4 TB (HHHL)
500GB, 1TB, 2TB, 4TB (U.2 only)
Sequential Read (64kB) (up to)
3290 MB/s
3280 MB/s
3200 MB/s
Sequential Write (64kB) (up to)
1890 MB/s
2100 MB/s
900 MB/s
Random Read (4kB) (up to)
710k IOPS
702.5k IOPS
360k IOPS
Random Write (4kB) (up to)
68k IOPS
257k IOPS
46k IOPS
Maximum Power
Read
10.9 W
9.9 W
8–12.5W (U.2) 6–8.25W (M.2)
Write
18.3 W
20.7 W
Write Endurance
Random workload
0.7 DWPD
2.9 DWPD
1 DWPD
Sequential workload
4.62 DWPD
4 DWPD
3 DWPD
Warranty
5 years
5 years
The M.2 version of the P4501 will provide capacities up to 2TB on a 110mm long card, larger than normal for consumer M.2 SSDs but typical for enterprise SSDs that include power loss protection capacitors. The 2.5" U.2 version uses the same 7mm thickness as consumer SSDs and many of the more value-oriented enterprise SSDs, compared to the 15mm thick form factor that Intel's previous enterprise SSDs have used for thermal dissipation reasons even when the extra volume was not necessary for higher storage capacity. The U.2 version of the P4501 will provide capacities up to 4TB.
The P4501 will support tunable power limits: the U.2 version can be capped at 8W, 10W or 12.5W while the M.2 version will support limits of 6W or 8.25W. Idle power is not a priority for datacenter SSDs, but the U.2 version is specified for less than 5W at idle and the M.2 version is specified for less than 3W.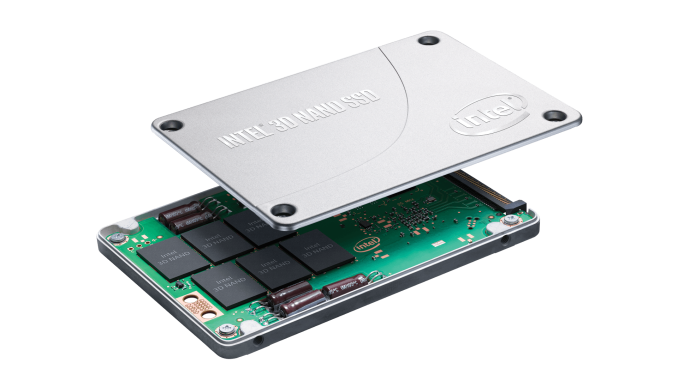 Intel's first-generation NVMe controller came to the consumer market in the SSD 750, the first consumer NVMe SSD. It raised the bar for consumer SSD performance, but as soon as truly client-oriented solutions like the Samsung 950 Pro hit the market, the SSD 750's inconveniently large form factors, high power consumption and lower peak performance started to erode its cachet. The new Intel SSD DC P4501 shows that Intel is in a position to offer a new generation of high-end client NVMe SSDs that will be much better fit for today's market. With new firmware optimized for client workloads and possibly with cost savings from dropping the power loss protection or using Intel's upcoming 64-layer 3D TLC NAND, Intel could have a serious contender for the consumer market in the near future.
Source: Intel